'That's what I heard about Moses Lake, the strength was in the people'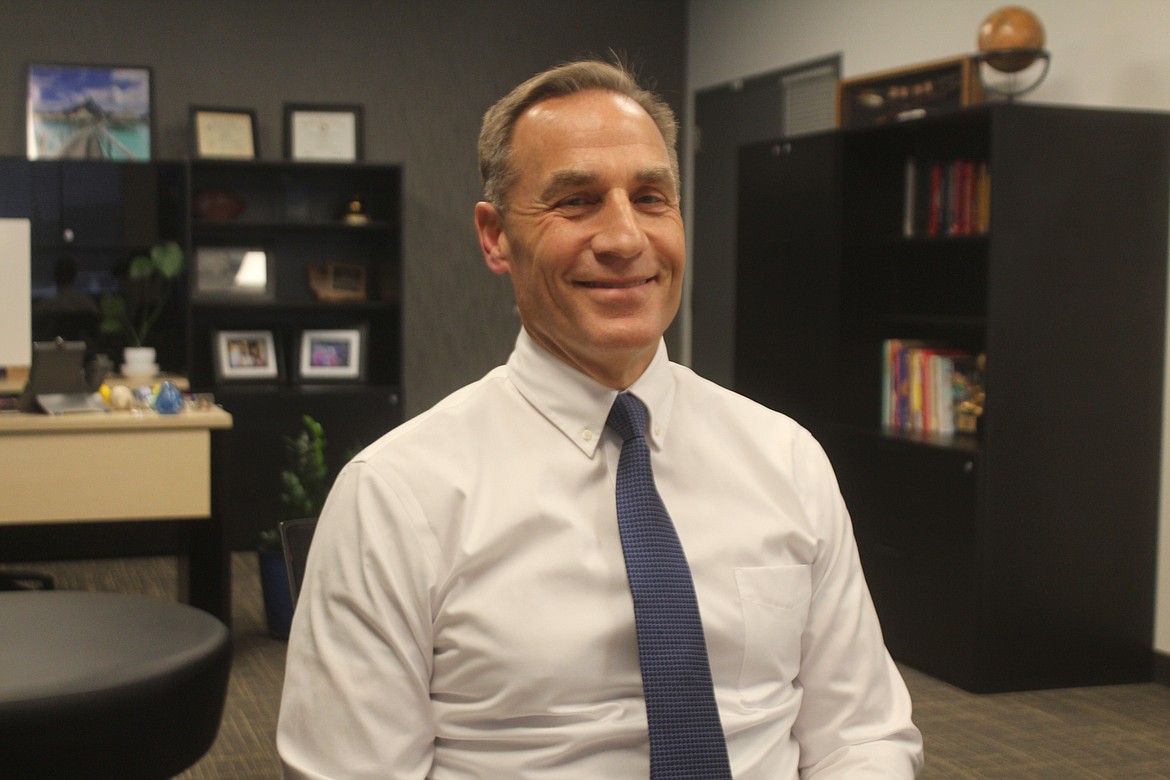 Moses Lake School District Superintendent Monty Sabin said he likes coming to work.
Cheryl Schweizer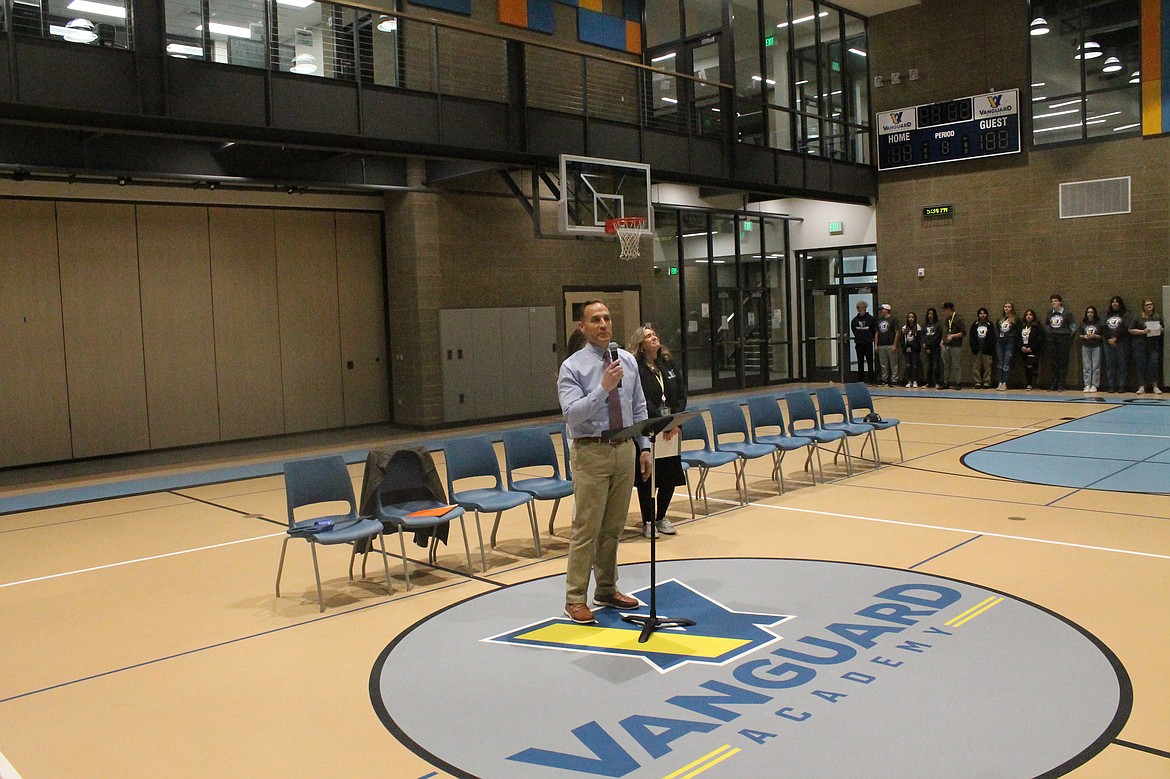 Monty Sabin makes a speech during the opening of Vanguard Academy earlier this month.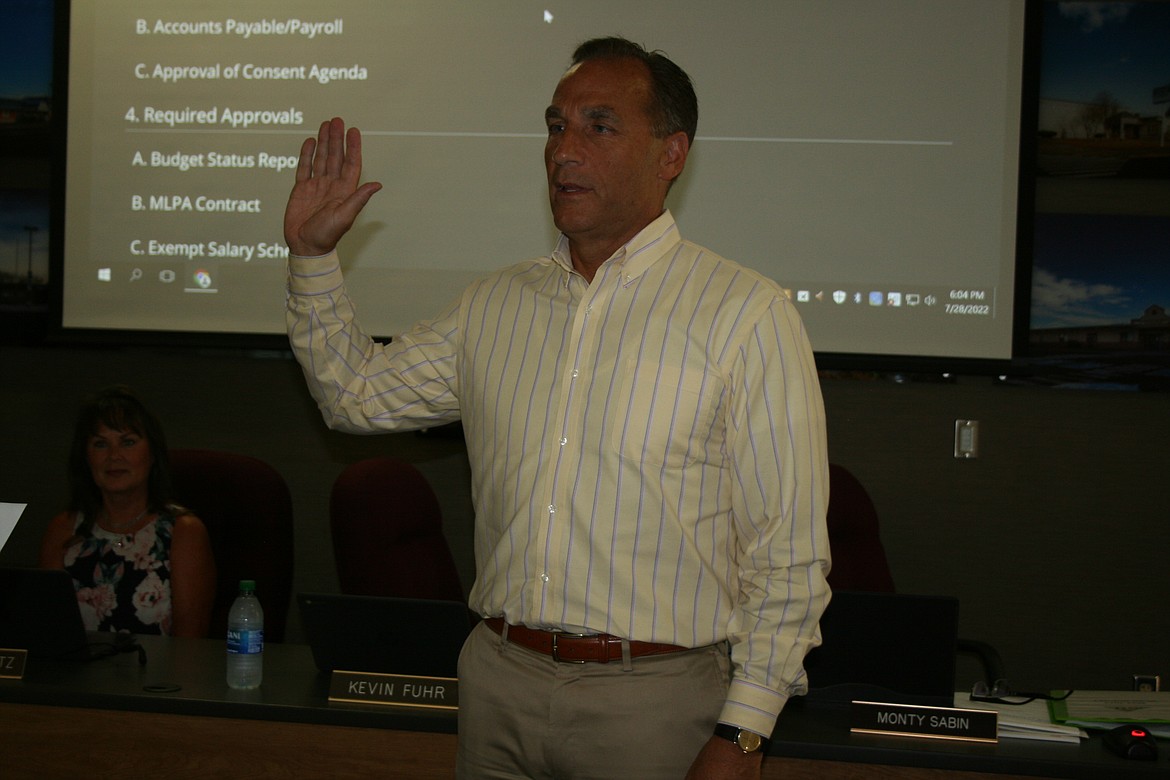 Monty Sabin takes the oath of office as Moses Lake School District superintendent in July.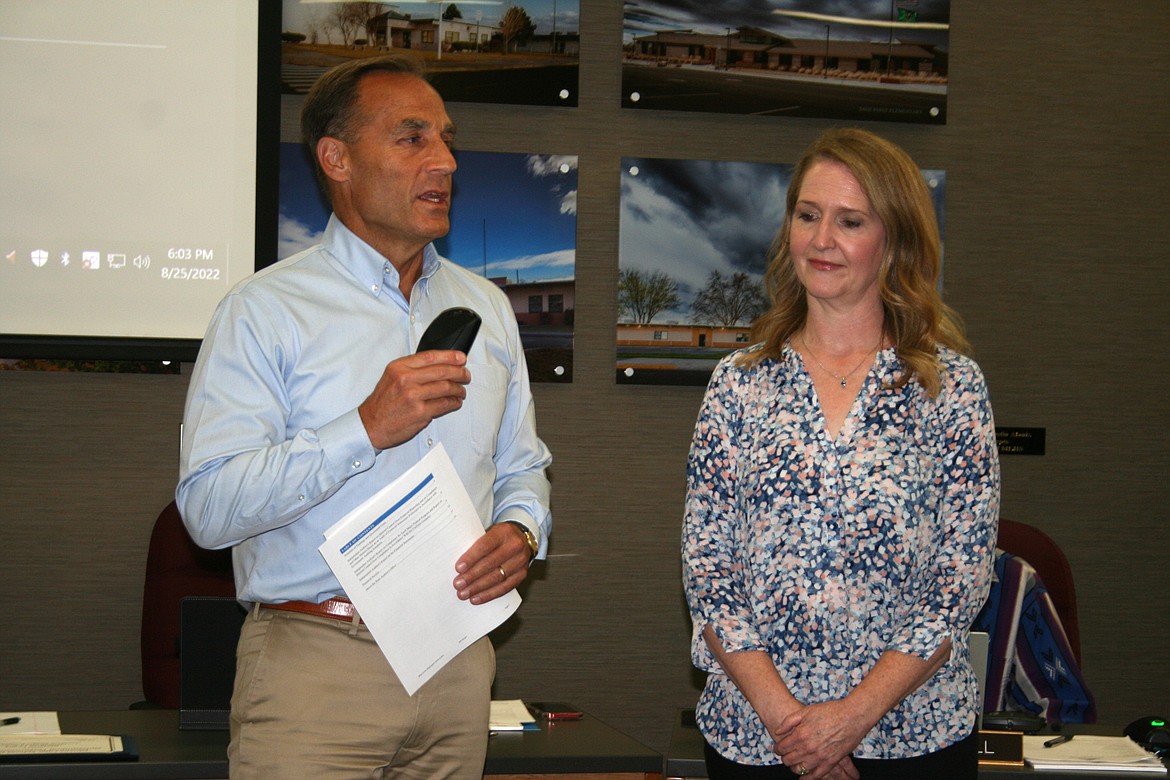 Moses Lake School Superintendent Monty Sabin (left) recognizes district Director of Finance Stefanie Lowry for her work during an August Moses Lake School Board meeting.
Previous
Next
by
CHERYL SCHWEIZER
Staff Writer
|
November 21, 2022 1:15 AM
MOSES LAKE — Moses Lake School District Superintendent Monty Sabin said transparency and visibility are important, both in themselves and because they help build trust.
Sabin was hired as the new superintendent in March, replacing former superintendent Josh Meek, who parted ways with the district in 2021. Sabin's hiring also followed two years of turmoil as a result of the Covid-19 pandemic. The relationship between school districts throughout the country and their communities was damaged as a result.
"I'm really hopeful of trying to earn the trust back. We don't always agree on everything - which is understandable, it would be a boring world if we all thought alike," Sabin said. "But no matter what we do as a district, I hope that people know we're acting with integrity and with people's best interest at heart, no matter what we're doing.
"You can disagree on an issue, a policy or a decision, but as long as you can do that knowing that the information was out there (and) that people understand why you did it, you can respect each other," he said.
The district has 11 elementary schools, three middle schools, a preschool program and two high schools. It's important, Sabin said, that the superintendent and other administrators are seen out and about throughout the district.
"I think it's something that needs to be prioritized. It should never be just a couple times a year that a school would see the superintendent, for instance. I feel like this is one activity that we can do as a district leadership," he said.
"It is important for people to have that personal connection with us, that we're not so far removed that they never see us (or) feel like they don't know us," he said. "We're on the same team, we work together, we need to feel that way. Those personal connections are so valuable. It's really hard to do important work, difficult work, if those relationships don't exist."
And the aftermath of the coronavirus pandemic has left schools nationwide, Moses Lake included, with some challenges to work through.
"Probably the number one (challenge) is addressing learning loss that occurred during Covid," he said. "Also the social (and) emotional issues that kids dealt with during that time, when they were struggling, when they were feeling isolated, when they kind of got behind in their learning," he said.
One of the goals in the new strategic plan will be addressing that learning loss, he said, as well as helping Moses Lake students cope with the non-academic challenges from the pandemic, and from life in general.
Sabin said it's a difficult task to rebuild some of that lost learning, but not impossible. The district can do it.
"Yeah, of course we can," he said.
Plans are underway for the construction of a 12th elementary school, which was approved in the 2017 bond that included money for what became Vanguard Academy. The academy is nearly complete, and district officials have begun the search for land in Mae Valley, where the new grade school will be located. District officials will have to start thinking about additional remodeling and construction in the future, he said, which is another opportunity for district officials to reinforce some of that trust between district officials and the community.
"I know there were some issues with the last bond," he said, "and bringing up the idea of a bond again may be difficult to think about. But sometime in the future we will need to put another bond out to the community."
The district has some aging facilities, he said, and they're in need of upgrades and repairs.
"The (maintenance) issues don't get any easier, and they don't get any cheaper," he said.
District officials will be asking for community members to be part of the committee that will be reviewing the district's facility needs. Community members also will be asked to join the committee writing the district's updated strategic plan, which Sabin said is one of his top priorities for the 2022-23 school year.
Students, parents, teachers and support personnel also will be part of the preparation of the strategic plan, he said.
"We're trying to be more transparent, we're trying to bring the community in," Sabin said. "We want to have people feel like we're on the same team, that we're working together to improve our schools."
The district has started a monthly newsletter that goes out at the end of every month, after the last Moses Lake School Board meeting.
"That is a way, again, to develop more connections with the community," he said.
The relationship between the school board and the superintendent is important in promoting leadership, he said.
"That's really important for a superintendent, to have a well-functioning board," he said. "I feel like as a school board, we're really in a good place. And I think that when the superintendent and the school board are working well together, there are a lot of positive things that can happen in a district."
Sabin said he's also impressed with the district's administrative team, many of whom are new to their roles.
"We have a great team in place," he said. "They're motivated, they love people, they're kind. They're here to support others, and I think that's huge.
"When I go out in the buildings, I feel good about the leadership in our schools, in our operations. And that's what I heard about Moses Lake, the strength was in the people. And I believe that. I feel great being here. I love coming to work, I love the people that I work with. (People are) our biggest strength, and that's the way it should be."
Cheryl Schweizer can be reached via email at education@columbiabasinherald.com.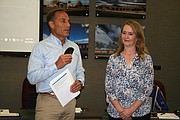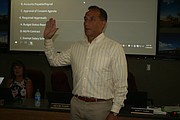 Recent Headlines
---