Knights on to semi-finals with 41-9 win over Montesano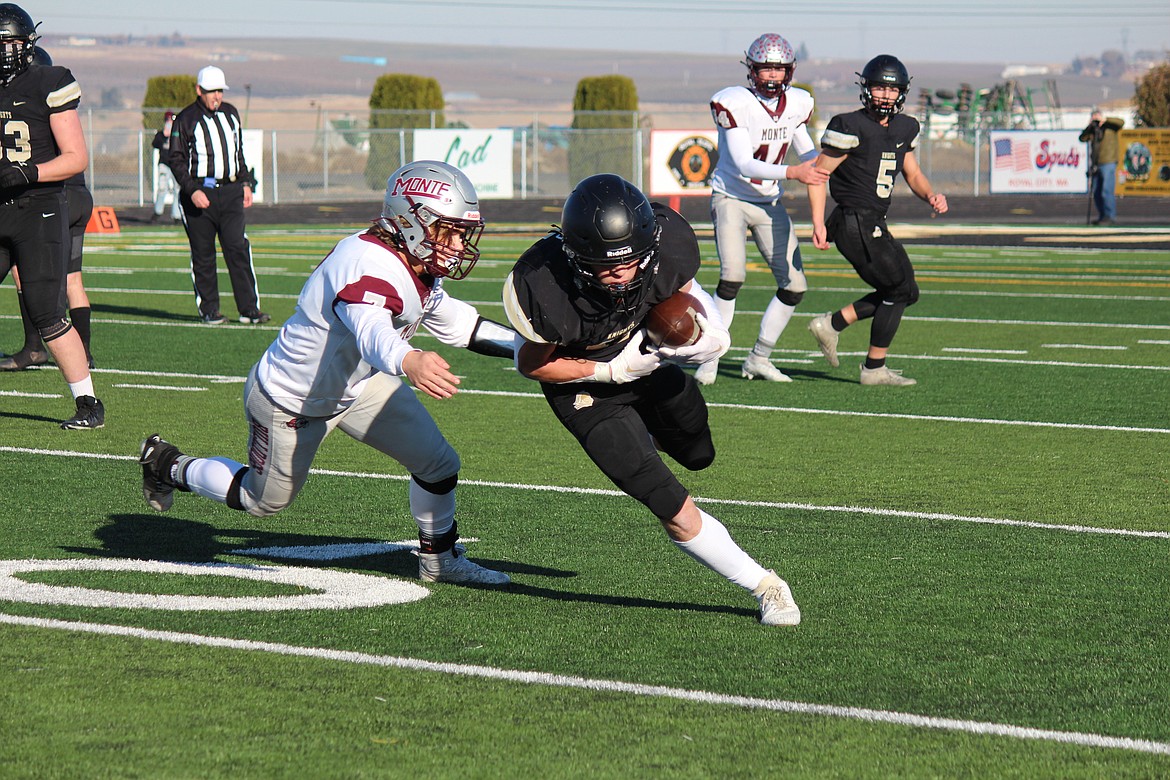 Royal receiver Lance Allred runs past a Montesano would-be tackler in the first half.
Cheryl Schweizer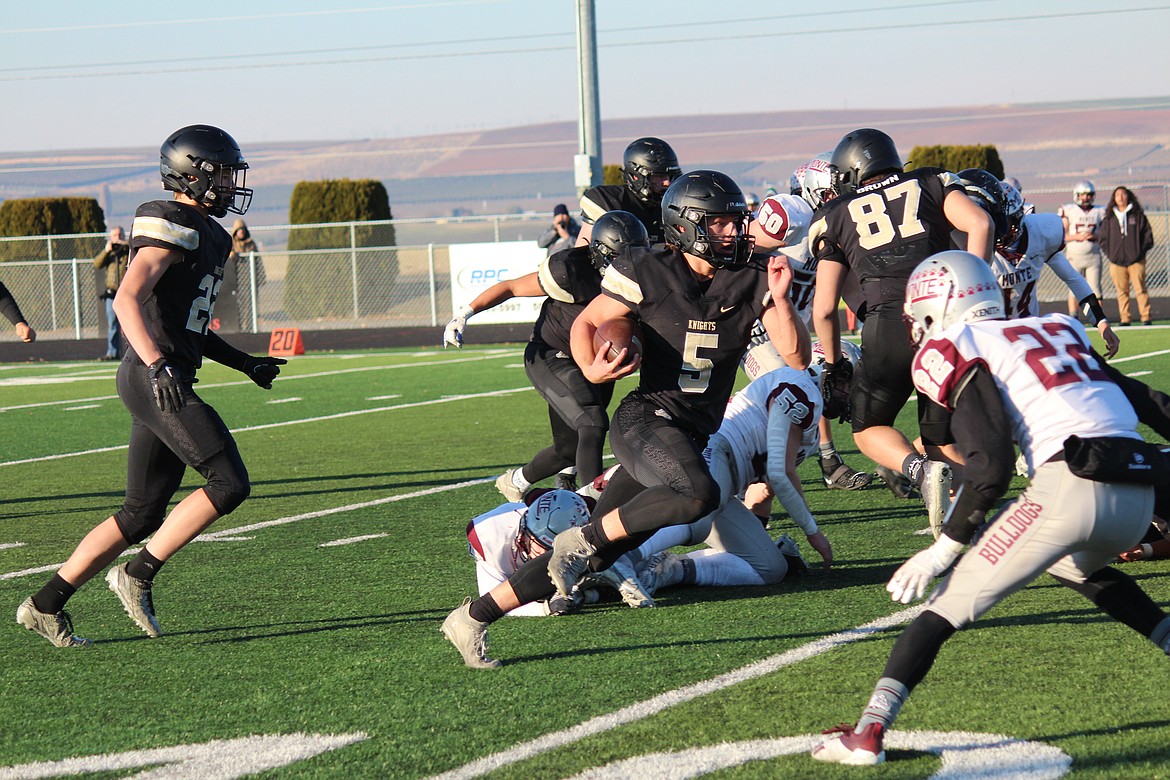 Royal quarterback Dylan Allred (5) threw three touchdown passes and rushed for two scores in Royal's 41-9 win over Montesano on Saturday.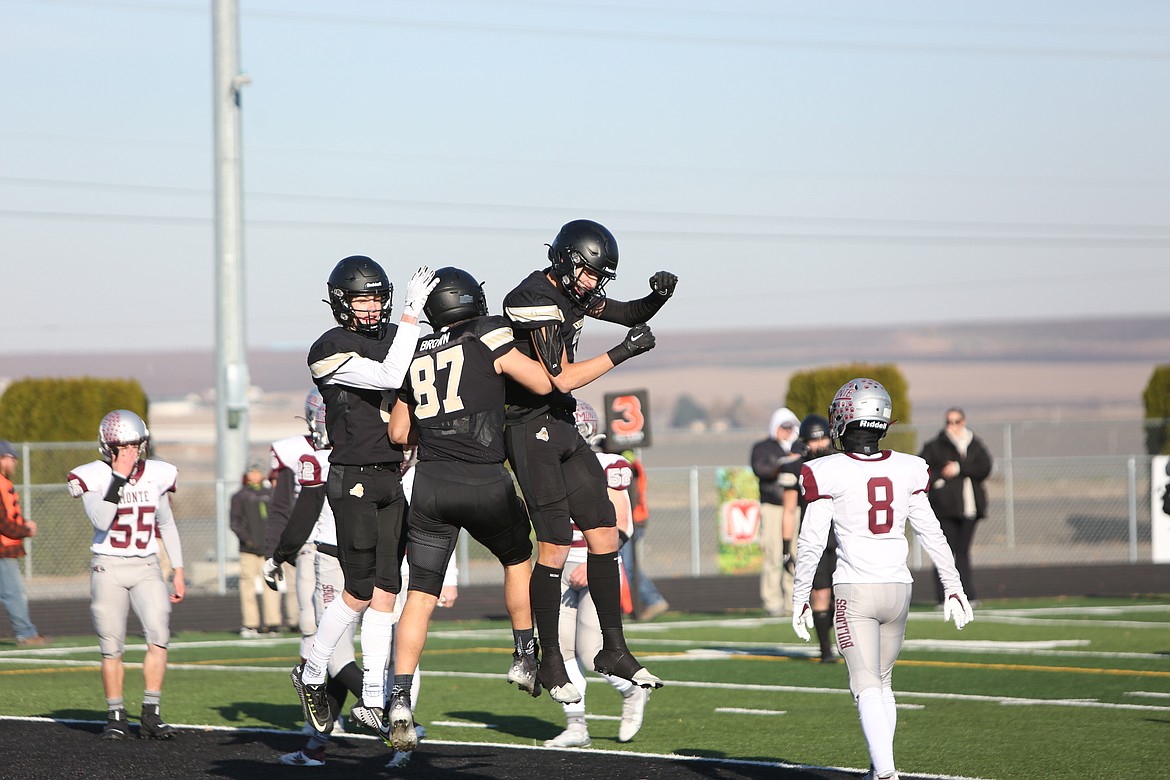 Royal's Caden Allred (left), Bennett Brown (right) and Edgar De La Rosa (right) celebrate in the end zone after Brown's touchdown catch.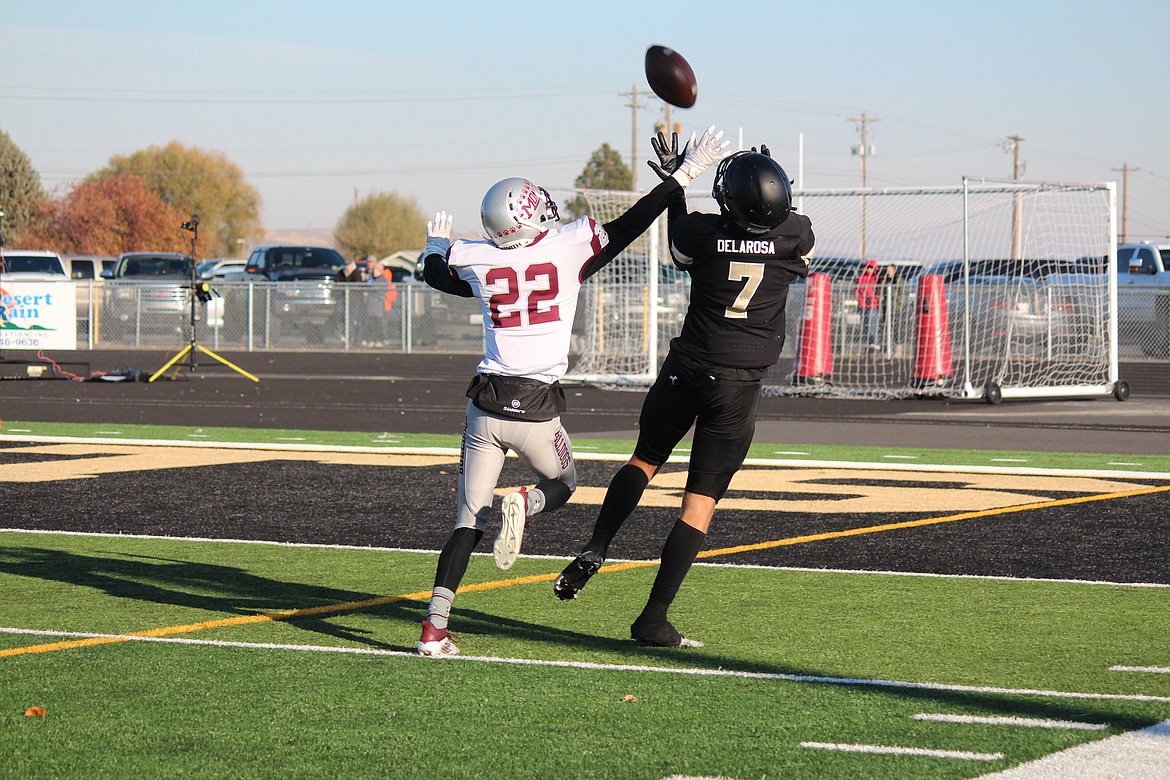 Royal receiver Edgar De La Rosa hauls in a 33-yard touchdown in the second quarter of Royal's 41-9 win over Montesano on Saturday.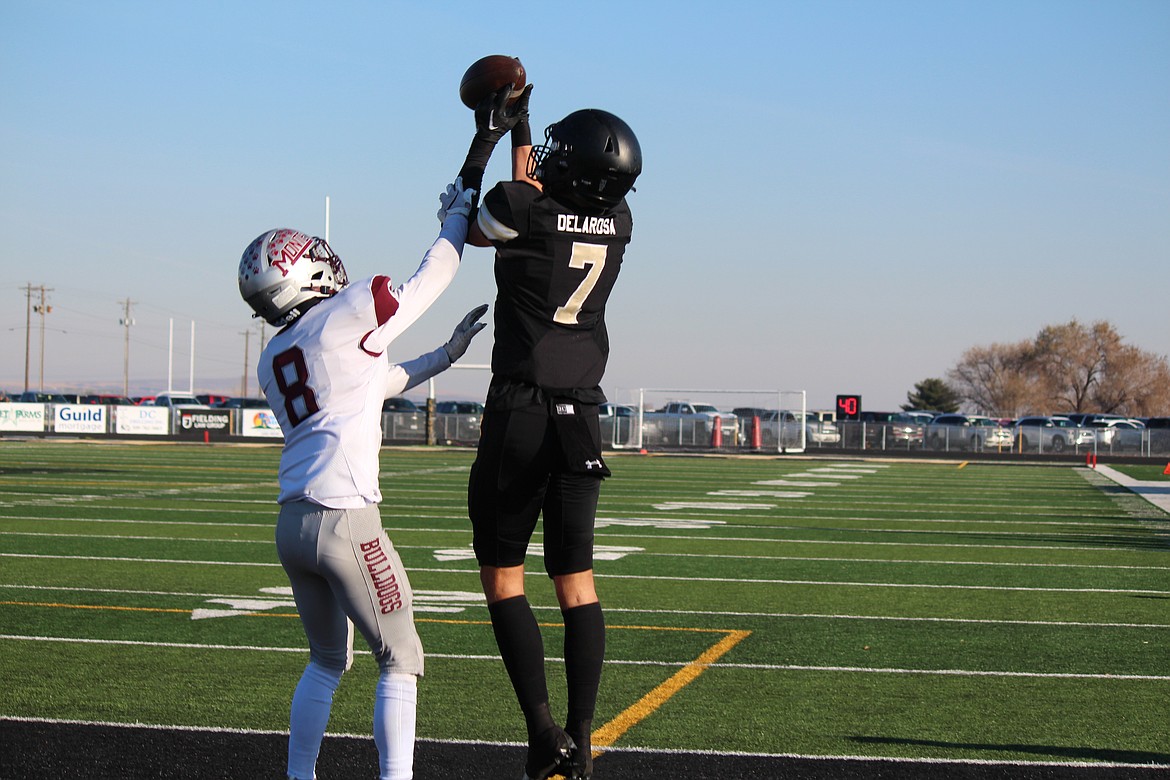 Royal senior Edgar De La Rosa uses his height to his advantage on a three-yard touchdown catch, his first of two on the day.
Previous
Next
by
IAN BIVONA
Sports Reporter
|
November 19, 2022 5:29 PM
ROYAL CITY – Even with being down 9-7 early in the first quarter, the No. 1 seed Royal Knights were unfazed by the situation. The No. 8 Montesano Bulldogs had broken off big plays to reach scoring position through the first seven minutes of game time, something they wouldn't be able to do again in Royal's 41-9 win on Saturday.
"It was great," Royal Head Coach Wiley Allred said. "We knew they would be a good team, I thought they were underseeded at No. 8. I was really happy with the first half, I was really happy with the second half."
Montesano could not recreate its first-quarter offense throughout the rest of the game on Saturday, only totaling 152 total yards over its next 10 drives. Thirty-eight of those yards came on a fourth-quarter run while Royal was down by 32 points.
"Our defense settled into what they were doing, and I didn't think we were going to give up the big play all day long," Allred said. "Once we settled into what we were supposed to do, that's what helped our defense."
This isn't the first time that the Knights and Montesano have squared off late in the season, with Royal having lost to the Bulldogs in the 1994 and 2012 state title games.
"It's nice (to get the win)," Allred said. "The kids played really well."
An eight-play, 60-yard scoring drive got things started for Royal, taking a 7-0 lead. Montesano rang off back-to-back scoring drives to take a 9-7 lead with 5:43 remaining in the first quarter, but touchdowns by Royal seniors Edgar De La Rosa and Dylan Allred gave back the lead for good to the home team.
"(Dylan Allred) was just on the money throwing the ball and running the ball," Wiley Allred said. "We didn't throw the ball much the second half, maybe once or twice, but he was on."
The Knights added another two scores in the second quarter, the first on a 33-yard deep ball to De La Rosa and a 25-yard touchdown run by sophomore running back Ethan Ellis to take a 35-9 lead into the halftime locker room.
Another Dylan Allred touchdown run, this time from two yards out, gave the Knights their 41-9 lead, which they finished the game with. The senior finished the game with 190 yards and three scores through the air and 98 yards and two scores on the ground.
"They're a really great team, being able to hit our receivers and our receivers ran great routes," Dylan Allred said. "My coaches just helped me with the reads, and the line gave it time."
Dylan Allred commanded the Knight offense both through the air and on the ground on Saturday. He had runs of 22 and 21 yards on a third-quarter drive where he ended up driving in the ball himself from two yards out. His dual-threat nature allowed Royal to be dangerous in the red zone, where they scored four touchdowns on Saturday.
"I was pretty excited," Dylan Allred said. "I know my line played a great game, they blocked for me really well. I was just seeing what kind of holes they could make for me."
Royal returns to the field on Saturday, Nov. 26 for a matchup against No. 12 seed Freeman, who upset No. 4 Eatonville on Saturday.
Ian Bivona can be reached at ibivona@columbiabasinherald.com.
Recent Headlines
---