Shooting for the top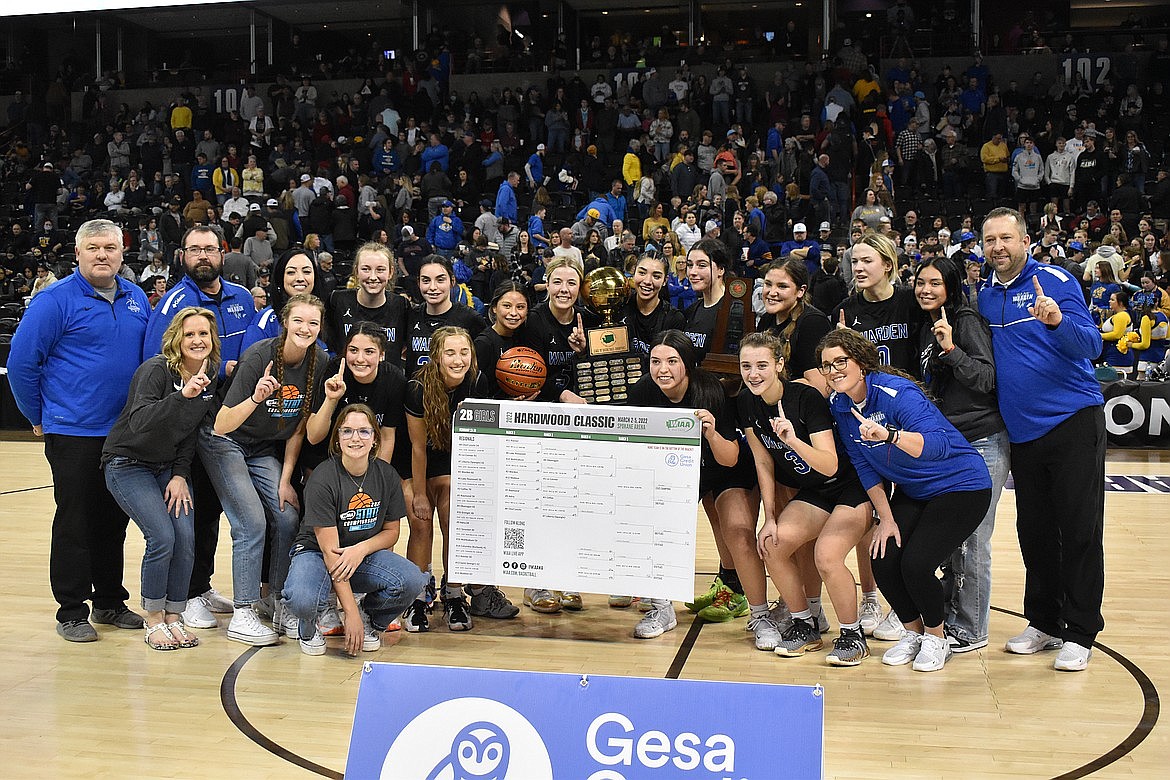 The Warden Cougars will look to defend their 2021-2022 2B state championship as the upcoming season begins.
File photo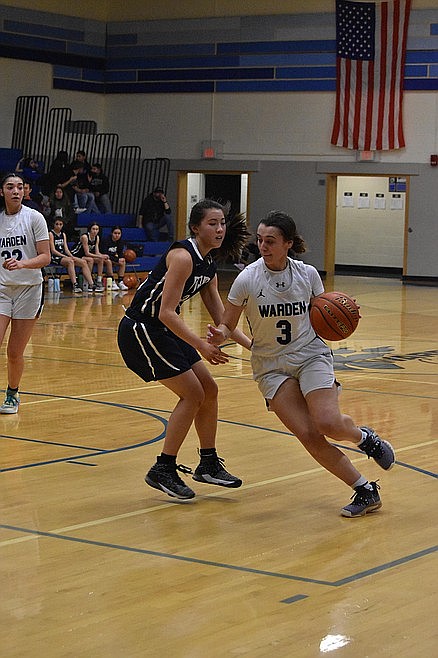 Warden senior Quinn Erdmann dribbles past a Tri-Cities Prep defender last season.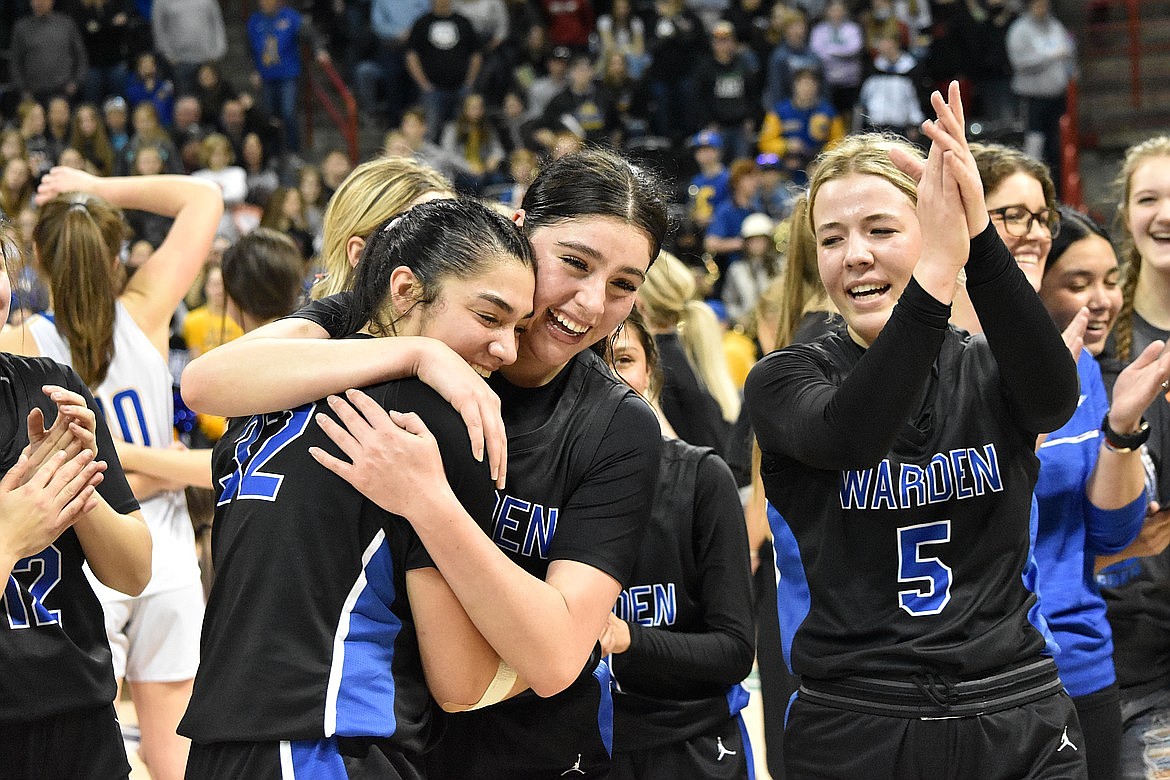 Warden graduates (left to right) Kiana Rios, Rylee McKay and Jaryn Madsen celebrate at the state championship game. Head Coach Josh Madsen said that the team will have to replace the previous senior class's winning attitudes.
Cougars traveled to Gonzaga to participate in a team camp over the summer, where players built on-court chemistry in the off-season according to Head Coach Josh Madsen.
Previous
Next
by
IAN BIVONA
Sports Reporter
|
November 18, 2022 3:11 PM
WARDEN – After the 2021-22 season ended in a 26-1 record and a state championship, this year's Warden girls basketball team will look to keep the momentum going under fifth-year head coach Josh Madsen and make their third straight state tournament appearance.
Dating back to the 2019-20 season, Warden has only lost four games in the previous three years.
"We finished 14-0 (in 2020-21), they had a summer state tournament, kind of an invite of the top teams, and they invited us to that," Madsen said. "We went and won that, and so we had a really solid year that year too. The year before that we were at the 1A level and we took sixth at state that year."
The mentality of last year's senior class is what helped the Cougars reach the highest mark and bring home their first girls basketball state title.
"Those girls that were seniors last year, they just hated to lose," Madsen said. "They were willing to work and sacrifice and kind of do whatever they needed to do to not lose very often. So they played well as a team and they grew up together."
The Cougars graduated five seniors from last year's squad, though Madsen isn't worried about a hole to fill. Several players from last year's team also received significant minutes and carved out roles, something that Warden will rely on entering the 2022-23 season.
"I look at it as an opportunity," Madsen said. "In a lot of cases, it's not even going to be new faces. It's going to be faces that have been here but are taking on new roles. We started to see that this summer, and that's the exciting thing for me. Just to watch some of the kids step out of the shadows and into the spotlight a little bit and really step up and mature."
Off-season work is important for any team, especially one attempting to defend a state title.
"We had a good summer," Madsen said. "These girls commit, and they played quite a bit. We got to work on some things and get to bring some younger girls along, so it's just kind of start figuring out who we're gonna be moving forward."
The Cougars had a busy summer full of basketball, specifically in June, Madsen said. Players participated in team camps and workouts, even traveling to Gonzaga for a camp.
"It was a long week (at Gonzaga); it was a lot of fun and we made some really good memories," Madsen said. "We took two teams, but only 13 girls total, so our younger team had seven girls – we suited up a couple really young ones. Our varsity team only had six girls, and they played nine games in three or four days."
Building on-court camaraderie with teammates playing in different roles is something that the girls got out of summer camps and practices, according to Madsen.
"The girls that went and played together, they definitely built chemistry and trust," he said. "I think a lot of those girls also built confidence, getting to go play some bigger schools, and then they got pushed outside their comfort zone, and they got to see what it really means to be tired and play through that."
Madsen said that the strength of this year's upperclassmen-heavy team is their experience and time spent on the floor, helping guide the younger players on the team.
"They're good teammates as well, and so they're going to bring some of the younger girls along and be good leaders and good role models for them," Madsen said.
Warden tips off its season on the road against Cashmere on Nov. 29 at 5:45 p.m.
Ian Bivona may be reached at ibivona@columbiabasinherald.com.
Warden Girls Basketball Schedule
Nov. 29 - @ Cashmere - 5:45 p.m.
Dec. 2 - @ Granger - 6 p.m.
Dec. 6 - @ Okanogan - 6 p.m.
Dec. 9 - vs Highland - 6 p.m.
Dec. 10 - @ Goldendale - 6 p.m.
Dec. 13 - vs Royal - 6 p.m.
Dec. 15 - @ Walla Walla Valley Academy - 6 p.m.
Dec. 19 - vs Colfax - 6 p.m.
Dec. 21 - vs Mabton - 6 p.m.
Dec. 28 - @ Othello - 6 p.m.
Jan. 3 - vs Lind-Ritzville - 6 p.m.
Jan. 6 - @ Columbia (Burbank) - 6 p.m.
Jan. 7 - @ Tri-Cities Prep - 6 p.m.
Jan. 10 - @ Dayton-Waitsburg - 6 p.m.
Jan. 13 - @ River View - 6 p.m.
Jan. 19 - vs Walla Walla Valley Academy - 6 p.m.
Jan. 27 - vs Columbia (Burbank) - 6 p.m.
Jan. 28 - vs Tri-Cities Prep - 6 p.m.
Jan. 31 - vs Dayton-Waitsburg - 6 p.m.
Feb. 2 - vs River View - 6 p.m.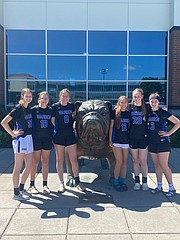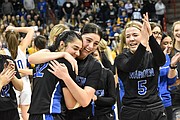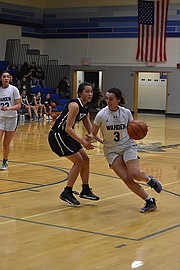 Recent Headlines
---