Othello boys wrestling looks to keep on improving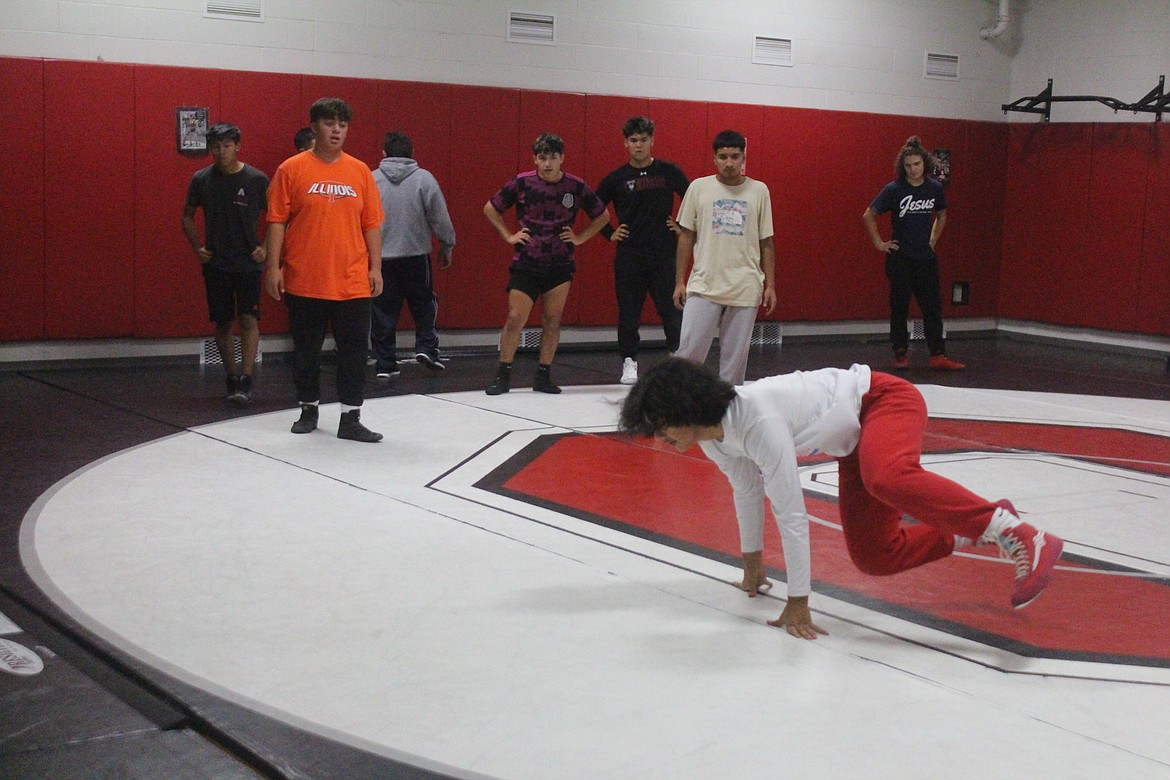 An Othello wrestler demonstrates a move for his teammates on the first night of practice.
Cheryl Schweizer/Columbia Basin Herald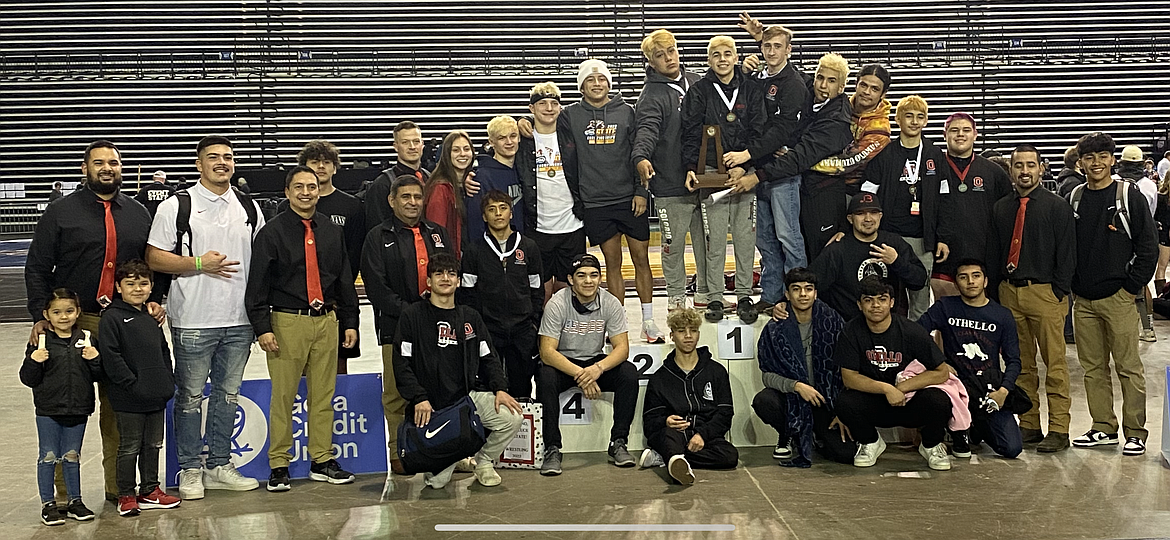 The Othello wrestling team took third place at the 2022 Mat Classic, and coach Rudy Ochoa II said he thinks his team can build on that success.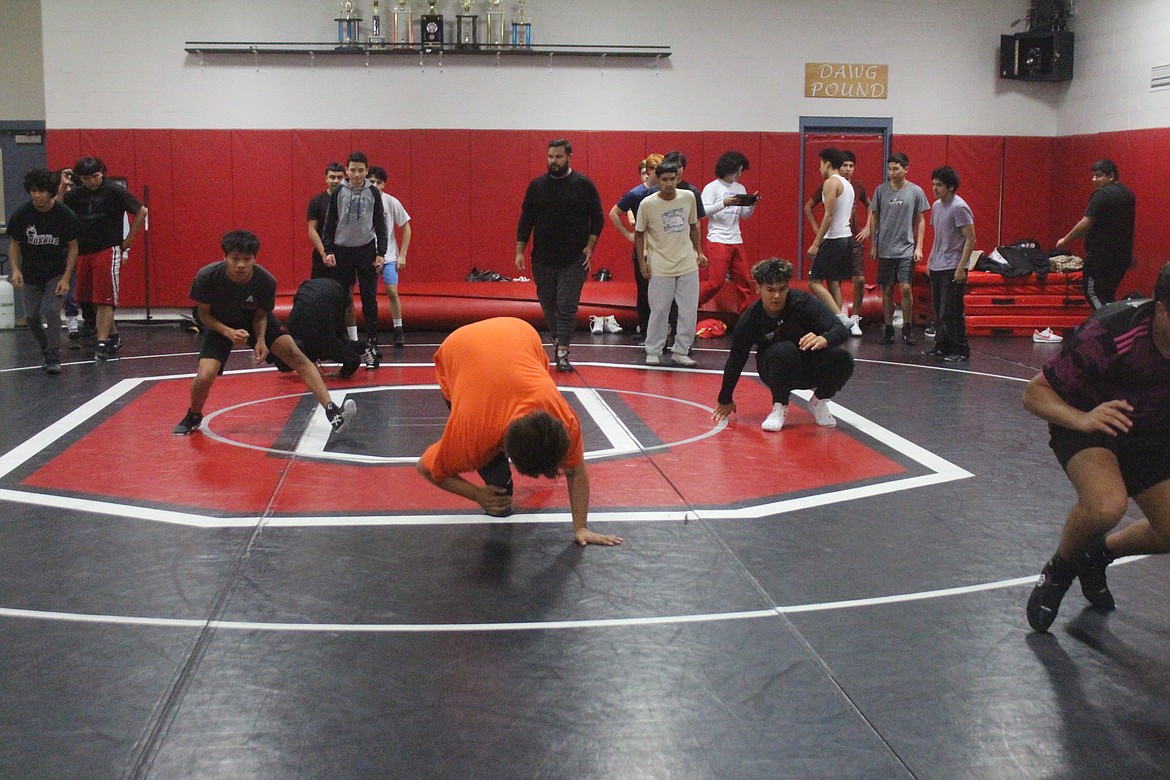 Warmups at Othello wrestling practice include some front somersaults.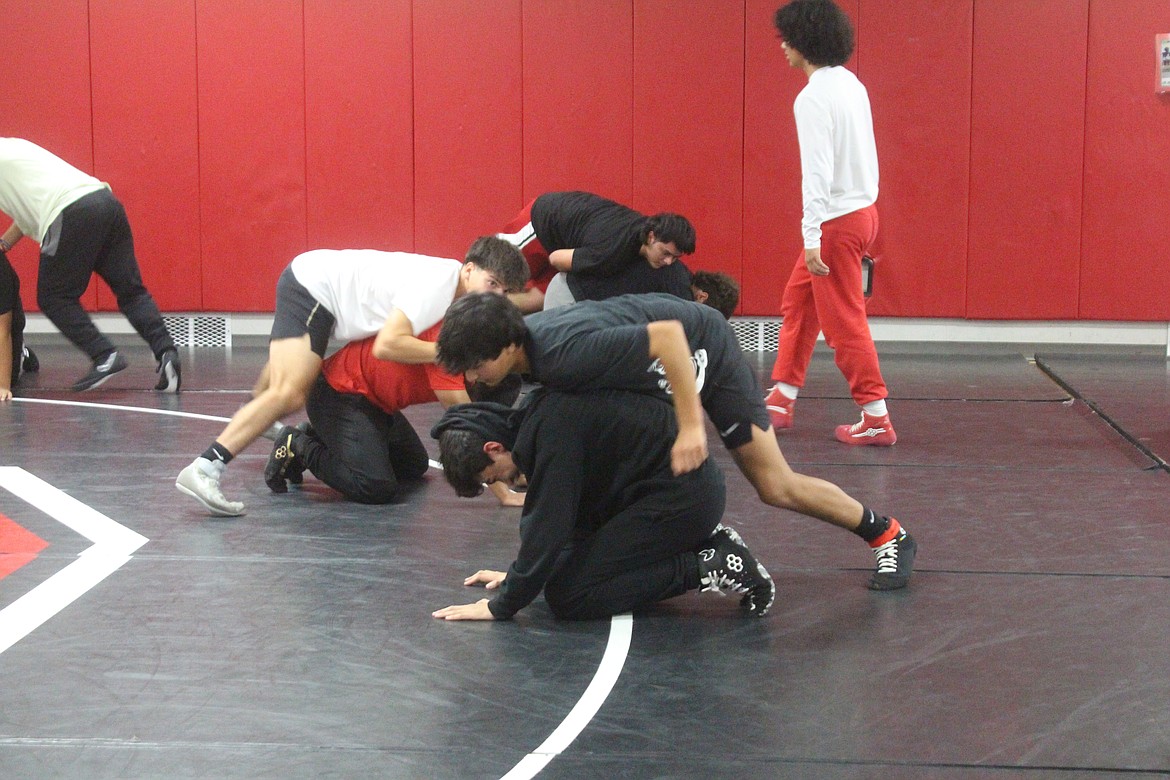 Othello wrestlers work on their technique.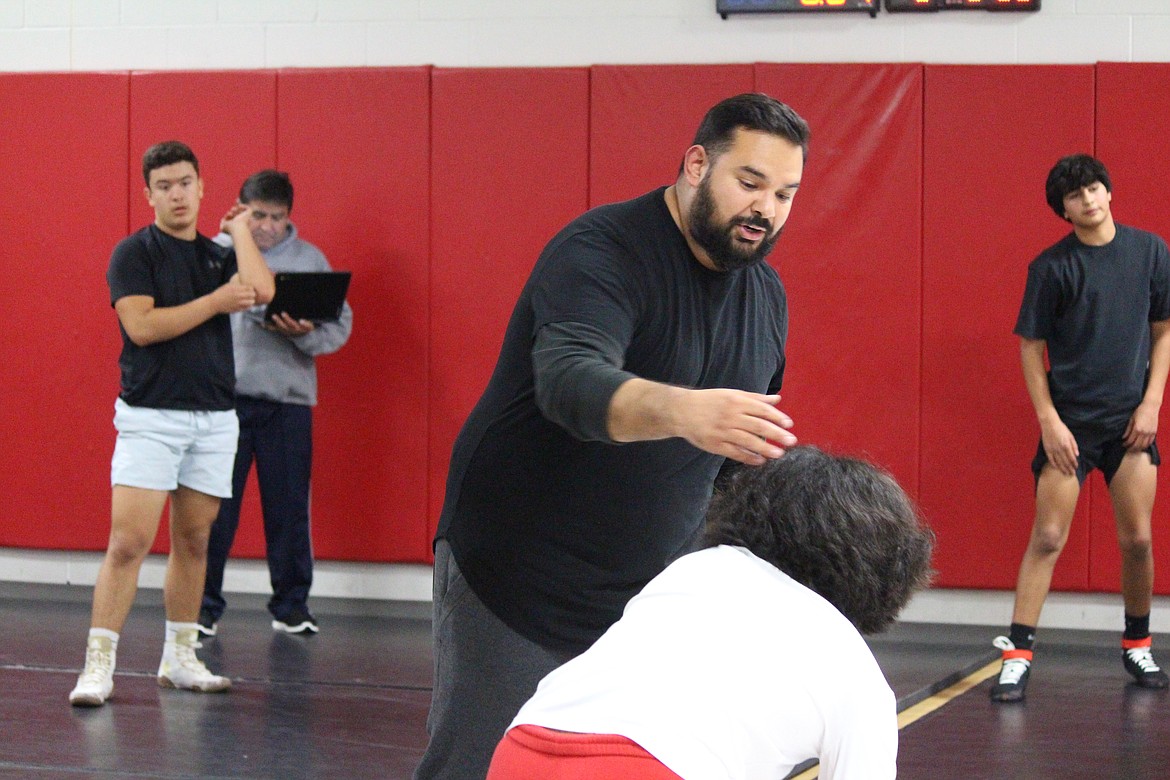 Othello wrestling coach Rudy Ochoa II instructs the team in a move during practice.
Previous
Next
by
CHERYL SCHWEIZER
Staff Writer
|
November 18, 2022 1:05 PM
OTHELLO — The Othello High School boys wrestling team came a long way last season, and coach Rudy Ochoa II said he hopes to build on that success for the 2022-23 season.
"Last year was a unique year, in that we started the season with only one state participant on our team," Ochoa said.
The Huskies made up for that lack of experience – Othello finished third in class 2A at the 2022 Mat Classic after winning the district and regional championships.
Othello returns a lot more state veterans in 2022-23.
"We have 10 state (participants) coming back," Ochoa said. "And we definitely had a couple that were right there, right on the fence of qualifying for state. A couple that just got hurt late in the season or at the regional tournament – that was pretty much the only thing stopping them."
Six of the returning wrestlers placed in the top seven at Mat Classic.
But there's a lot of competition out there – defending state champion Orting returns most of their team, Ochoa said, and fourth-place finisher W.F. West also should field a strong team. In the Central Washington Athletic Conference Othello will be competing with Selah, who finished second in state.
The best way for Othello wrestlers to stay competitive in that environment, Ochoa said, is to concentrate on what's within their control.
"It's like any other year – our goal is to chase gold and as long as we are constantly improving, we can end the season with something we're proud of," Ochoa said.
He cited the 2021-22 season as an example of concentrating on improvement, and how that focus helped in the long run. Early on in the season the coaches decided to revise their approach.
"We really dialed back and went back to basics. After about a week of wrestling, we had a coaches meeting and decided we didn't like where we were at the start of the season. So we did something a little different and went at a much slower pace to really build a strong foundation. I like to think that helped with the success later in the year," he said.
While they may have started slow, the Huskies finished the season as a state contender, and Ochoa said keeping the end goal in mind is one of the keys to success.
"I'd say the plan is definitely to peak at the end of the year, to constantly be improving, trying not to get too caught up in wins and losses, and keep that end goal as our main focus – simply just getting better," he said.
"A successful season is, everybody gets better, from start to finish. Their job is to just try their best and have fun, and I feel our coaches' job is to give them the tools and opportunities to improve," he said.
He cited the two league matches with Selah as an example – Selah won the first, but Othello won the second.
"It's something that we preach, to just keep chipping away and hopefully at the end of the year, we'll improve more than other people have," he said.
"Focus on what you can control, and we can control little things that we may need help with, as the season goes along – things we're not doing, things we should be doing, things we could be doing better," he said. "That's kind of been our recipe, analyzing and self-diagnosing within our team, our team and each individual, and trying to get them where they need to be."
Othello opens the 2022-23 season Dec. 3 at the Bob Mars Invitational at Kennewick High School. That's followed by the first league dual meet of the season against Selah on Dec. 8.
Ochoa said he likes the idea of a tough league match to start the season.
"I like good competition early, so we can kind of see where we're at, and what needs work," he said.
Cheryl Schweizer can be reached via email at cschweizer@columbiabasinherald.com.
Othello Boys Wrestling Schedule
Dec. 1 – @ Moses Lake High School
Dec. 3 – @ Kennewick High School with 17 others
Dec. 8 – vs Selah High School
Dec. 10 – vs Cascade Christian School with 11 others
Dec. 30 – @ Castle Rock High School with 12 others
Jan. 5 – @ Ellensburg High School
Jan. 12 – vs East Valley High School (Yakima)
Jan. 14 – @ Burlington-Edison High School with 10 others
Jan. 19 – @ Prosser High School
Jan. 24 – vs Grandview High School
Jan. 26 – @ Ephrata High School
Feb. 4 – @ East Valley High School (Yakima) with 5 others
Recent Headlines
---