'Enriching lives'
by
JOEL MARTIN
Staff Writer
|
November 18, 2022 1:09 AM
MOSES LAKE — Entrust Community Services' slogan is "Enriching lives thorough opportunity," and that's what they've been doing, without a lot of fanfare or publicity.
"We do four things," said Entrust CEO Tom Gaulke. "We work with high school students with disabilities to try to help them get jobs before they graduate school. So they graduate into something not nothing. We work with folks with disabilities of all kinds in our employment program. And our employment program serves folks with a wide range of disabilities ... We do housing for folks who are living on the streets or are at risk of losing their homes. We help them find places to live ... And then the last thing we do is community inclusion, which is working with our families who have those adult children who maybe work is not something they want to pursue. And we work to connect them up to their community. So we engage in in clubs and classes and social activities within the community to give the parents a break, but then also to develop skills in those folks so they can gain some more independence and move throughout the community."
The non-profit organization has been in Moses Lake since 2018, and moved from a small space in the WorkSource Building in June to its own office, from which it serves Grant and Adams counties. Entrust started in Yakima more than 50 years ago, and is still headquartered there, with offices in Sunnyside, Ellensburg, Pasco and Goldendale as well as the Moses Lake office.
"We were founded by a group of parents who had adult children with developmental disabilities," Gaulke said. "Back in those days, those young folks with developmental disabilities and adults really had nowhere to go. Schools didn't take them; it wasn't until later that the schools were mandated to serve all kids. And so they wanted something for their adult children to do. They started in the basement of a church, just a handful of parents and a few clients. They did arts and crafts and and then they decided they started to grow a little bit, and they decided to form a corporation in 1971. That's how we started."
Today Entrust serves more than 500 individuals on a day-to-day basis, Gaulke said. For clients who want employment, Entrust partners with several local businesses to place its clients in jobs, paying the client's wages and keeping in contact to support them in their position.
Clients come to Entrust via several different routes. They may be referred by WorkSource, or by the state Division of Vocational Rehabilitation, or the Department of Social and Health Services, or Grant County Housing Authority, Case Manager Miranda Bridges said. Bridges is their first point of contact at the Moses Lake office.
"Once they're interested in the services then I'll meet with them, and I'll do an assessment to see where they qualify at," Bridges said. "Once I match them up with the program that fits their case, then I meet with them and we'll do what's called a person-centered planning meeting. So it's kind of for me to get a little bit more information about the individual. My favorite quote is, and it's true because I apply it, is to reach people where they're at, and then help them to get to where they need to be."
"In our business, you'll hear a lot of discovery and assessment," said Program Director Jose Hernandez, who's based in Yakima. "Because you do have folks that will come in and say 'well, I want to work; I just don't know how to get there.' Well what type of work or career do you want to take? 'I don't know. I don't know what's available. I haven't worked for some many years, I just don't know.'"
"There's four (businesses) right now, that when we have somebody that does not know exactly what it is that they want to do… are willing to have the clients to come in and to spend at least maybe 15 hours in their place of business," Bridges said. She cited one of Entrust's success stories in helping a disabled client reach her potential.
"There's one lady that been working at Marshall's for a while, and they just had her do the cleaning of the store. But I know her heart wasn't set on just cleaning the store. She really wanted to move up. And she did. Now she's in the back room, and she's able to lay out clothes, and she's fantastic with that, I think it was just a matter of building up her confidence to know that she can do it."
That client has been at Marshall's for seven years, said Assistant Manager Kathleen Knutson.
"We employ (her) just like our other associates, with different needs, of course," Knutson said. "Entrust has their people come out to guide her throughout her shift. So we would tell her, or whoever her coach is, what her duties are and how she needs to perform them, and then they would be there with her to watch more closely. It's nice to have someone there who can keep her on task and make sure she's doing the right thing, following the right protocol."
Entrust's services go beyond just employment. Some clients need help with everyday things like riding a bus or cross the street safely. Some have difficulty communicating and need some extra support in that area. Some just want to be useful, and Entrust gets them into situations where they can volunteer, such as at assisted living facilities or the food bank.
"I've had many individuals (about whom people) say, 'whoa, they're just helping out, not getting paid, while I have folks that we're paying and they're not doing nearly as much as the volunteer,'" Bridges said. "So that is really good to hear."
All agreed that it takes a certain passion to do what the people at Entrust do. Bridges, who was born in Seattle but grew up in Moses Lake, developed her desire to help the disabled very early on.
"My mother is partly paralyzed. She's amazing. I mean, she can do so much with the use of one side. But I think just kind of watching her and just seeing how much she can do," Bridges said. "She was born in Texas, and the reason why she got paralyzed was because she got into a car accident as a child. Nurses back then were telling my mom's mother that they should put her in a home because she was never going to be able to walk, she wasn't going to have children. But there was one nurse that said to my grandmother, 'Go up north, maybe there's some doctors out there that can help out. And so my mother went to Children's Hospital in Seattle, Washington, and had lots of surgery to be able to have use of her hand and to be able to walk. And I think just hearing that story, it started me. I can see all of that inside of her."
North Area Program Manager Martin Cervantes had a similar story.
"I grew up with a brother that was deaf," Cervantes said, "and they wanted him to go to school in Vancouver, because the school district in Toppenish, didn't want to pay for an interpreter. And my mom's like, 'No, no.' So she was going to Olympia all the time and fighting it. So, for years, they fought and fought. And finally she won, they got an interpreter going to school and he was going to regular classes like everybody else."
"I was a banker for 15 years," Cervantes continued. And then I went into nonprofits, working with farmworkers with disabilities. And that was kind of a passion I had growing up with my brother that needed help and needed a voice… It was my calling"
"What's really happening is the community is seeing a person with obvious disability," Gaulke said. "Maybe they have Down syndrome, maybe they're in a wheelchair, maybe they're autistic, but the community is seeing them giving back to their community, which changes that citizen's viewpoint of people with disabilities. And all of a sudden, now they're starting to be a part of that community, because community is stronger when everybody participates."
Joel Martin can be reached via email at jmartin@columbiabasinherald.com.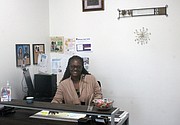 Recent Headlines
---