Donald Larson
|
November 16, 2022 4:02 PM
Donald D. Larson, 87, passed away quietly at home on Nov. 12, 2022.
Don was born at his grandparents' homestead in Snow, North Dakota to Albert and Elizabeth Larson. He was big brother to Bob, Gail, and Melody. Family was a joyous passion to "Grampy" Don Larson and he was a beloved husband, father, grandfather, great-grandfather and friend.
Don earned his bachelor's degree at the University of Puget Sound in Tacoma, Washington, and his master's degree at Claremont School of Theology in Claremont, California. In 1962, he became an ordained minister of the United Methodist Church. Reverend Larson, as many knew him, had a huge heart for serving God.
Besides his love for God and family was his love of golf! From the time he learned to play golf in high school to the weekend of his passing, he was either playing golf or watching it.
He is survived by his wife of 20 years Janet Larson and their extensive blended family, which includes his children Jonica, Todd, Jenelle, Scott and Lillian; his stepchildren James, Pattie, Maurice and Lewis and the combined family's 23 grandchildren and 17-plus great-grandchildren.
A Celebration of Life will be held Saturday, Nov. 19, at 11 a.m. at Othello Christian Church, 915 E. Rainier St., Othello, Washington.
Donations may be made in Don's name to the Outreach Fund at Othello Christian Church.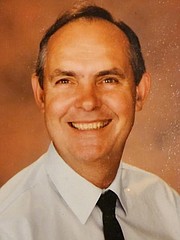 Recent Headlines
---