UPDATED: Two recovered, two missing after canoe capsizes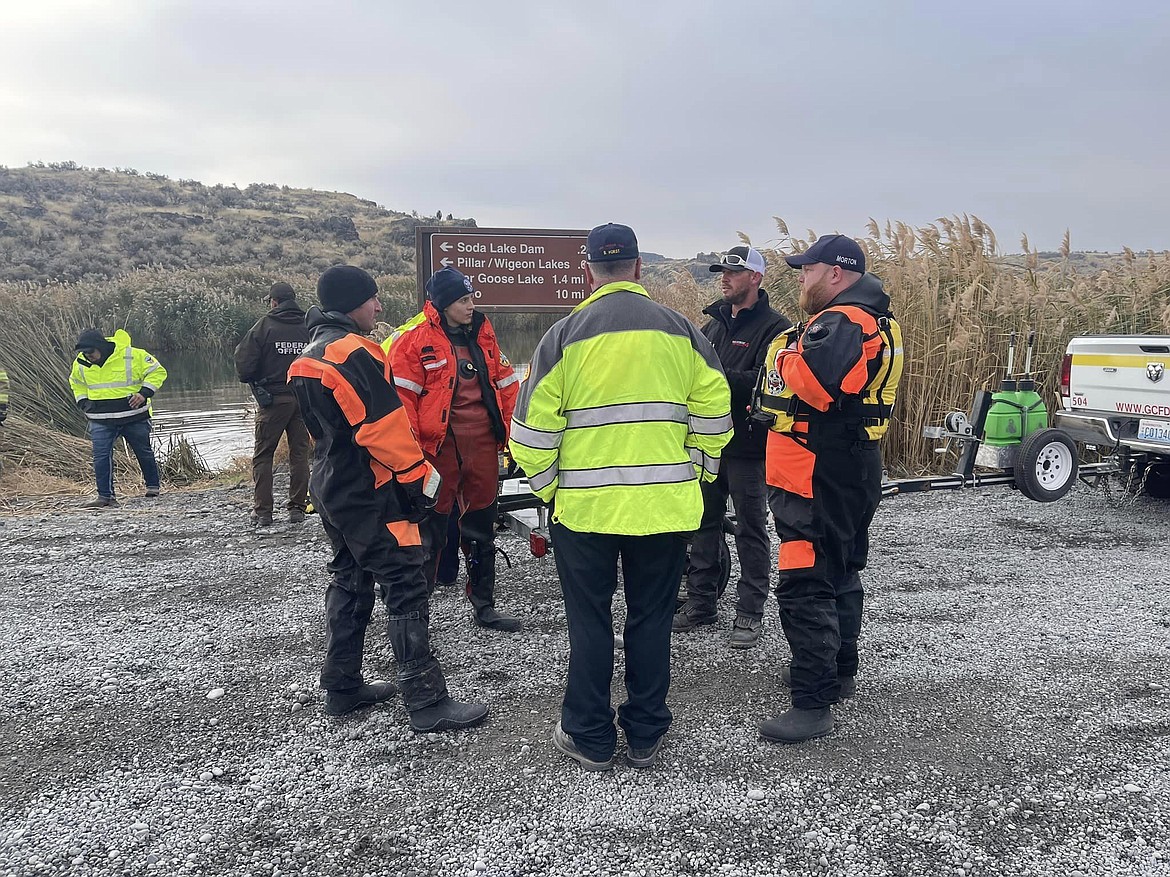 Several agencies have been involved in the response and recovery effort after a father and his three children went into a lake in the Columbia National Wildlife Refuge after their canoe capsized Friday. Divers and other responders discussed strategy and tactics Sunday during their search for the father and son who were still missing.
COURTESY PHOTO/GCSO
by
REBECCA PETTINGILL
Staff Writer
|
November 13, 2022 6:08 PM
UPDATE NOV. 13, 6 p.m.: The bodies of the two remaining missing family members – the father and the 6-year-old boy – have been found. Authorities are not releasing the names of the father and the two deceased children until Monday out of respect for the family to allow them to notify extended family members first.
OTHELLO - One child is dead, another was treated for hypothermia and a third is missing along with the father of the children after an accident on a lake on Veteran's Day.
A release by the Grant County Sheriff's Office states that a man and his three sons went fishing Friday afternoon around 1 p.m. at a small lake within the Columbia National Wildlife Refuge south of SR 262.

The Othello resident in his early 30s and his sons – ages 6, 8 and 10 – went into the water after their canoe capsized sometime before dark. The 10-year-old was able to swim to shore, but none of his other family members surfaced.
When the four did not return like they were expected to that evening, other family members went to look for them. The family found the 10-year-old on the shore and called emergency services around 11 p.m.
"We believe that after he swam to shore, he endured up to seven hours outside in the cold before being found by family members," the release stated.
The release states that the 10-year-old was transported to Samaritan for treatment of hypothermia and was released.
By Saturday afternoon, the canoe, some belongings and the body of the 8-year-old had been recovered. The man and the 6-year-old have yet to be found.
Names of the family members are being withheld until all are recovered.
GCSO spokesman Kyle Foreman said while it is unclear what caused the canoe to capsize, the 10-year-old has helped searchers try to narrow down the area that the canoe capsized at in the lake in hopes that it will result in the successful recovery of the man and son.
Foreman noted that there has been a lot of support for the search and some of that has come from first responders who answered the call Friday night. Search efforts continued through Sunday but have so far been unsuccessful.
Foreman stated that law enforcement does not believe life jackets were in use at the time of the accident.
Agencies involved in the response and recovery effort include Grant County Sheriff's Office, Grant County Fire District 5, Grant County Fire District 4, American Medical Response Grant County, Washington Emergency Management Division, U.S. Fish and Wildlife Service, Kittitas County Search and Rescue and Columbia Basin Dive Rescue.
This story will be updated as more information becomes available.
Rebecca Pettingill may be reached at rpettingill@columbiabasinherald.com.
Recent Headlines
---