Royal takes 41-7 win in first 2022 playoff game
|
November 12, 2022 5:32 PM
ROYAL CITY — The Royal High School football team advanced to the state quarterfinals with a convincing - but hard-fought - 41-7 win over the Cascade Christian Cougars Saturday afternoon in Royal.
Royal had a 27-0 lead at the half, but the Knights had to work for it. Royal Coach Wiley Allred gave credit to the Cougars.
"It was on them," Allred said. "I told the kids they weren't a normal 16th seed, because they had won their league and they had played tough against some pretty tough teams.
"They prepared well and they were trying to shorten the game by running the ball, and they were content to get four or five yards," he said.
"(Cascade Christian) did a nice job of preparing," Allred told the players when he talked to them after the game.
Royal took a 6-0 lead after recovering a Cascade Christian fumble, with Edgar Delarosa scoring on a 40-yard pass from Dylan Allred with 9:21 left in the first quarter. The extra-point attempt went wide.
Cascade Christian scored early in the second quarter, but the play was called back on a penalty. The Knights got the ball back after stopping Cascade Christian on four downs later in the quarter, and Kalab Hernandez scored on a 14-yard run to put Royal up 13-0.
Hernandez scored again on a 29-yard run to increase Royal's lead to 20-0, and the knights added a touchdown with 11 seconds left in the quarter to take the 27-0 halftime lead. Bennet Brown scooped up a pass from Dylan Allred for the score.
Allred said Hernandez and Dylan Allred both had good games.
"Our (defensive) line finally started to get after it with Detton Jenks and Rayce Ellers and Juan Morales. (Cascade Christian) has thrown for over 2,500 yards and (had) a lot of success throwing the ball. We made one mistake deep, but overall I thought our defense played well," he said.
The Knights advance to the quarterfinals against the Montesano Bulldogs, who defeated Toppenish 24-22 Friday. The time and site of the game will be announced.
Cheryl Schweizer may be reached at cschweizer@columbiabasinherald.com.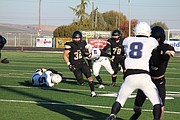 Recent Headlines
---