Royal City soldier takes recruiting to the screen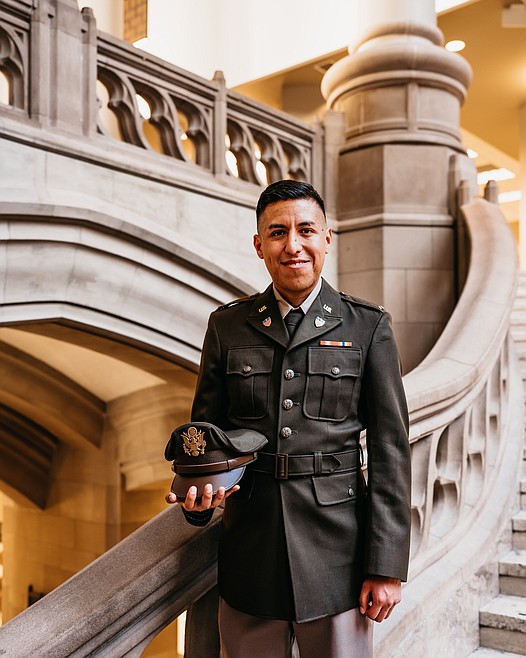 2nd Lt. Pedro Popoca, a Royal City native, recently appeared in a pair of promotional videos for the U.S. Army.
COURTESY PHOTO/2ND LT. PEDRO POPOCA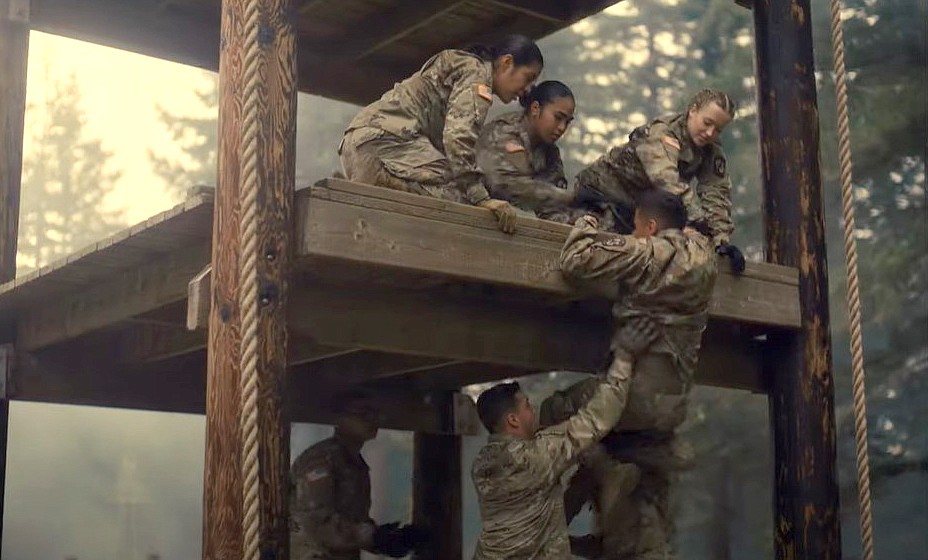 In this still from the promotional video "So Early," 2nd Lt. Perdro Popoca is shown climbing an obstacle course structure with some help from cadets.
Previous
Next
by
JOEL MARTIN
Staff Writer
|
November 12, 2022 1:53 PM
ROYAL CITY — Royal City native Pedro Popoca is helping to recruit the next generation of soldiers.
Popoca, a second lieutenant in the Army National Guard now living in Seattle, appeared recently in videos for the Army's "Decide to Lead" promotion campaign to increase officer training participation.
"It was actually one of my friends that's also an officer in the program with me (that got me into it)," Popoca said. "She was pictured in another video and she was telling me that they were looking for more people to be part of that campaign video. I ended up interviewing for this campaign and they liked me, so they put me into the video."
Popoca has roles in two videos, both of which can be found on YouTube. In "So Early," he is shown helping a cadet climb a structure in an obstacle course, then being helped up in turn. In "Together," he is seen carrying a map and leading cadets into a forest clearing for night training.
"The shooting was done here in Seattle," he said. "I believe it was in October. It was later in the afternoon and they shot some scenes like at a local high school where we're working out with weights and running and stuff like that. I don't think that made it into the actual campaign video, but we did that first. And then another day we did the actual footage that was made into the video."
Popoca was born and raised in Royal City and graduated from Royal High School in 2010, he said. He went on to attend Big Bend Community College, then earned a bachelor's in landscape architecture from the University of Washington. It was while he was working on his masters in urban planning and design, also at UW, that he found himself in the Reserve Officers Training Corps program. While in ROTC, he participated in recruitment efforts on campus, he said.
The "Decide to Lead" campaign, which launched last summer, is intended to encourage young people from all backgrounds to consider training to become Army officers, according to a statement from the Army.
"Research tells us that very few young people today consider Army service and even fewer believe that the Army is a viable path for college-bound youth," Maj. Gen. Alex Fink, chief of Army enterprise marketing, said in the statement. "'Decide to Lead' helps address some common misperceptions about Army service by showing youth how officership can be the ultimate launch pad for the career and lifestyle they want."
Popoca isn't planning on packing up and heading for Hollywood, though. He works as a landscape designer in civilian life and continues his Guard service as well.
"Now I have my unit and my soldiers that I am in charge of, but I still encourage and talk to them to like, you know, hey, try out the officer route," he said.
Joel Martin can be reached via email at jmartin@columbiabasinherald.com.
For more info on the recruitment program visit:
"So Early": https://youtu.be/QtIgIvvj1gk
"Together": https://youtu.be/PlndxMLK-Kk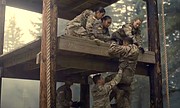 Recent Headlines
---