Comedy tour stops in Soap Lake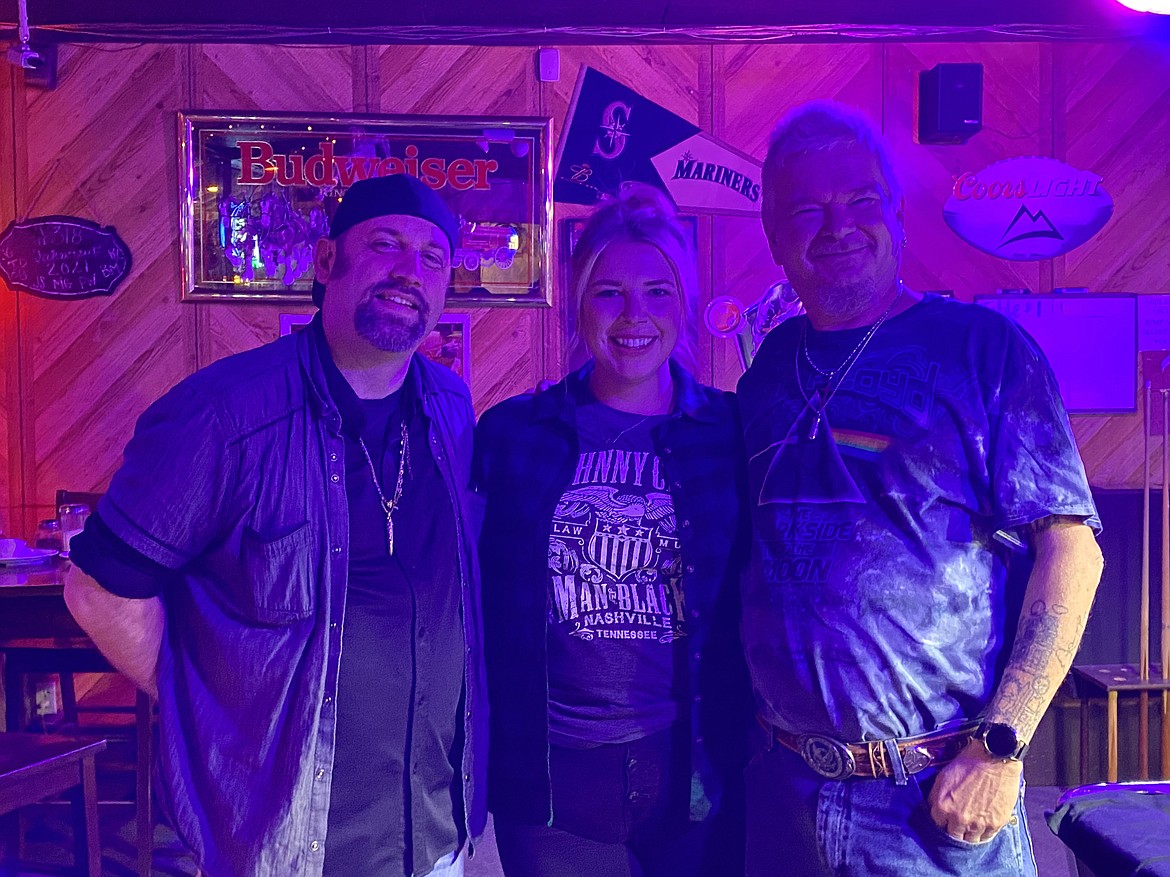 Jake Daniels, left, and Dan Ellison, right, performed at the Soap Lake Del Red Pub Friday night where attendee Melissa Baker, center, was the focus of a few of Daniels' magic tricks.
REBECCA PETTINGILL/COLUMBIA BASIN HERALD
by
REBECCA PETTINGILL
Staff Writer
|
November 11, 2022 1:20 AM
SOAP LAKE - The Del Red Pub in Soap Lake had some laughs and a touch of magic Friday night with a performance by the Jokers and Jester Comedy Tour.
"There is no better feeling than performing for people in a small town," said Jake Daniels.
The Jokers and Jester Comedy Tour features four entertainers namely Daniels, Dan Ellison, Steve Mazan and Mark Gee, who travel across the United States to bring comedic entertainment to towns of all sizes but tends to focus on small towns.
Soap Lake, however, only saw Daniels and Ellison perform as they tend to only send two performers for sets in smaller towns rather than all four.
Daniels explained the name of the tour, Jokers and Jester, is because the other three who do comedy are the jokers and Daniels is the Jester because he does a number of different acts for an audience such as magic and music with his comedy, like a jester would for a queen.
"So, if you're giving me your time I'm going to give you everything I can to make sure that you're entertained," Daniels said.
The tour has been featured on Amazon Prime Video. The first special is available on Amazon Prime and titled "Jokers & Jester Comedy Tour: The Movie". The second special is expected to be released in 2023, Daniels said.
Both Daniels and Ellison explained that while an audience may think comedy is easy, there is a lot more that goes into it that they don't see.
"Delivering the joke, paying attention to the feedback from the audience and then refining it so that we can get the most response every single night," said Ellison.
They explained the hours it takes to come up with a joke, refine it over and over until it is acceptable to them and then refine it more as they perform to meet their audience's energy.
The tours next and final stops in Washington include Airway Heights on Nov. 9, Republic on Nov. 10, Chewelah on Nov. 11 and Winthrop on Nov. 12.
More information can be found at their website: http://www.jokersandjester.com or Facebook page Joker-s and Jester Comedy Tour.
Rebecca Pettingill may be reached at rpettingill@columbiabasinherald.com.
Recent Headlines
---