Acing it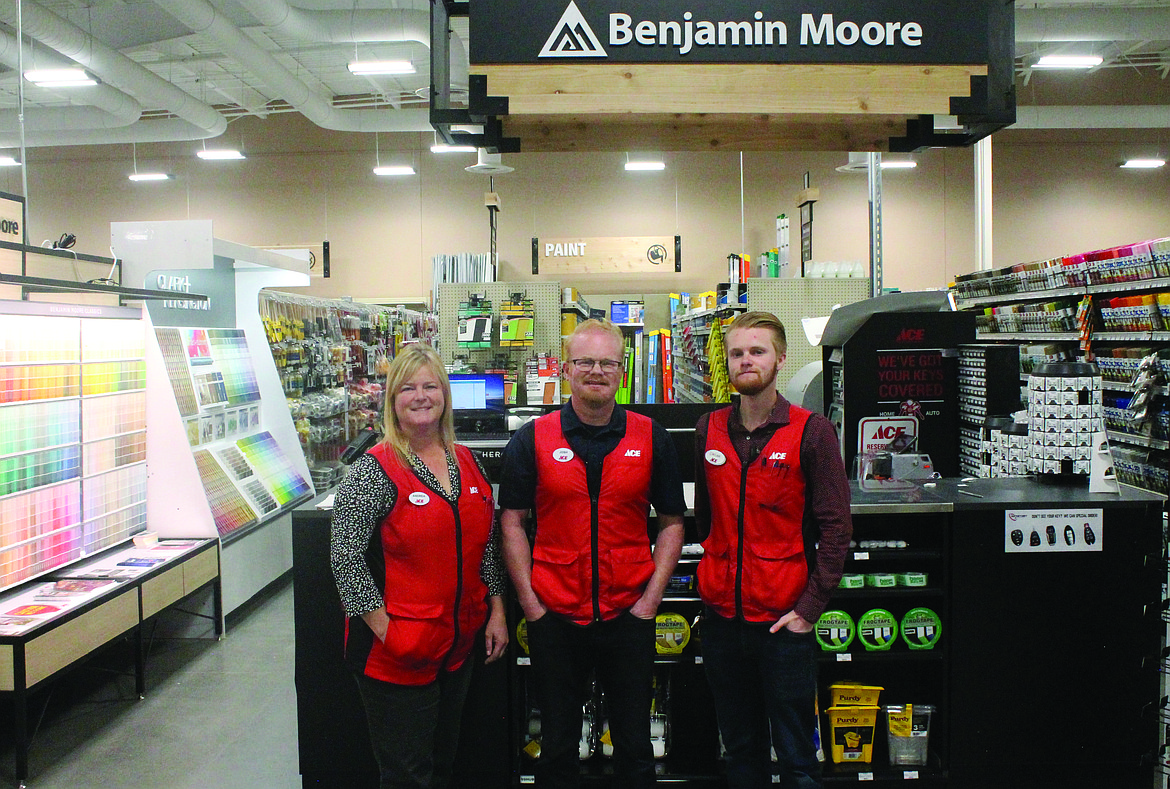 Owners Andrea Visker and Josh Fanning and store manager McLain Fanning stand in Royal City's new Ace Hardware store, which opened in September.
Joel Martin/Columbia Basin Herald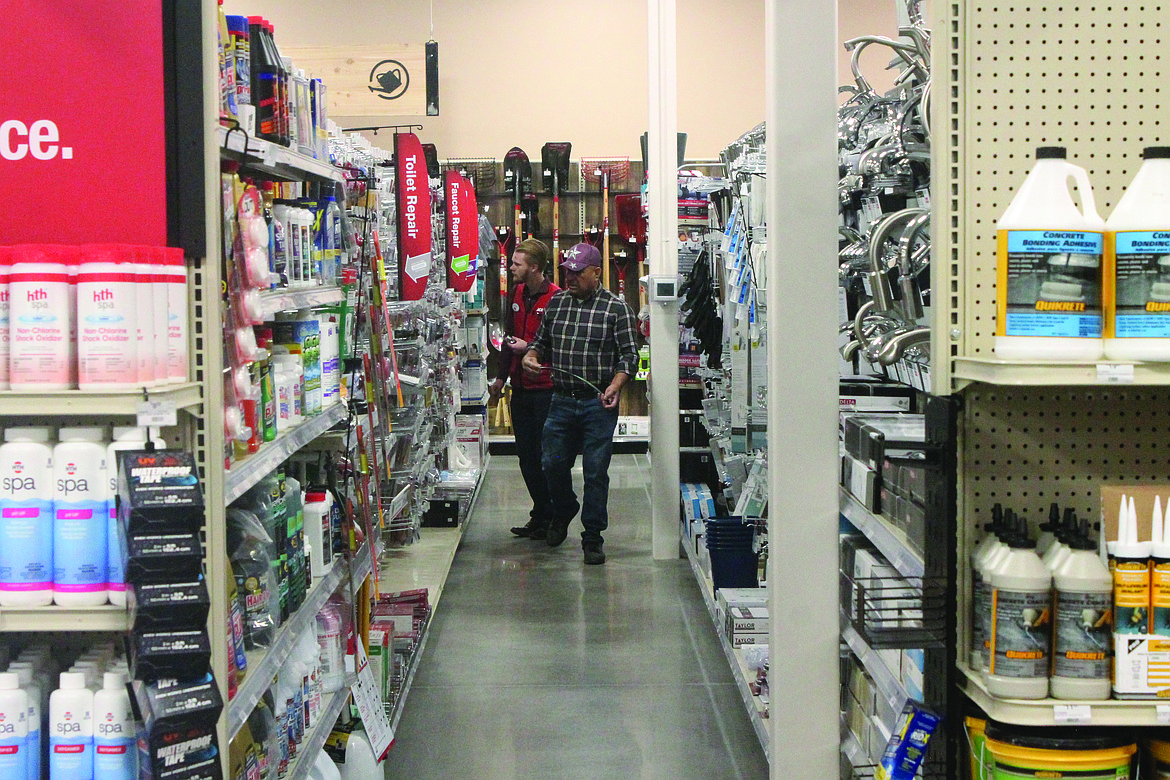 Manager McLain Fanning (left) helps a customer in the plumbing section of Ace Hardware.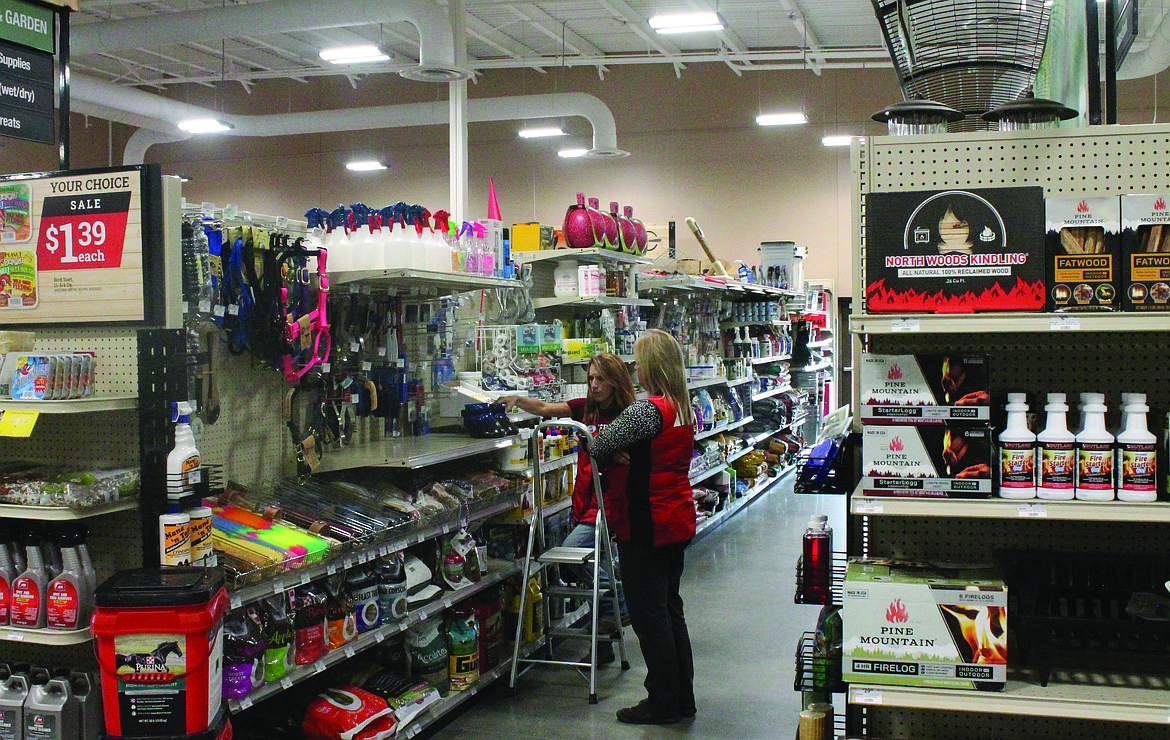 Julie Lybbert, left, and Andrea Visker go over some items in the pet and livestock supplies section of the new Ace store in Royal City. Lybbert, who recently moved back to the area from the west side, has raised animals before and knows their needs, she said.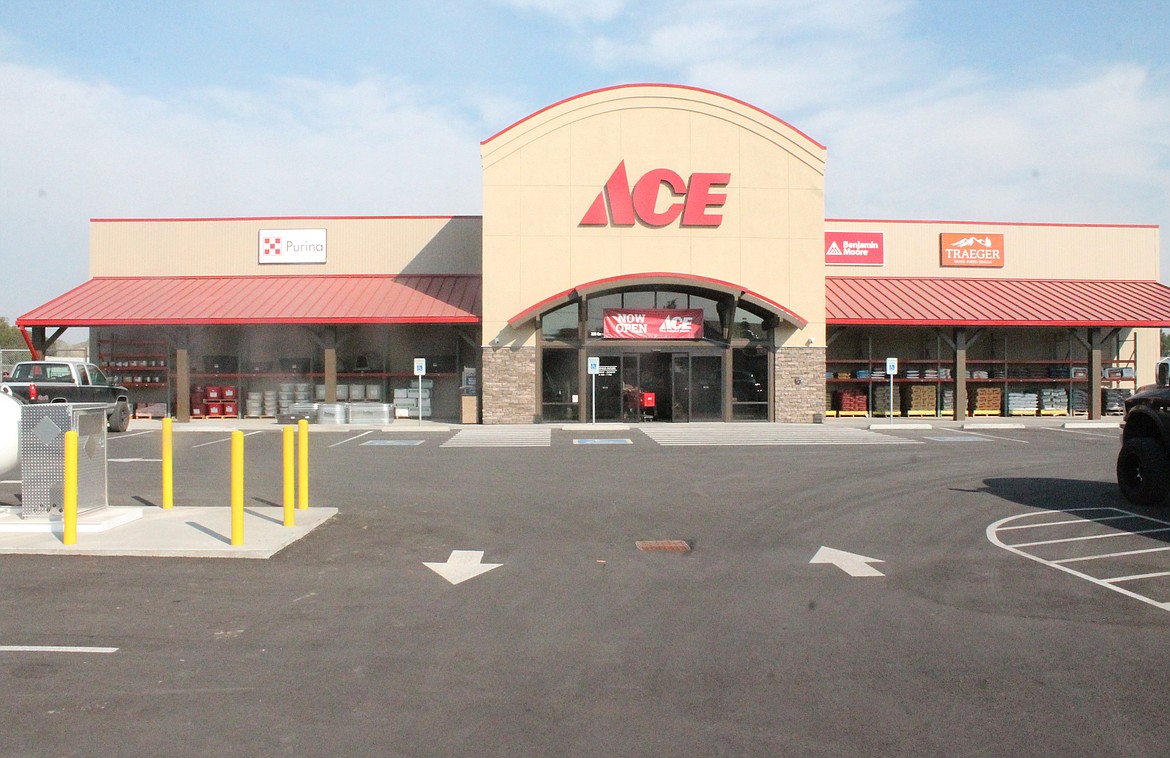 The exterior of the Ace store in Royal City, which opened in September.
Previous
Next
by
JOEL MARTIN
Staff Writer
|
November 11, 2022 1:00 AM
When it comes to business, small towns often face kind of a vicious cycle. Many chains won't locate in a community below a certain population, which means people have to drive to a larger city to shop. And the more shopping they do out of town, the fewer things they buy in their hometown.
That's been a problem in Royal City, where there are only so many things you can buy without driving to Othello (24 miles away) or Moses Lake (31 miles) or the Tri-Cities (75 miles). The new Ace Hardware store, which opened in September, could go a long way toward easing that problem.
"We saw the need for it here in the community," said Josh Fanning, one of the owners. "And we just believe that we can be a source for all of South Grant County to find lumber, feed and hardware goods."
The store is a family operation, owned by Fanning and his siblings Ben Fanning and Andrea Visker, and managed by Josh's son McLain. All are lifelong residents of Royal City.
The Fannings began looking into bringing an Ace store to Royal City about four years ago when they got to talking with representatives from the company at a trade show, Josh said. It's part of Ace's push to bring its stores to smaller communities.
"There were years where (large hardware chains) of the world were getting bigger, bigger, bigger," he said. "And what happens is, it kind of causes an attrition out of small communities into bigger communities. And there's been a reaction to that. As small towns get less and less services, there's a need. Ace has discovered that through partnering in small towns they actually have a bigger footprint and they actually do really well. So you've been seeing in the Northwest, Aces expand into smaller towns for probably the last five or six years, if not longer. And we're a part of that trend."
The new Ace isn't just a hardware store. It offers gardening supplies and equipment, lumber, barbecues, paint and camping, hunting and fishing items. Perhaps most importantly for a farm town like Royal City, Ace also carries feed and livestock supplies.
"You can find some of the brands that Ace provides under other formats," Josh said. "But you'd be hard-pressed to find the number of best brands under one roof. We've got Stihl, we've got Toro, we've got Traeger, we've got Scott's. We've got all these brands that people want and know because of their quality and reliability and the results they produce. Ace provides these all under one roof. It's hard to sit down for a football game and not see an Ace ad, because either a Stihl ad or a Toro ad or a DeWalt ad or a Milwaukee ad comes on. And then it's 'Oh, you can get these at Ace.'"
Currently, there are 119 Ace stores in Washington alone, according to the company's website. They, along with stores from Alaska to Northern California to Utah and Montana, are supplied by a large warehouse in Moxee, east of Yakima. That's a huge asset, Josh said.
"Our building here has over 25,000 items," he said. "But people need to realize that now that Ace is here, you have access to hundreds of thousands of items."
"That's one of the things we really loved about Ace," Andrea said. "They have a lot of infrastructure already put in place, like their dot-com. In a store in Royal City, we wouldn't really have the ability as owners to create that in a short time. But Ace already has the infrastructure in place and we can jump on board. Anybody in Royal City can get online and shop not only our local store, but also our warehouse. So we might have one pergola on the floor. The warehouse might have six. They get to choose and have it shipped right here to the store for free. That's how we have access to those 100,000 skews at the warehouse. And anybody can view that on acehardware.com."
The new Ace store has 12 employees, which is pretty good in a small town. That's a few more than the current numbers indicate, Josh said, but he thinks it's worth it.
Royal City is growing, according to the U.S. Census Bureau. In 2018, the small town had a population of slightly more than 1500, compared to nearly 2,400 in 2022.
"We just really believe that the town needs this and the town is going to support it," he said. "We're investing in our help, so they can get trained up in the Ace way to be helpful hardware people, and just to be ready to handle more business."
The staff is made up of local people who know their stuff, Josh said. One employee came to them after 30 years in the irrigation industry. Another, Julie Lybbert, who oversees the livestock and pet section, has raised animals herself and knows what owners need.
"This is my comfort zone," she said. "I've had the horses, the cows, the pigs."
That hands-on experience is important for a hardware store employee.
"If you don't know what kind of work you're talking about, if you've never wired something, you've never hooked up plumbing, you can't really give good advice," McLain said.
In a farm town like Royal City, having a store centrally located means a lot.
"I think it's a tremendous value not to have to make a 75-mile round trip to get a piece of ply board," Andrea said. "So that's a huge value right there. Not just the gas costs, but your time. It takes you away from doing something else."
"A lot of the businesses that we're already doing business with, they're getting to recoup not only time and gas costs, but also productivity," Josh said. "Because when somebody's driving to Moses and back, they lose two or three hours of productivity on the farm. So it's almost a double whammy."
The goal, the Fannings said, is to benefit not only the customers but the local business community as well, and Royal City as a whole.
"We're a small town, and we're looking to serve the needs of the community," Josh said. "And a lot of money does leave, just because this is a small town that doesn't have a lot of services … If we keep people in town that were going to leave town, now, every other business in this town has a chance to sell things to these people that are staying in town. And thus, success breeds success."
Joel Martin can be reached via email at jmartin@columbiabasinherald.com.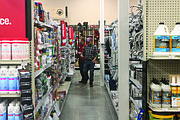 Recent Headlines
---