"Competitive" Cougar receiver room looks to keep improving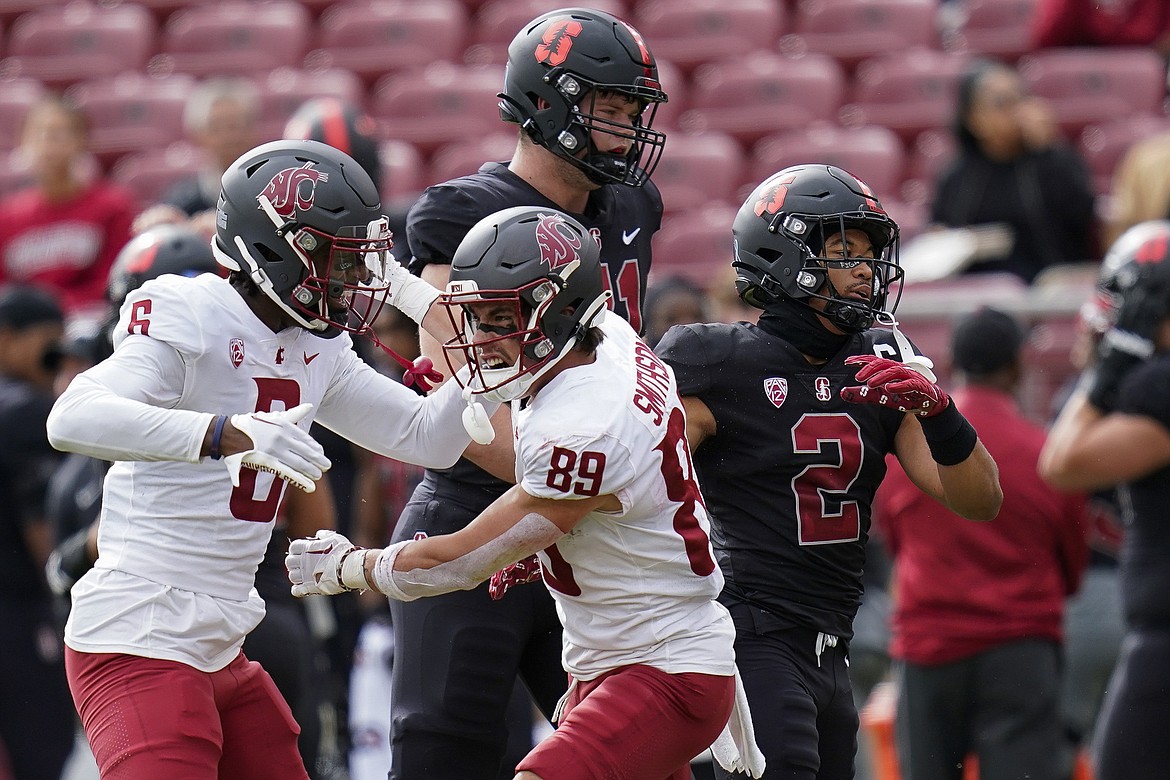 WSU receiver Leyton Smithson (89) celebrates with his teammate Donovan Ollie (6) after scoring a touchdown in the Cougars' 52-14 win over Stanford last week. Smithson made his first career start in the win.
AP PHOTO/GODOFREDO A. VASQUEZ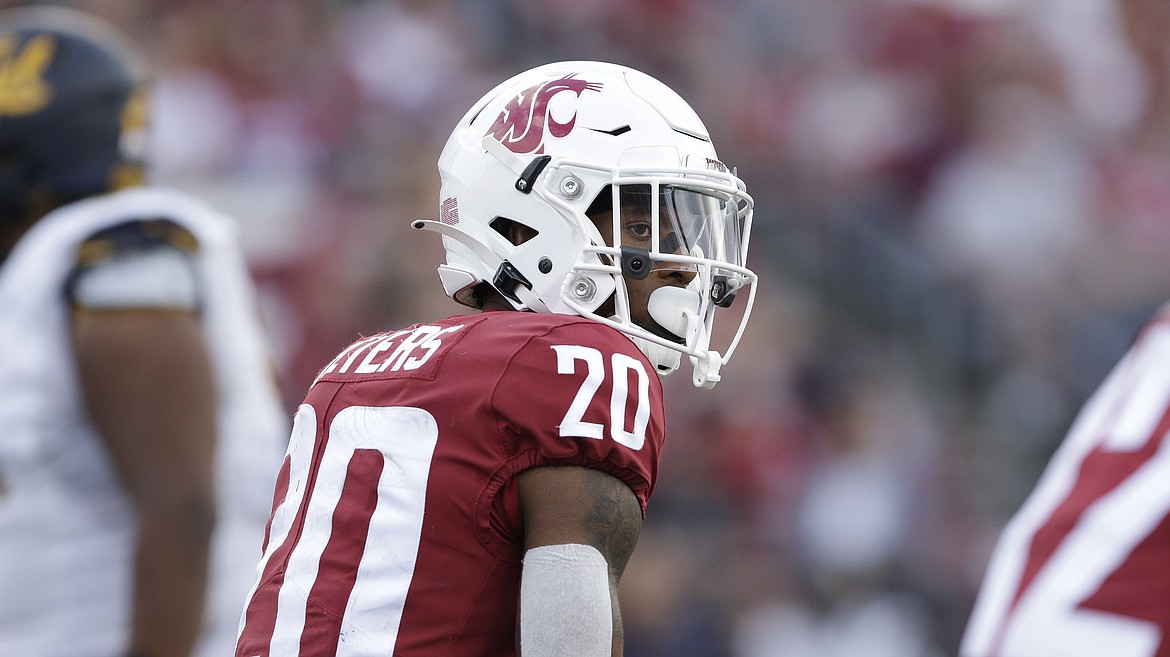 Receiver Orion Peters led the Cougars in receiving in Saturday's win over Stanford, hauling in three passes for 50 yards and a touchdown. Nine different WSU receivers caught a combined
Previous
Next
by
IAN BIVONA
Sports Reporter
|
November 10, 2022 4:18 PM
PULLMAN – Nine different players, seven of them being wide receivers, caught passes in Washington State's 52-14 win over Stanford last week, the sixth time that at least nine Cougs have caught passes in a game this season.
Head coach Jake Dickert said that the bye week prompted self-reflection in terms of creating a "competitive atmosphere" in all position groups on the team, with the wide receiver room showing those results on Saturday.
"In the bye week we really kind of looked hard in the mirror and thought 'What's the best to keep guys fresh and to keep a really competitive atmosphere in the room?'" Dickert said at a press conference on Wednesday. "No one's performing at a level that just deserves to be out there all the time, and that was the reality of it. So, we challenged those guys, but I think when you give some guys opportunities I think they practice harder, they're more focused and I think the guys in front of them never get settled."
The Cougs topped 500 total yards in a game for the first time this season, 323 of which in the first half saw the offense put 35 points on the board. A defensive score gave WSU a 42-7 lead at the half, the most points before halftime for the Cougars since 2018. A pair of Coug receivers made their first career touchdown catches in the game as well.
"It definitely felt good," wide receiver Anderson Grover said of his seven-yard touchdown catch. "I mean, the last touchdown I scored was in 2019, so it's been a lot of work, a lot of hours put in. It really felt good to make a play and make something productive in a game situation."
True freshman receiver Leyton Smithson began the scoring onslaught on a three-yard run under three minutes into the game.
"It was definitely surreal," Smithson said. "You watch the tape and see that I just kind of stand there for a sec, I don't know what to do with my hands, but then the moment kind of set in and I realized what I'd just done. It was a big moment for me."
WSU's rushing attack took the spotlight on Saturday's win, which ended a three-game skid, where the Cougars rushed for 306 yards on 38 attempts. Though, receivers found a way to make a difference in the game without the ball in their hands, like a key block by Smithson on running back Nakia Watson's 41-yard score in the first half.
"I definitely think of that as a big area where we haven't contributed enough in the wide receiver room," Smithson said. "Contributing to Nakia's touchdown and blocking for our guys is up there with putting points on the board."
Dickert said that Grover, whose 11-yard reception two weeks ago against Oregon State was the first of his career, is an example of players being ready for their moment of opportunity, which creates a more competitive team. Of the seven wide receivers to catch passes in the win over Stanford, with De'Zhaun Stribling's four receptions being a team-high.
"Grove's part is always just staying ready, and getting an opportunity," Dickert said. "Opportunities are everything, and you got to be ready for those moments, and I think that he was."
Smithson, a true freshman from Bellingham, made his second-straight start against Stanford. Before Saturday, he had just 13 catches for 120 yards on the season.
"Leyton has just been a steady growth through the whole season," Dickert said. "It's good for him to see a little success. I think that's good for a young player, to see some success and obviously, that allows them to hopefully get more confidence in what they're doing."
A "coachable" mentality is what led to him being able to work his way into a starting role early into his college career, Smithson said.
"I think I just earned it by being able to be coachable, and kind of coming in here as a blank slate," Smithson said. "I didn't really have too many bad habits to start off with. Just coming into work with my hard hat on every day. Lunch pail."
Creating a competitive, yet cohesive, position group allows players to bring what they can to the table and make other players better in the process.
"I feel like I bring more of a technical skillset to our room, and I just try to spread knowledge and learn from the other guys in the room like (Stribling) and (Donovan Ollie) and (Lincoln Victor)," Grover said. "I feel like we all bring something different to the room, and we all help each other out in different ways."
Dickert added that the wide receiver room is not the only group that has seen a change in
"competitive atmosphere," and that the whole team is undergoing a similar situation – one that will help the Cougars in the long run.
"At the end of the day we want competitive depth at every position," Dickert said. "And that's what we're trying to create with the receivers, there's no reason for any of those guys to be comfortable – and that's not a bad thing, it really isn't. We need to have competitive depth throughout our whole team."
WSU will look to keep up its competitive receiver group against an Arizona defense allowing 254.3 passing yards per game this season.
Ian Bivona may be reached at ibivona@columbiabasinherald.com.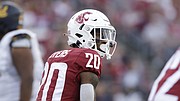 Recent Headlines
---