12U Rage take second at indoor tournament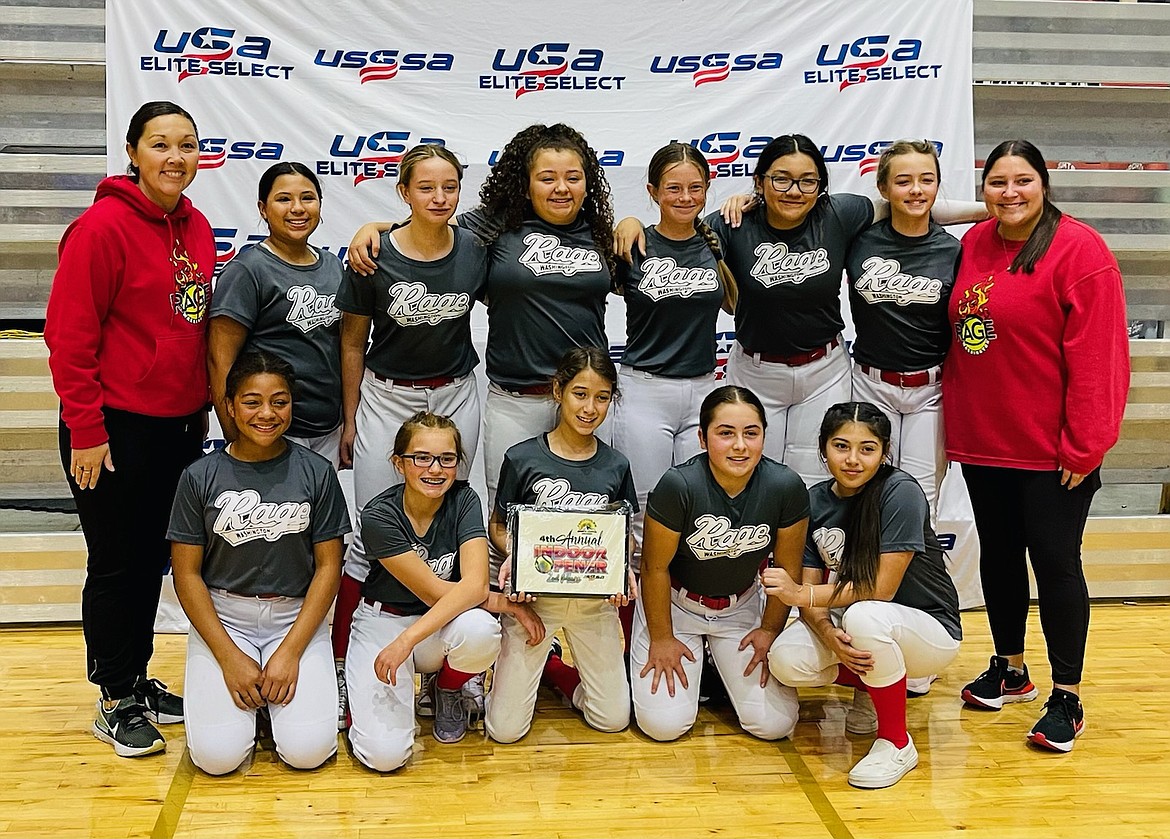 The 12U Washington Rage placed second at the 4th Annual Indoor Opener in Centralia last weekend. Pictured above: Front Row (left to right) - Nekiyah Vaughn, Josie Carlstrom, Rhemi Rodriguez, Kennadee Lyons and Briana Martinez. Back Row - Coach Stephanie Lopez, Avanie Alamos, Sophia La Grave, Jayylinn Villarreal, Allie Jensen, Mia Lopez, Bella Sales and Coach Brooke Richardson
CONTRIBUTED PHOTO
by
IAN BIVONA
Sports Reporter
|
November 10, 2022 3:39 PM
CENTRALIA – The 12U Washington Rage placed second at the 4th Annual Indoor Opener in Centralia last weekend, hosted at the NW Sports Hub.
The Rage played five games throughout the tournament, finishing 3-2 with an appearance in the championship game.
"The girls were a little scared to be in this tournament considering it's indoors and something new for them, but I'm just super proud of them and excited for the rest of the season," Rage Head Coach Brooke Richardson said.
This is Richardson's third year as a coach and the first time that the team has competed in an indoor tournament after the previous year's events were canceled due to COVID. There are many differences in playing in an indoor versus an outdoor softball tournament, mainly the field size and different lighting.
"The fields are a lot smaller, and they have the fluorescent lights up at the top," Richardson said. "So, our outfielders tend to struggle a bit more with tracking the ball than they would outside with the sun."
After dropping their first game 6-5 to the Rampage Riot, the Rage bounced back with three-straight wins in the bracket, winning 11-1 over the Lady Knights, 7-5 against the Titans and 7-1 over the Titans again to advance to the championship game.
"We had a few hiccups our first game, but once we were able to dial in and get used to a different environment the girls did very well," Richardson said.
Richardson said the strength of the Rage is in their pitching, with Kennadee Lyons and Avanie Alamos taking the mound for the team throughout the two-tournament fall season.
"We have two very, very strong pitchers, they're pretty young," she said. "Kennadee Lyons and Avanie Alamos, Avanie recorded 16 strikeouts this weekend, and on the season (Lyons) has 32 strikeouts. Our pitchers, that just shows that they're there and they're showing their grit."
The second-place finish wrapped up the fall season for the 12U Rage, though Richardson said that the nucleus of the team will return for the spring season, with practices resuming in January.
"These girls are starting to mesh a lot better than I thought because it's only fall, but we will carry the same team into the spring," Richardson said.
Ian Bivona may be reached at ibivona@columbiabasinherald.com.
Recent Headlines
---