Quincy shows economic development promise, officials say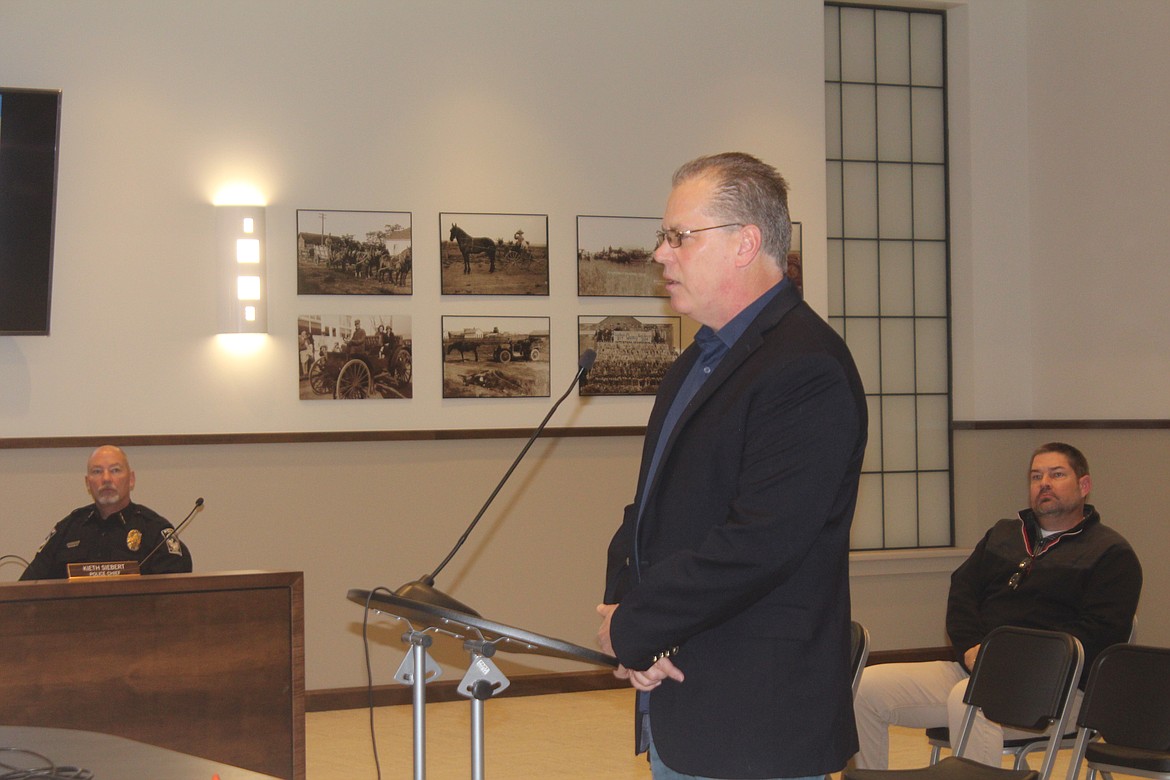 Economic development consultant Pat Boss talks to the Quincy City Council about economic opportunities at Tuesday's meeting.
CHERYL SCHWEIZER/COLUMBIA BASIN HERALD
by
CHERYL SCHWEIZER
Staff Writer
|
November 2, 2022 5:17 PM
QUINCY — Grant County, including Quincy, is drawing a lot of interest from businesses looking for new or additional locations, according to local economic development officials. Grant County Economic Development Commission Director Brant Mayo and economic development consultant Pat Boss talked to Quincy City Council members about some of the possibilities at the regular meeting Tuesday.
"With Grant County, we are seeing an unprecedented amount of businesses wanting to come into our area, through all sectors – data centers, manufacturing, ag, aerospace," Mayo said. "In fact, our liaison with the Washington Department of Commerce (said) we are the busiest EDC in the state. We have more live projects going on than any other county at this point in time."
Some of the interest is generated because of the county's low electrical rates, Mayo said.
"But we've seen other things, with the pandemic and a lot of other things, that are making it attractive for people to come here," Mayo said.
The EDC is working on projects in the Quincy area, he said, although none are ready to be announced yet.
Boss works with the Port of Quincy among others and said the inquiries are changing.
"Obviously, the port and the city have seen a lot of growth here on the industrial side, the data center side, the food processing side. One thing I will say, more recently what's happened is we're seeing more manufacturers looking at Quincy," Boss said.
"We're seeing what I call onshoring, a lot of companies that are uncertain about doing business in Asia are looking around here now," he said.
Boss said the industrial activity has had the effect of prompting inquiries from businesses that haven't previously expressed interest in Quincy.
"We get a lot of calls from hotel chains, retailers, now," Boss said, "because a lot of companies are looking at Quincy."
Companies are asking about Quincy's amenities and what's available locally, he said. The challenge identified by hotel owners interested in Quincy, he said, is the lack of winter traffic.
"This town is really busy in the spring, the summer, the fall," Boss said. "But the one thing I keep getting asked about more recently is, are we going to have more activities in the winter?"
Quincy city officials have a possible design for an indoor sports complex, but the project is still in the design phase. Boss said a place where people could play soccer and other games could, and probably would, draw people to Quincy in the winter.
Quincy Recreation Director Russ Harrington said Wednesday the indoor arena project is still in the design phase.
Cheryl Schweizer can be reached via email at cschweizer@columbiabasinherald.com.
Recent Headlines
---