EWU women's tennis shows growth in doubles at Gozaga invite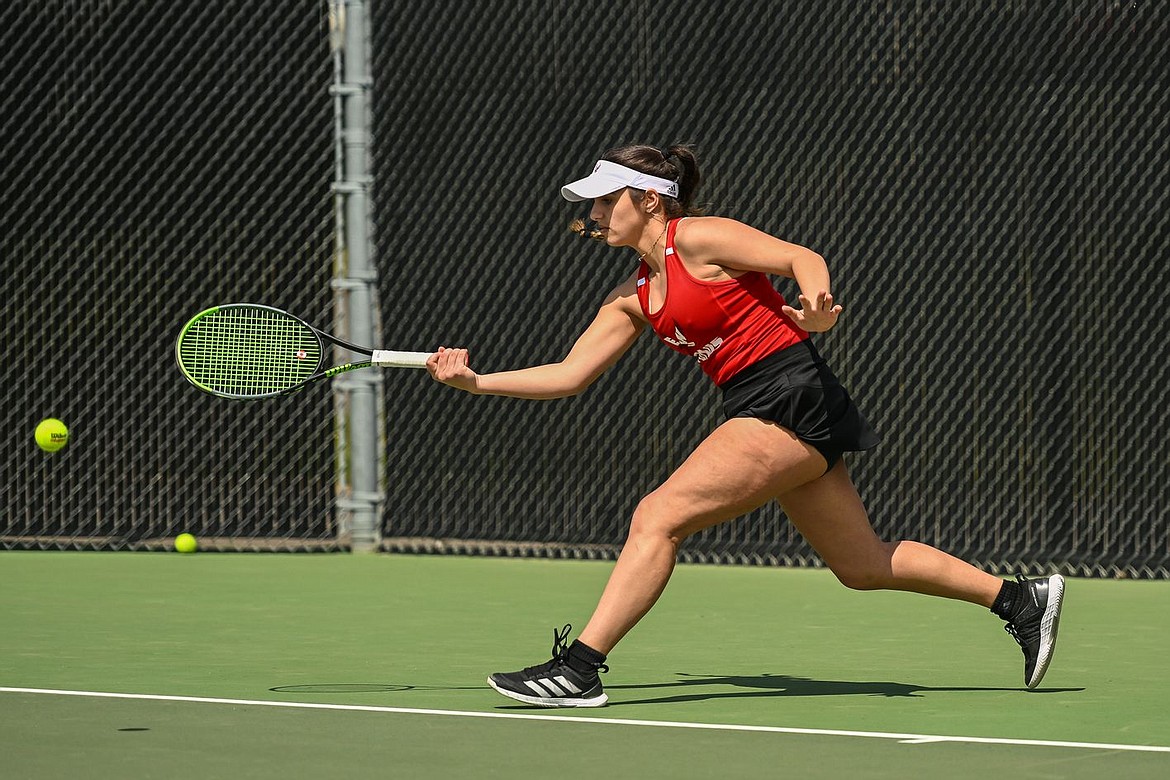 Eastern Washington's women's tennis team has performed well on the court recently - especially in doubles competition.
CONTRIBUTED PHOTO/EWU ATHLETICS/BRIDGET MAYFIELD
by
CONTRIBUTED REPORT/EWU ATHLETICS
|
November 2, 2022 3:58 PM
Eastern Washington women's tennis competed at the Gonzaga Invitational this past weekend and put together multiple strong performances against numerous opponents from Big Sky schools.
"We had a good weekend at the Gonzaga Invite. I was really impressed with how far we've progressed with our doubles play," head coach Dustin Hinson said. "We played smart and aggressive at the right time and won six out of seven doubles matches all weekend. We also had some impressive performances in singles. The whole team played with the desire and intensity that makes a difference in the critical moments of matches. Scout Mathews played her first tournament of the fall and won some great matches in the top singles flight. She played with intensity, focus and played to her strengths to get some nice victories. We look forward to our last tournament of the fall in a couple of weeks at San Diego State."
Doubles
Taylor Andersen and Scout Mathews would partner up and defeat Montana's Maria Goheen and Olivia Ossterbaan 6-2 to open their doubles competition. The two Eagles would then knock off Idaho's Jayanne Palma and Selin Sepken 6-4 to advance to the semifinals. Andersen and Mathews would fall in the next round to Gonzaga's Kianna Oda and Caroline Wernli.
Isabella Foshee and Leandra Nizetic combined to defeat Portland State's Madison Egan and Nell Arendt 6-0. The duo withdrew from the next round due to injury.
Kenzington Mann and Renata Gabuzyan defeated Maria Villarejo and Elizabeth Strongina in the open doubles group, with a 7-5 win.
In the Saturday extra doubles, Nizetic and Sara Vasic topped Gonzaga's Rose Hayes and Maria Frampton. Mann and Gabuzyan would battle to a 7-5 win over Villarejo and Nancy Cabanas from Montana State and Montana respectively.
On the final day of competition, the Sunday extra doubles round, Mann and Gabuzyan defeated Egan and Arendt 6-4. Vasic and Nizetic would beat Idaho's Nicole Horacek and Saffron Dowse 6-2.
Singles Scout Mathews returned to the court and won two singles consolation matches. She started against Olivia Oosterbaan form Montana, winning 77-55, 5-7(10-8). Mathews then defeated Idaho's Rachell Starreveld 6-4, 6-4.
Kenzington Mann earned a win in her first singles match, defeating Montana State's Maria Villarejo, 4-6, 77-61, 6-2.
After getting a first-round bye, Taylor Andersen defeated Montana's Ivayla Mitkova, 6-3, 6-4. Andersen would fall in her next match.
Isabella Foshee would advance in the consolation round quarterfinals, defeating Nika Beukers from Portland State 6-3, 6-2.
Up Next Eastern Washington will close out its fall slate on Friday, Nov. 11 at the San Diego State Classic. The competition concludes on Sunday, Nov. 13.
Recent Headlines
---