County commissioners approve REC rezone, UGA expansion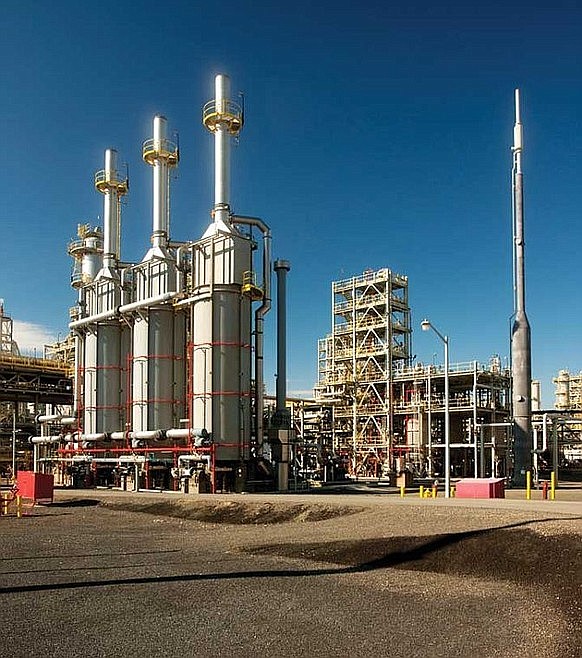 REC Silicon is working to reopen and expand its facility in Moses Lake. The initial opening is expected in late 2023 with the current plant capacity being reached some time in 2024.
FILE PHOTO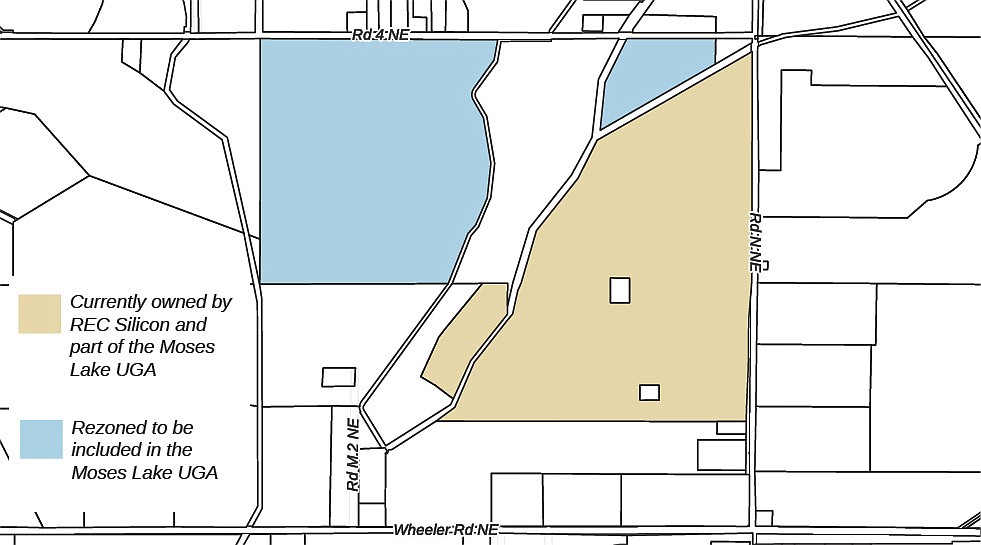 A map of the parcels REC Silicon has successfully petitioned the Grant County Commissioners to rezone to industrial from agricultural and include in the Moses Lake Urban Growth Area.
Previous
Next
by
CHARLES H. FEATHERSTONE
Staff Writer
|
November 2, 2022 4:43 PM
EPHRATA — Grant County Commissioners on Tuesday approved a rezone from agricultural to industrial of roughly 163 acres near REC Silicon. The zoning change extended the Moses Lake Urban Growth Area to include that land.
"We got the rezones," said Chuck Sutton, REC Silicon vice president for fluid bed reactor sales.
The rezoned areas include two parcels of land currently owned by Jenks Holding Company — one 18.8 acres and another 144 acres — that REC would like to be able to expand to in the future if conditions work out, Sutton said. The rezoning allows the company to consider future power and water needs, as well as the tax burden, on industrial property in the event the company expands, he explained.
"This is just another step in the whole process," he said.
The two parcels, along with a third 60-acre parcel also currently owned by Jenks Holding, would be part of any REC expansion, Sutton said, adding the third parcel — which sits right between the two rezoned plots of land — is already in the Moses Lake UGA.
Sutton said REC used to own all three parcels of roughly 224 acres and plans to buy them back if the company's development plans work out. However, Sutton would give no details on what those development plans might be.
"I cannot comment on anything specific," he said.
REC also announced on Wednesday that the company is looking to add another member to its board of directors, and is currently looking for suitable candidates to fill the position. The move follows a public letter from London-based Lodbrok Capital expressing concern that two of the four members of REC's board of directors represent Hanwha Solutions, despite the fact the South Korean chemical and solar producer holds only a roughly 21% stake in the company.
"The board has taken note of the investor feedback articulated by Lodbrok Capital as well as feedback received from other investors," the company said in a statement. "The board believes that with the important work facing the company going forward, it is in the interest of the company to supplement the board with one more director to complement the competence represented by the four current board members."
The value of shares in REC Silicon traded on Norway's stock exchange, the Oslo Børs, fell 1.71% at the conclusion of Wednesday's trading to 18.1 Norwegian kroner ($1.73) per share.
Charles H. Featherstone can be reached at cfeatherstone@columbiabasinherald.com.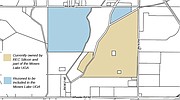 Recent Headlines
---