Top brass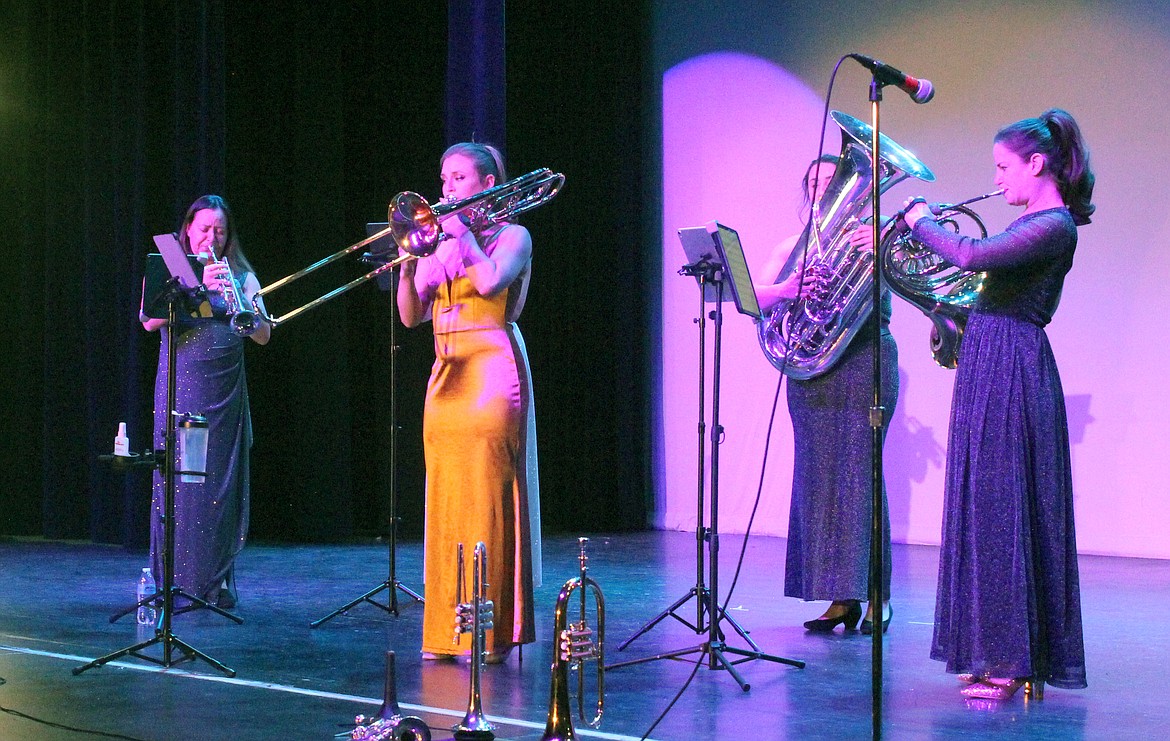 Trombonist Victoria Garcia steps to the forefront in Seraph Brass' rendition of "Vuelta del Fuego" Thursday at the Wallenstein Theater. Behind her, from left, are Raquel Samayoa, Cristina Cutts Dougherty and Rachel Velvikis.
JOEL MARTIN/COLUMBIA BASIN HERALD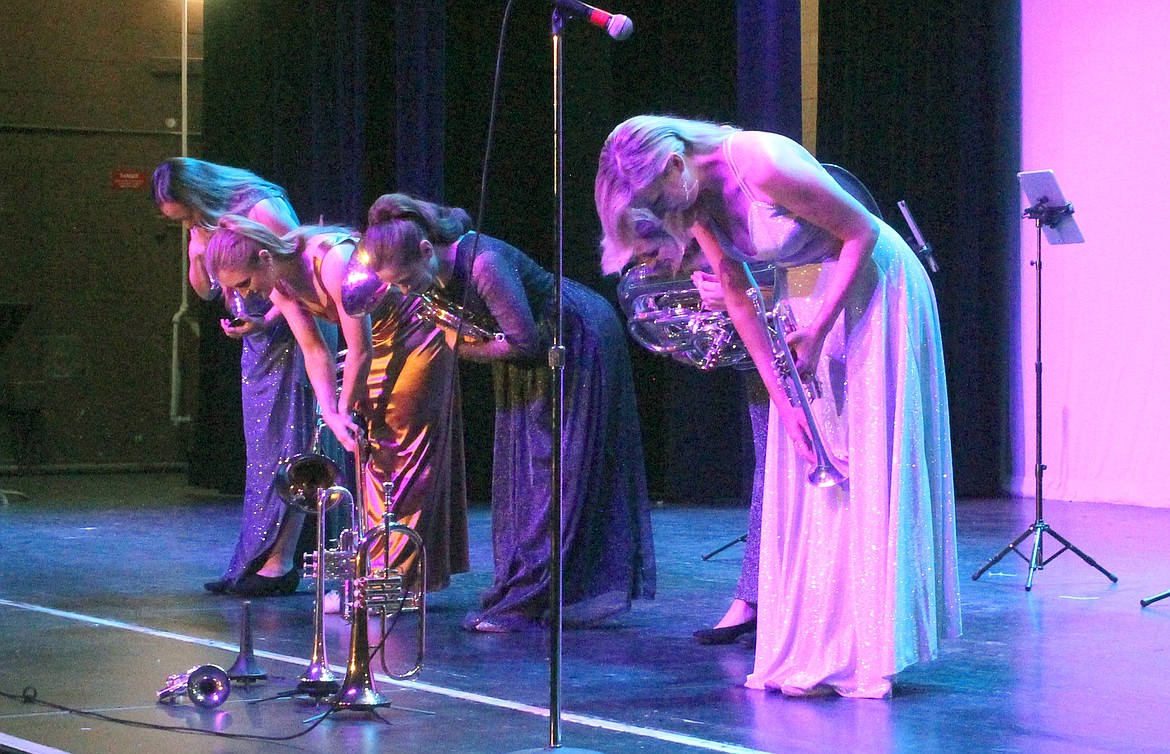 The members of Seraph Brass take their final bow to a standing ovation Thursday. From left: Raquel Samayoa, Victoria Garcia, Rachel Velvikis, Cristina Cutts Dougherty (partly obscured) and Mary Elizabeth Bowden.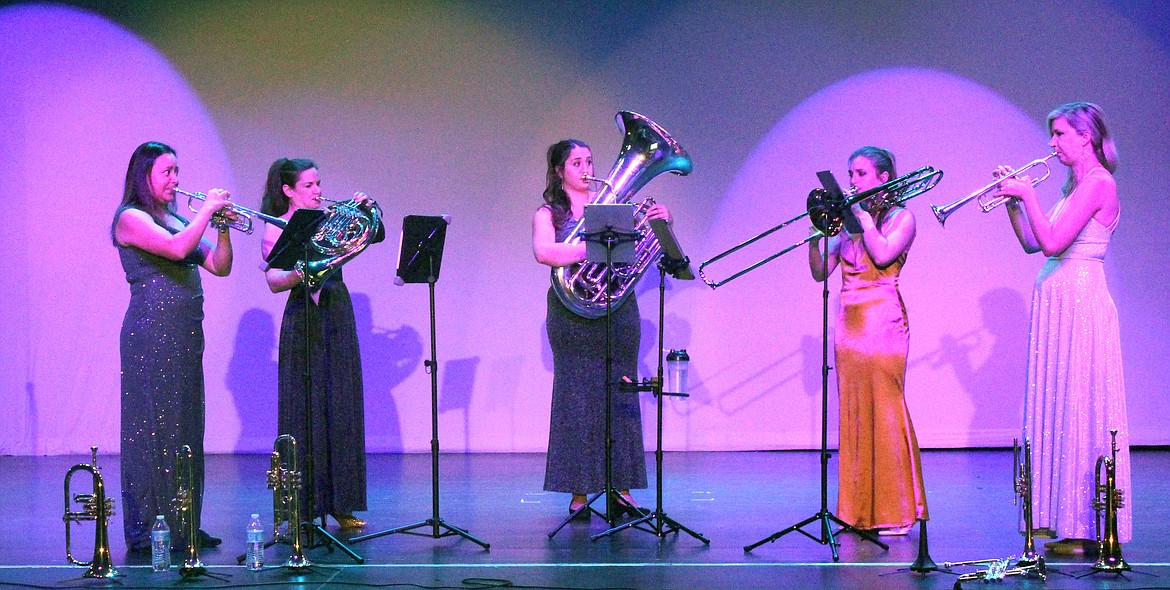 Trumpeters Raquel Samayoa, left, and Mary Elizabeth Bowden, right, trade melodies on "Central Park Morning," backed by horn player Rachel Velvikis, tuba player Cristina Cutts Dougherty and trombonist Victoria Garcia.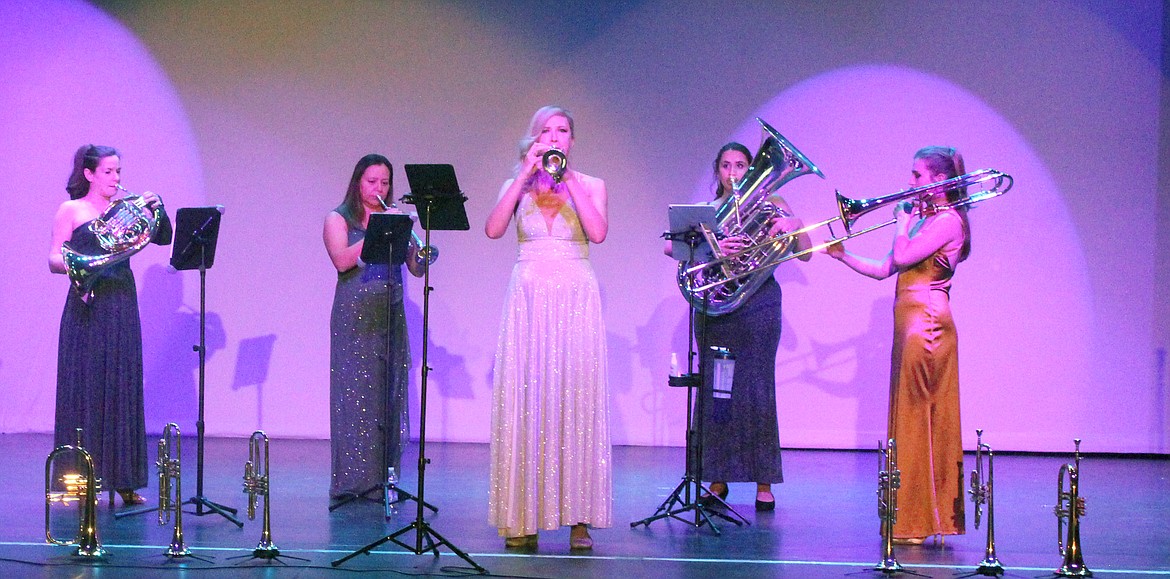 The all-female quintet Seraph Brass played onstage Thursday at Big Bend Community College's Wallenstein theater. From left: Raquel Samayoa, Rachel Velvikis, Mary Elizabeth Bowden, Cristina Cutts Dougherty and Victoria Garcia.
Previous
Next
by
JOEL MARTIN
Staff Writer
|
November 1, 2022 1:25 AM
MOSES LAKE — When the words "brass music" are mentioned, most people picture a marching band, rows on rows of uniformed players belting out marches and school fight songs. Not five women on a stage pushing the boundaries of classical music.
Yet that's just what was happening at the Wallenstein Theater Thursday evening when Seraph Brass took the stage. The all-female brass quintet made Moses Lake the final stop on its Washington tour, invited by the Central Basin Community Concert Association. Before arriving at the Wallenstein, the group had made a stop at Moses Lake High School.
"I had the opportunity today to hear the lovely ladies of Seraph Brass play at the high school in the band room," said Frances Irwin, president of CBCCA. "If only you could have heard them, the students, you would have known why we're here."
The lineup consisted of trumpet players Mary Elizabeth Bowden and Raquel Samayoa, horn player Rachel Velvikis, trombonist Victoria Garcia and tuba player Cristina Cutts Dougherty.
The set opened wordlessly, with the musicians taking the stage, picking up their instruments and playing the prelude to Norwegian composer Edvard Grieg's Holberg Suite while the house lights went down slowly.
"He (Grieg) originally wrote this for the piano," said Bowden, the group's leader and founder, when the piece was finished. "The most famous version is the string orchestra version. And we've adapted it for the brass to give it a new color of sound."
The group has adapted many unlikely things to brass, as Seraph Brass demonstrated in the course of the concert. Each selection was introduced by a member of the quintet, with background on the music and composer, along with a little bit of talk about the instruments.
"Now we're going to switch gears and go into the world of opera," Bowden said going into the second selection. "You've probably noticed that I picked up a different trumpet. Raquel and I both have a variety of different trumpets with us tonight. This one is a bit smaller; I accidentally shrank it in the dryer. Tonight with this trumpet, I will be playing the role of Violetta from Verdi's famous opera 'La Traviata.' And in this scene, 'Sempre Libera,' which means 'always free,' Violetta is thinking about keeping her party lifestyle and being free. But she's fallen in love with Alfredo. So in the middle of this aria, Alfredo sings from the window, and she wonders if she should commit to her true love. Alfredo is played by Rachel on the horn."
"Hey, baby!" interjected Velvakis.
"And you'll hear her singing from the window in the middle of the aria," Bowden finished.
Besides using brass instruments to simulate operatic voices, Seraph Brass also performed some more conventional arrangements, including pieces by Gioacchino Rossini, Clara Schumann and Franz Liszt, as well as some more contemporary composers. One piece, "Fantasia III," was written especially for a brass quintet by 26-year-old composer Kevin Day. Another, "Vuelta del Fuego," was composed in 2008 by Kevin McKee, also especially for a brass quintet.
The musicians that make up Seraph Brass are all accomplished musicians with extensive backgrounds in classical music, but they knew how to connect with an audience that might not be as well versed in the field.
"Franz Liszt was a fantastic piano player, really the first superstar," said Samayoa, introducing Liszt's Hungarian Rhapsody No. 2. "He wrote 19 rhapsodies, but this one has to be his most famous. I say that because you've heard it, and you don't even know you've heard it. He's currently in commercials, TV shows, movies, but more importantly, Saturday cartoons. Now. I don't know if you've ever heard of some of these cartoons. I think one of them was named 'Tom and Jerry.' And this really obscure one – I know this is gonna be reaching back in your memory bank, but, you ever heard of Bugs Bunny?"
"A lot of us got our first love of opera by watching Saturday morning cartoons," she continued. "'The Barber of Seville' was one of them. 'Hungarian Rhapsody' is the one where the glove kind of just plays it on its own on the piano. In this arrangement for brass quintet, you'll hear that we each have our own moment to shine. And more importantly, you'll see us have a lot of fun."
"Hora Staccato," in the second set of the evening, was another chance to have some fun, this time with some audience participation. Playing the piece required a technique called "double-tonguing," and Samayoa brought the audience in to help warm up for it.
"A gimmick that we brass players do is we use the back of our tongue, the front of our tongue and the back of our tongue in order to get a little bit faster, more rapid articulation," she said. She then demonstrated how it worked by leading the audience in several repetitions of "Tiki tiki tiki torch" and "Kitty kitty kitty cat."
That classical music could be fun as well as inspiring and gripping was a noticeable theme of the show. Another was female empowerment.
"Seraph Brass was founded … with the mission of elevating and showcasing the excellence of female brass players and highlighting musicians from marginalized groups," says the group's website. Among the composers showcased were Clara Schumann, wife of the more famous Robert Schumann, and Reena Esmail.
"Reena is a composer based out of L.A. and her parents are from India," said Velvikis in her introduction to "Tuttarana." "And a lot of her music combines Western classical music and Hindustani. This piece was originally proposed for an all-women's choir. And is it a conglomeration of two words, 'tutti,' which is the Italian word for 'all,' and 'Tirana,' which is a Hindustani musical form."
The third female composer on the slate was Catherine McMichael, whose three-movement "Asteria" was specially commissioned by Seraph Brass for its first album, which bears the same name.
"The piece depicts women characters in the constellations and Virgo is the lover of justice," said Garcia in her introduction.
The CD was on sale at the theater after the show, and the players stuck around to meet and interact with the audience. Several audience members showed interest in the variety of instruments the group played. about the instruments.
"I was gonna ask you a question about the trombone," one man said to Garcia. "I used to play. Is that an extra large bore?"
"No, it's just a large bore, just a regular large bore," she replied. "I hope you liked it."
Yeah, you guys got me smiling," he said.
Joel Martin can be reached via email at jmartin@columbiabasinherald.com.
Feeling musical?
The Central Basin Community Concert Association puts on several concerts each year in support of the arts. To get involved, reach out to them:
Web: www.communityconcertsml.com
Email: centralbasincommunityconcert@gmail.com
Phone: 406-590-0932
The association has multiple shows scheduled.
Hi Tide – April 3, 2023
Sapphire Trio – May 5, 2023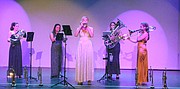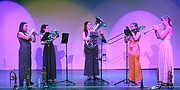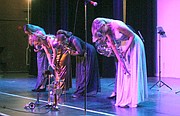 Recent Headlines
---