Spooky fun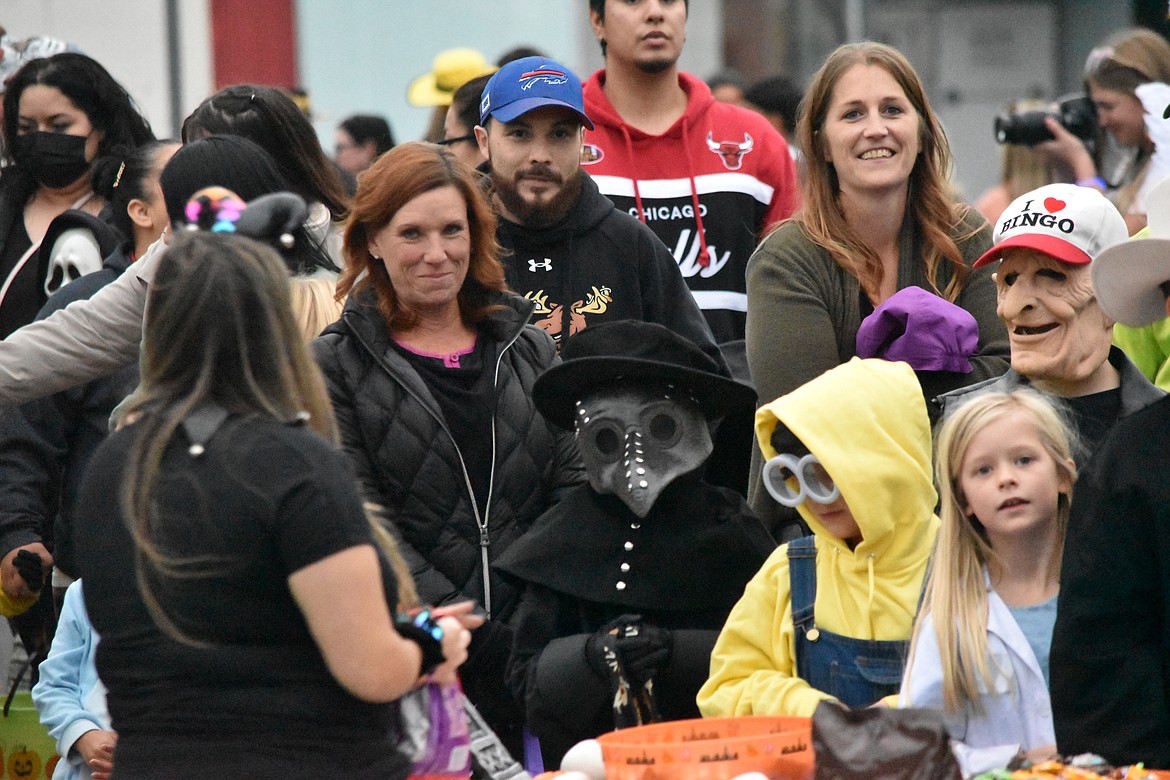 Bunches of children and their families attended downtown Ephrata's trick-or-treat Halloween evening. Ephrata Chamber of Commerce Director Rita Witte said many parents and children could be observed enjoying themselves at the event.
REBECCA PETTINGILL/COLUMBIA BASIN HERALD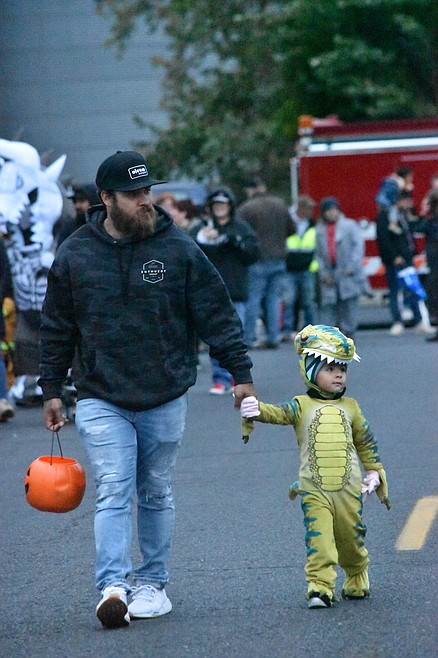 A father holds the hand of his child dressed as a dinosaur as they walk through the downtown trick-or-treat event in Ephrata.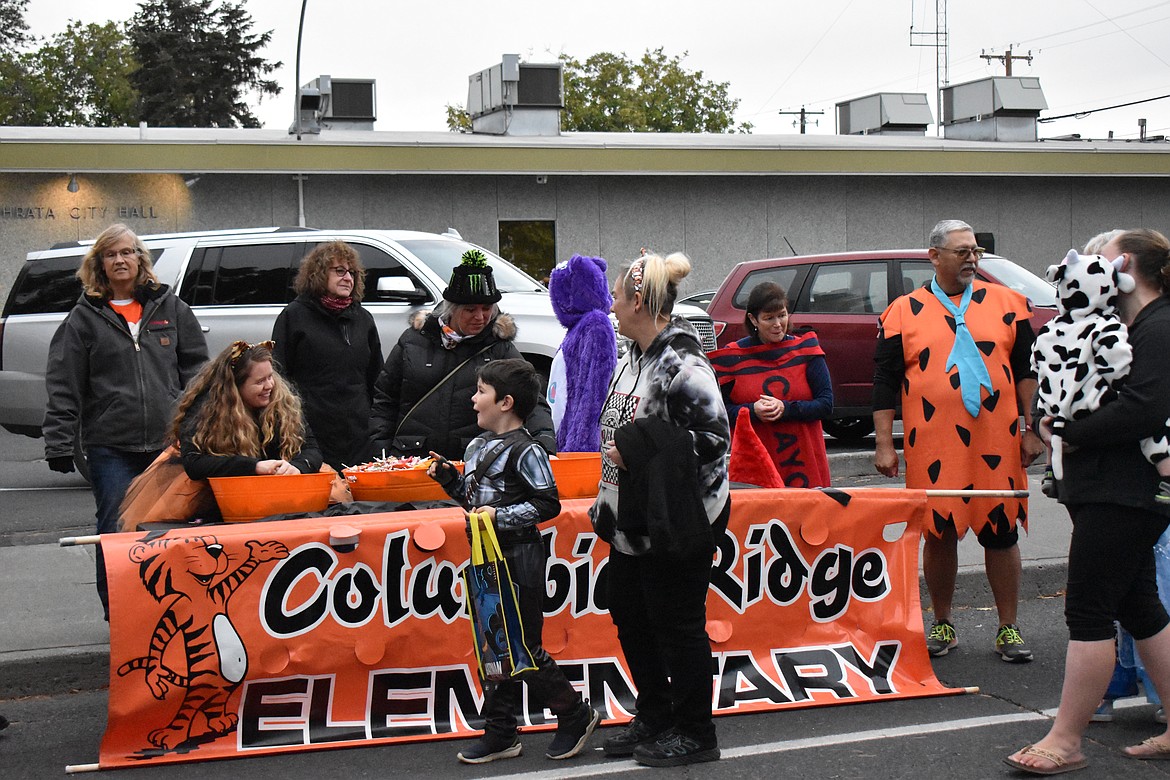 Many businesses and organizations had tables along First Ave to hand out candy including Columbia Ridge Elementary.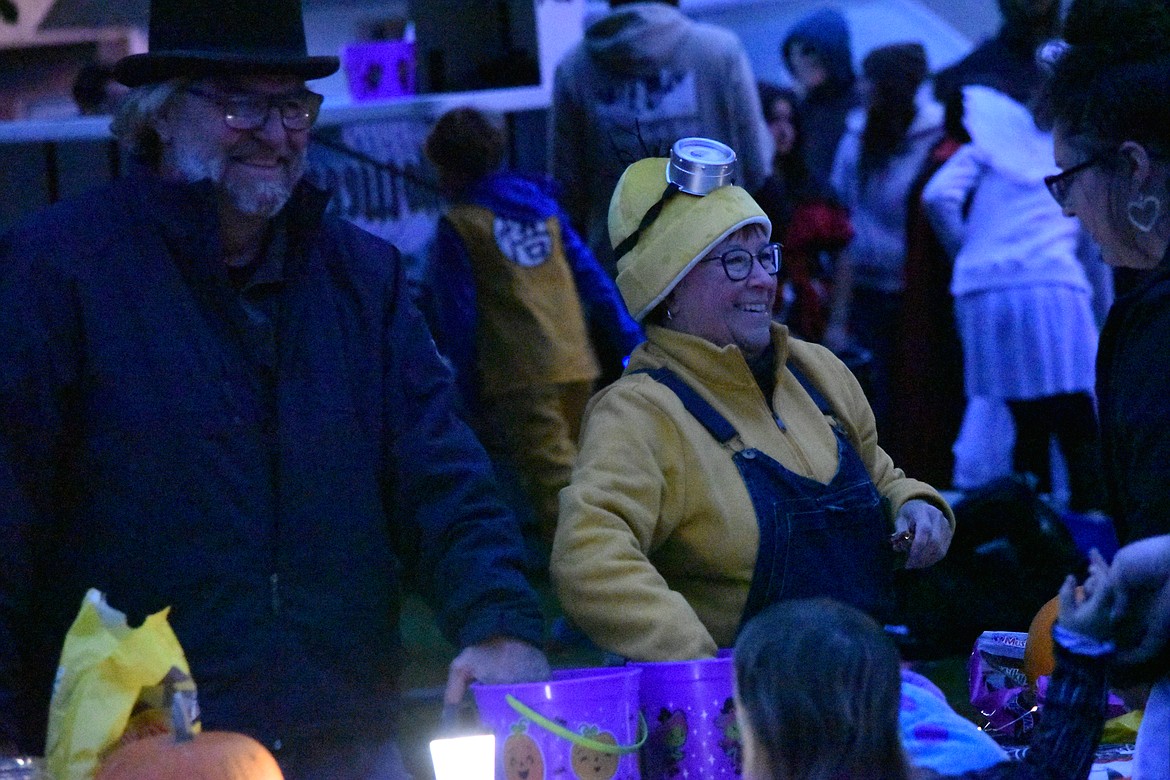 Ephrata Chamber of Commerce Director Rita Witte, right, smiles as she hands out candy at the Ephrata downtown trick-or-treat on Halloween.
Previous
Next
by
REBECCA PETTINGILL
Staff Writer
|
November 1, 2022 5:25 PM
EPHRATA - The Ephrata Trick-Or-Treat, sponsored by the Ephrata Chamber of Commerce, was a huge success Monday night.
"I think it went off really really well," said Ephrata Chamber of Commerce Director Rita Witte. "The kids were having a great time and it was busy."
The trick-or-treat event was held along First Ave SW between Alder Street and Basin Street. Businesses and organizations set up tables along the edges of the street as ghouls, goblins, witches and many other creatures and characters received their candy stipend.
"It's good for - instead of people going to houses and everything, it's safer," said Tristyn Eldredge. "Everything is confined, you know where kids are, it's lit."
Witte also noted how she felt like it was a safe option for families and a great way for businesses along Basin Street to participate as well since many stayed open for the event and handed out candy as children walked by on their way to or from the event.
Eldredge grew up in Ephrata and while she now lives in Moses Lake, she is a student teacher at Columbia Ridge Elementary. She said she felt the chamber's trick-or-treat was a good option for her and her young child to celebrate Halloween and be able to see people she knew.
"He's so young," Eldredge said about her infant child. "He's only one so that would be a much better option for him and I get to see Columbia Ridge people that are here and show off my son."
Witte estimated that they saw 1,000 to 1,500 trick-or-treaters in downtown Ephrata.
Another part Witte enjoyed was that even the parents would dress up as well.
"Parents were great," said Witte. "Everybody seemed to have a great time."
She also gave props to the parents for how polite their children were and for encouraging them to not only say "trick or treat" but also "thank you."
She wanted to make sure to thank all the businesses and organizations who participated and made it a great event.
"I think there's a lot of pluses with an event like this," Witte said.
Rebecca Pettingill may be reached at rpettingill@columbiabasinherald.com.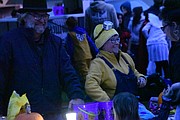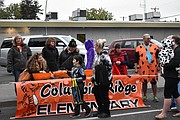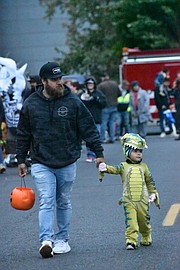 Recent Headlines
---