Royal fastpitch ends season in first state game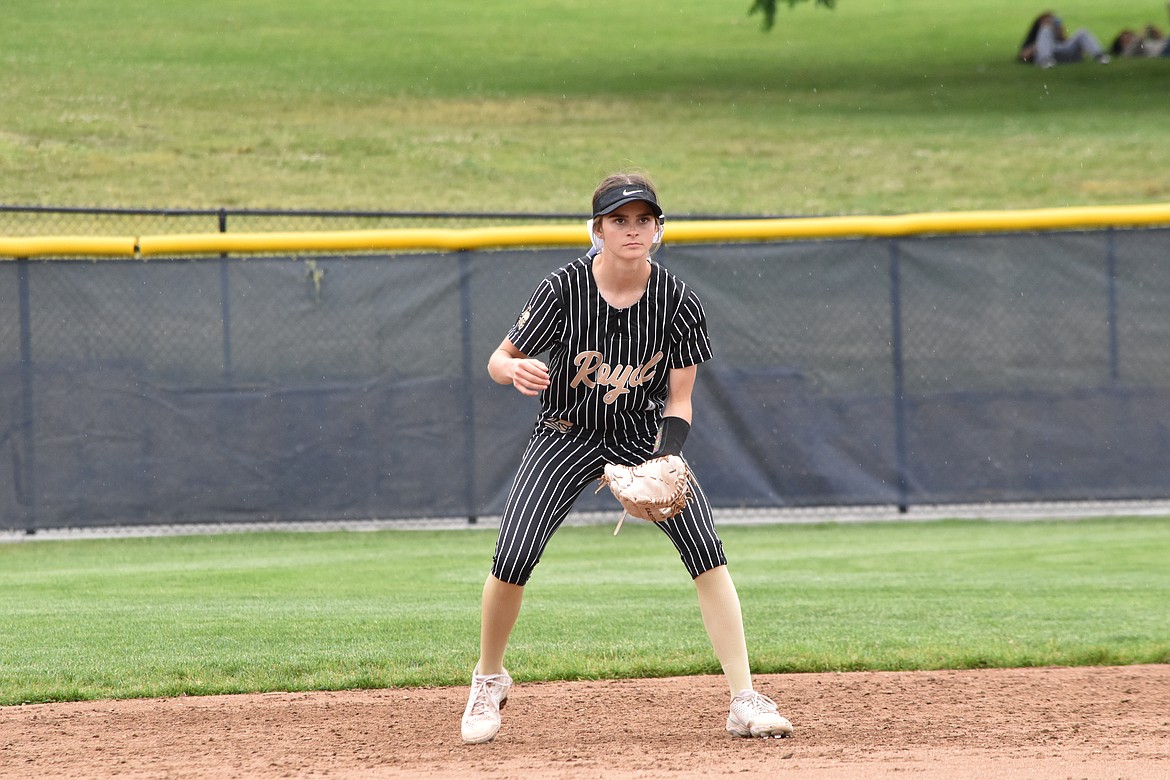 Royal shortstop Raegan Wardenarr stayed on her toes during the first round of the state tournament on Friday.
REBECCA PETTINGILL/COLUMBIA BASIN HERALD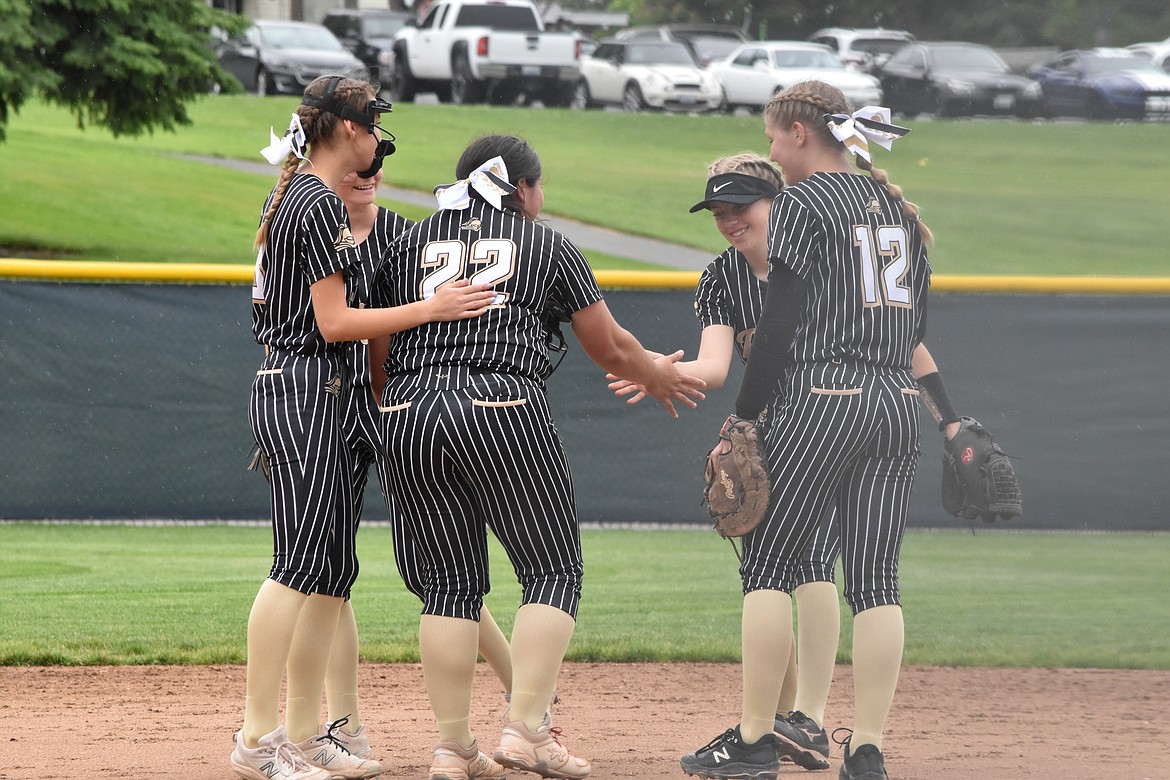 Royal players celebrate after a great play. Despite losing in the first round at state, the Lady Knights grew as a team this season and coach Lisa Lawrence said she is very proud of their efforts.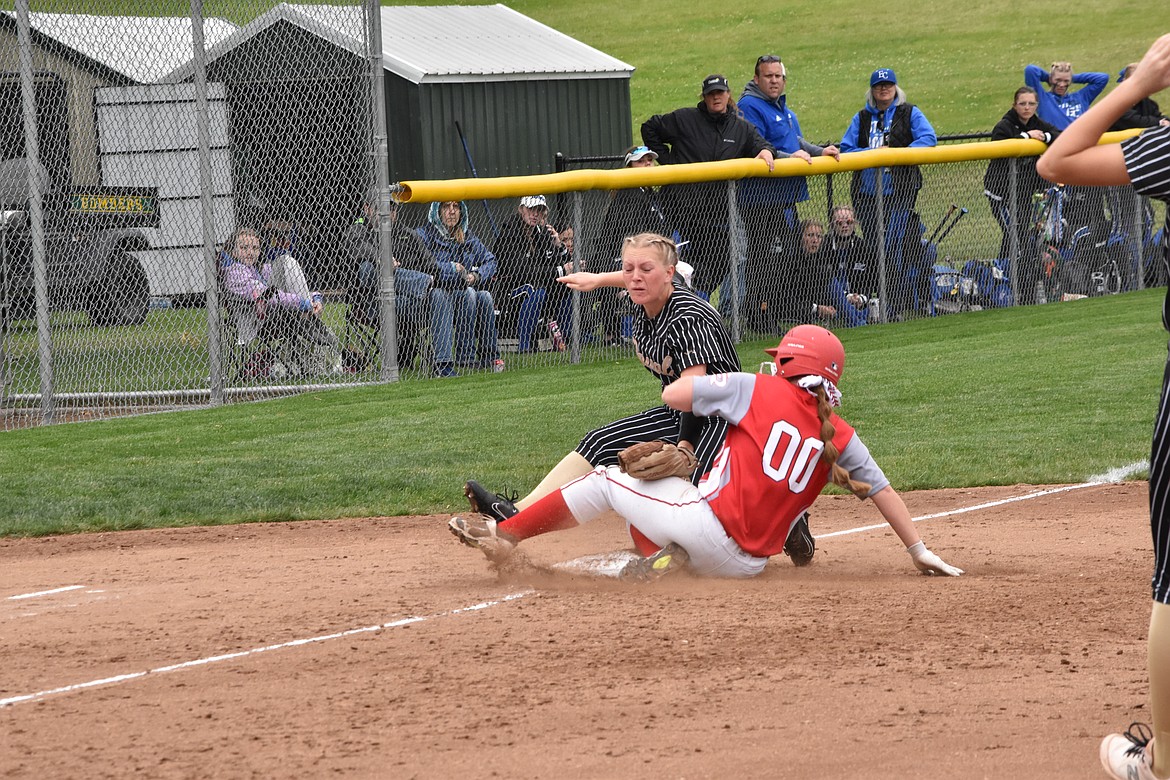 Third baseman Lily De La Rosa tags out a Castle Rock player who slid into her during the state matchup.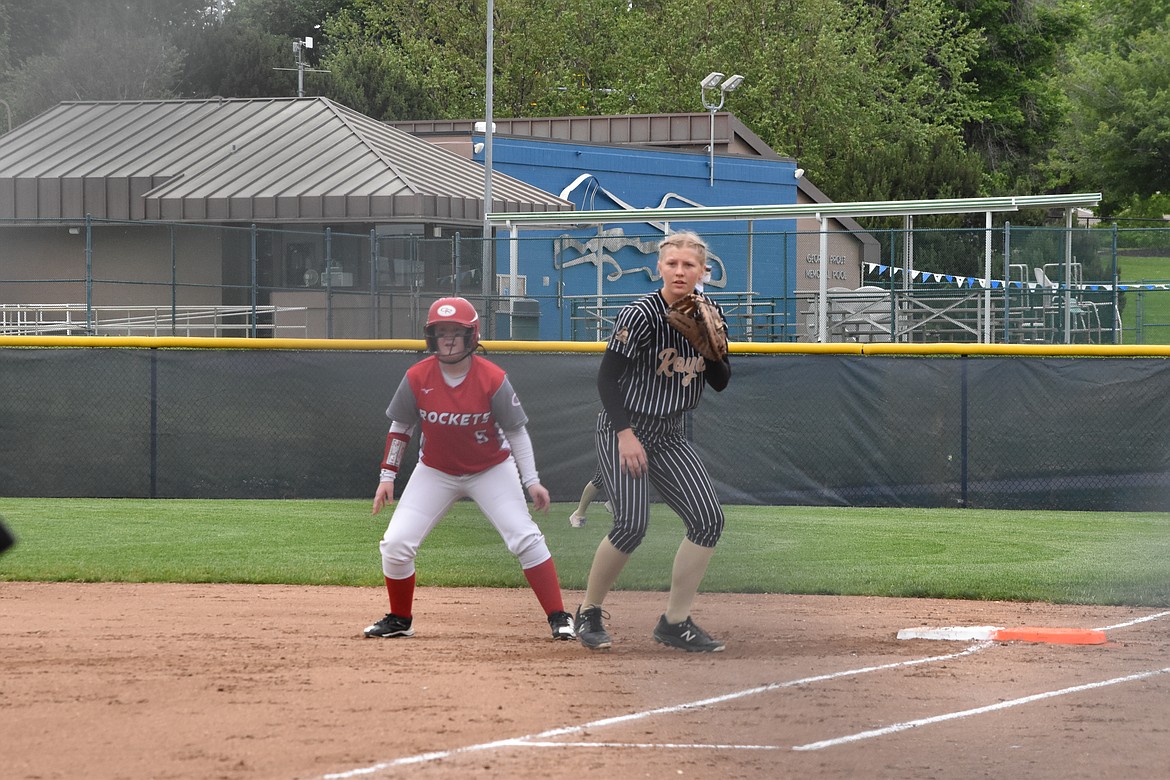 First baseman Audrey Bergeson had several key outs that allowed the Lady Knights to hang on until the sixth inning before the 10-run rule was triggered by Castle Rock.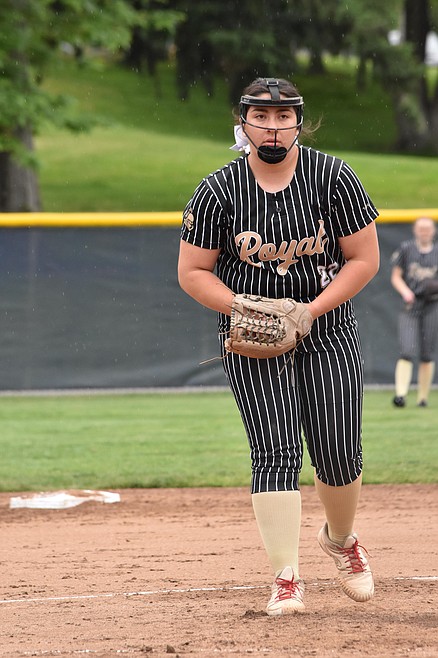 Madison Ortega-Sanchez pitched all six innings for the Lady Knights in the matchup against Castle Rock.
Previous
Next
by
Rebecca Pettingill
Staff Writer
|
May 30, 2022 1:56 PM
RICHLAND - The Royal fastpitch softball team fell in the first round of the state tournament Friday ending their season and state run.
"It was a tough loss but we've got a young team," said head coach Lisa Lawrence. "They play with a lot of heart. We've got a lot to look forward to with only losing one senior."
In a tough battle against Castle Rock, Royal lost 10-0. Going into the matchup, Royal held a 15-5 record and a No. 9 seed.
"When you get to state, I mean, everybody's good," said Lawrence. "So yeah, we knew this competition would be good. And we came in ranked ninth, they were ranked eighth so we figured it was gonna be a tough game."
Royal started the game at bat first. Raegan Wardenarr led the lineup but struck out. Lily De La Rosa bunted the ball but was thrown out at first. Third was Addison Lawrence who also struck out. With three outs it was time for Royal to take the field.
The bottom of the first was just the start of the battle for the Lady Knights as Castle Rock was able to score three runs before Royal could get the third out.
Despite being down 3-0 going into the second inning, Royal's bats did not sit idly on their shoulders. Each of the three batters for Royal in the second inning struck out with three swinging strikes each.
The bottom of the second went a lot easier for the Lady Knights as they managed to hold Castle Rock back from notching any more runs. Second baseman, Lawrence, caught a hit that was the first out of that inning. She also nabbed the third out that inning with a quick throw to first.
The Lady Knights kept battling but could not seem to find home. While they did not score any runs, they held Castle Rock back for three consecutive innings before Castle Rock made a three-run dash in the fifth inning.
Falling behind, 6-0, the Lady Knights were still unable to get on the board. Castle Rock finished off the game in the sixth inning by bringing in four more runs and triggering the 10-run rule.
Royal finished their last game of the season with a 10-0 loss, making their record 15-6 overall. The game was a loser-out situation, which left Royal short of going further in the state competition.
"I think there were some nerves for sure. And, you know, I think we just didn't string together the hits like we needed to, to generate some runs," said Lawrence.
Lawrence noted that this year was a kind of rebuilding year for the program as they try to recreate the legacy that Royal softball has had in the past in being a state contender. In fact, the team's trip to state in 2019 was the first time the softball team had made it to state in about 20 years, Lawrence said.
Players on the team, despite their sadness over the loss, had nothing but positive spirits reflecting on the season and looking forward to the next.
"I feel like we got stronger with every game. We had a lot of good momentum in the start just because we were really excited to play with each other and then we kept on growing stronger," said junior Madison Ortega-Sanchez.
Senior Kate Allred said it was special to be on one of the first teams to return to the state tournament in so long and she feels like she is leaving the team in good hands with the underclassmen on the team.
"I mean, that's a tough loss as always, but it was just, everyone gave it their all and I'm really proud of us and what we accomplished this year," said Allred.
Rebecca Pettingill may be reached at rpettingill@columbiabasinherald.com.
Recent Headlines
---