Ready to walk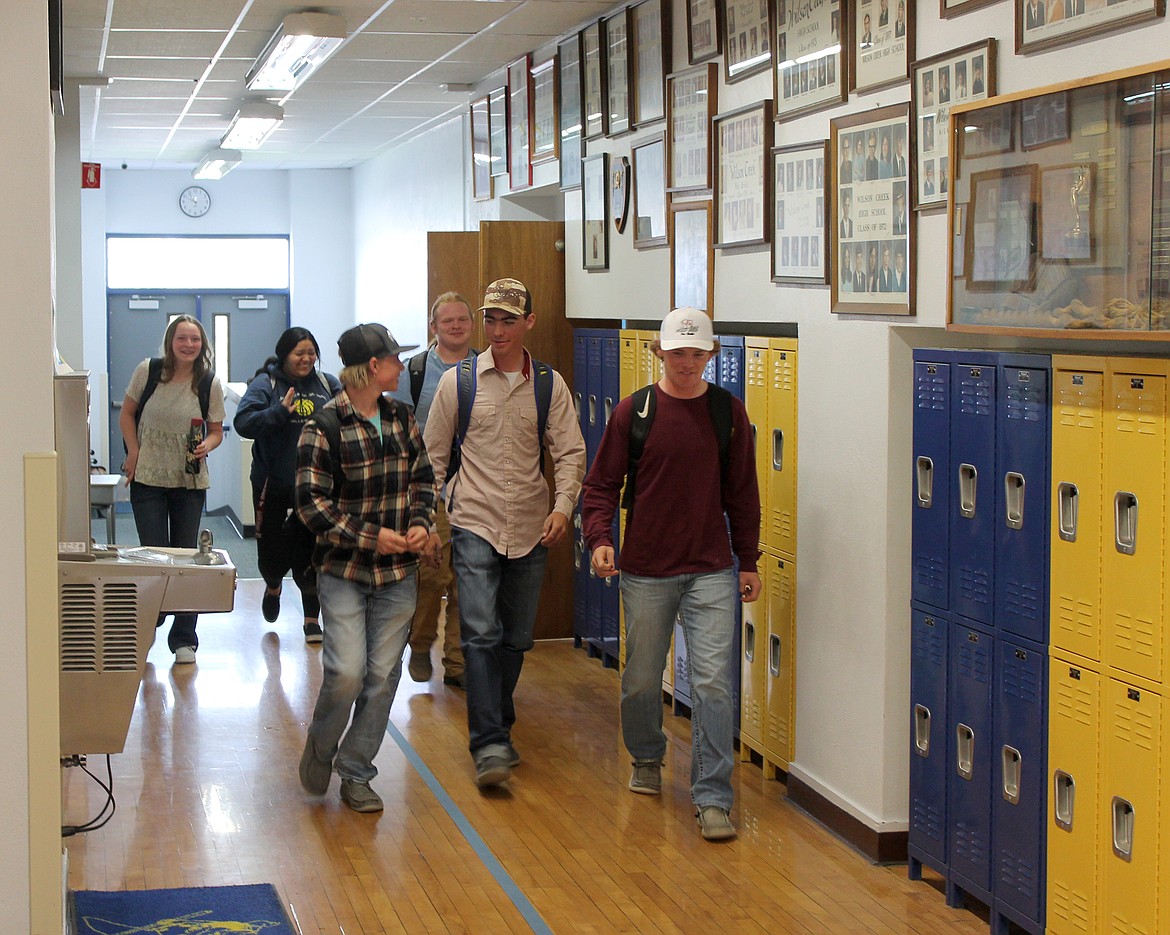 Wilson Creek High School seniors stream down the hall between classes on Wednesday. From left: Kesiah Cook, Madelayna Grajeda, Taeven Brashear, Elijah Adamson. Kass Newman, Davey McMillan.
Joel Martin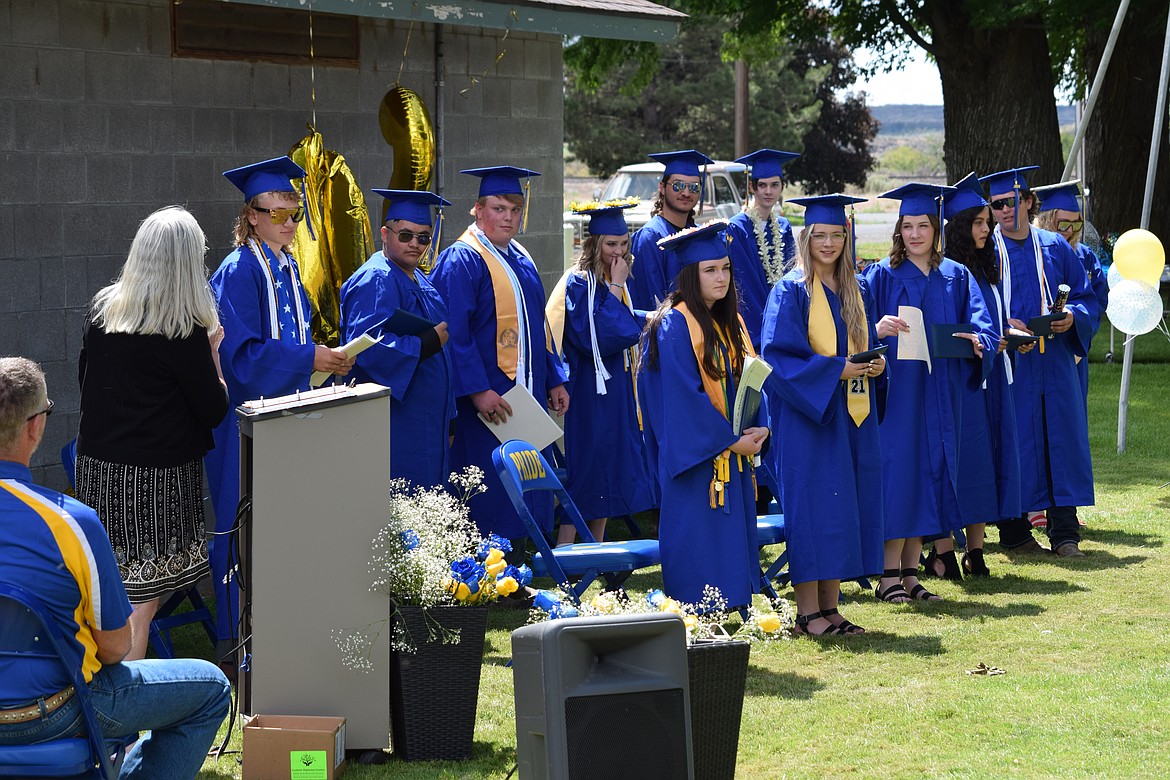 The Wilson Creek High School Class of 2021 graduates last year. The graduation had to be held in the town park because of the pandemic. This year the graduation will return to the school commons.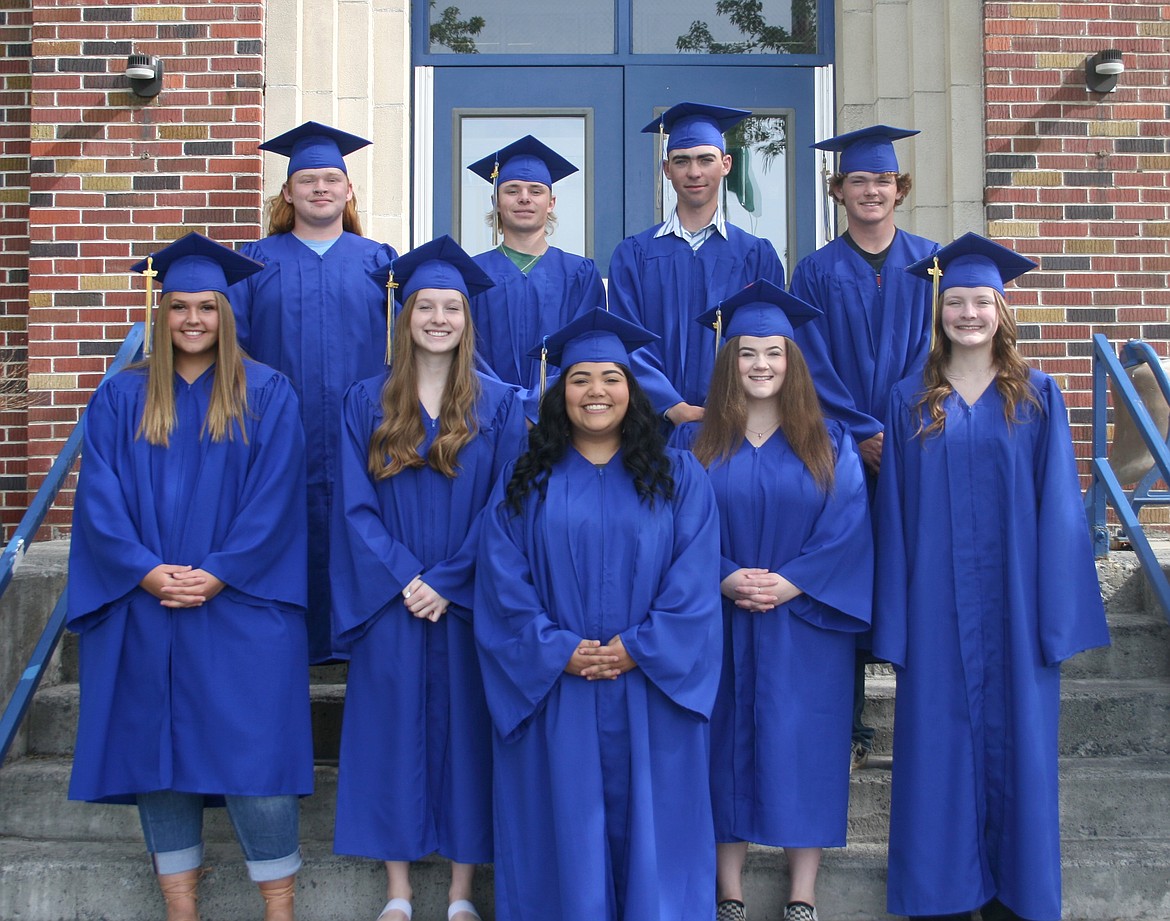 The Wilson Creek High School Class of 2022. Back, from left: Elijah Adamson, Taeven Brashear, Kass Newman, Davey McMillan. Front, from left: Riley Wilson, Ella True, Madelayna Grajeda, Annika Tillson, Kesiah Cook.
Alexa Cook/Courtesy Photo
Previous
Next
by
JOEL MARTIN
Staff Writer
|
May 27, 2022 1:20 AM
WILSON CREEK — Even in the smallest of schools, graduation is a big deal. In fact, it may be that the smaller the school, the more important the graduation ceremony is.
In a community like Wilson Creek, which will be graduating nine seniors this year, preparation for graduation is a very hands-on thing.
"You know, the kids really do a lot of it, they do the majority of the planning," said Anna Thomas, dean of students for Wilson Creek School District. "So my job is to just really support them."
"The kids do all the decorating," said Alexia Cook, who wears the hats of both the district secretary and senior class advisor. "They're the ones that choose their colors, they're the ones that choose what pictures they want to use. We let them do as much as possible and then I just kind of put it all together. And then the Friday before graduation, they're the ones that help decorate it all."
Preparation for graduation actually begins as early as winter, Cook said.
"I have to do all the ordering and making sure that we've got our diplomas, our cords. We choose the valedictorian and salutatorian after first semester, so it actually starts probably in December. Usually everything has to be ordered before April or May, or it won't get here in time. And about April or May we start doing the program, making sure that we have all the pictures coming in from the students because we do a slideshow of all the kids. Our IT guy does that for us, and he gets started on that as early as possible."
"They all have a table that they can set up as a personal station that has pictures of them growing up, and accomplishments and other things that are important to them," Thomas said. "And then they usually put out a basket so that cards can be left in there."
Thomas will deliver a speech encouraging the students and expressing her pride in them, she said. Then there are scholarships. Unlike larger schools, Wilson Creek High School announces at the graduation ceremony which scholarships students have earned.
"Students generally have to write an essay, meeting the criteria of probably a 500-word essay talking about their future dreams and goals, and how they would use this money to go into different industries. So it's much like having to do additional homework, almost voluntary homework … It's always really nice when you read the scholarships, to hear about the students' extra-curriculars that you might not be able to see when you're in school."
Finally, district superintendent Laura Christian and the school board president will hand out the diplomas.
Also unlike larger schools, Wilson Creek students can invite as many family members as they like this year, Cook said. The gym will be partitioned in half and 100 to 200 people will fill the seats and bleachers.
"Last year, they did it down the park," said Cook, "because it couldn't be indoors. The year before that we did it on the lawn outside of the gym because people can't be next to each other. So we had a lot of people sit on the front of their cars and it was very different. There was very little attendance, mostly family. This year we'll be back to normal back in the gym and have it as normal as possible."
Last year was my first graduation," Thomas said. "We had to have it down at the park because of COVID. This year, we will be having it in the commons on the stage and I'm interested to see what that looks like. I'm looking forward to seeing what a traditional Wilson Creek (graduation) looks like."
Joel Martin can be reached via email at jmartin@columbiabasinherald.com.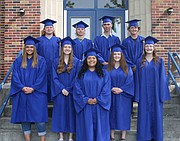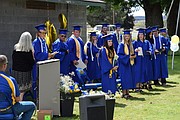 Recent Headlines
---