Moses Lake All Stars receive donation for World Series trip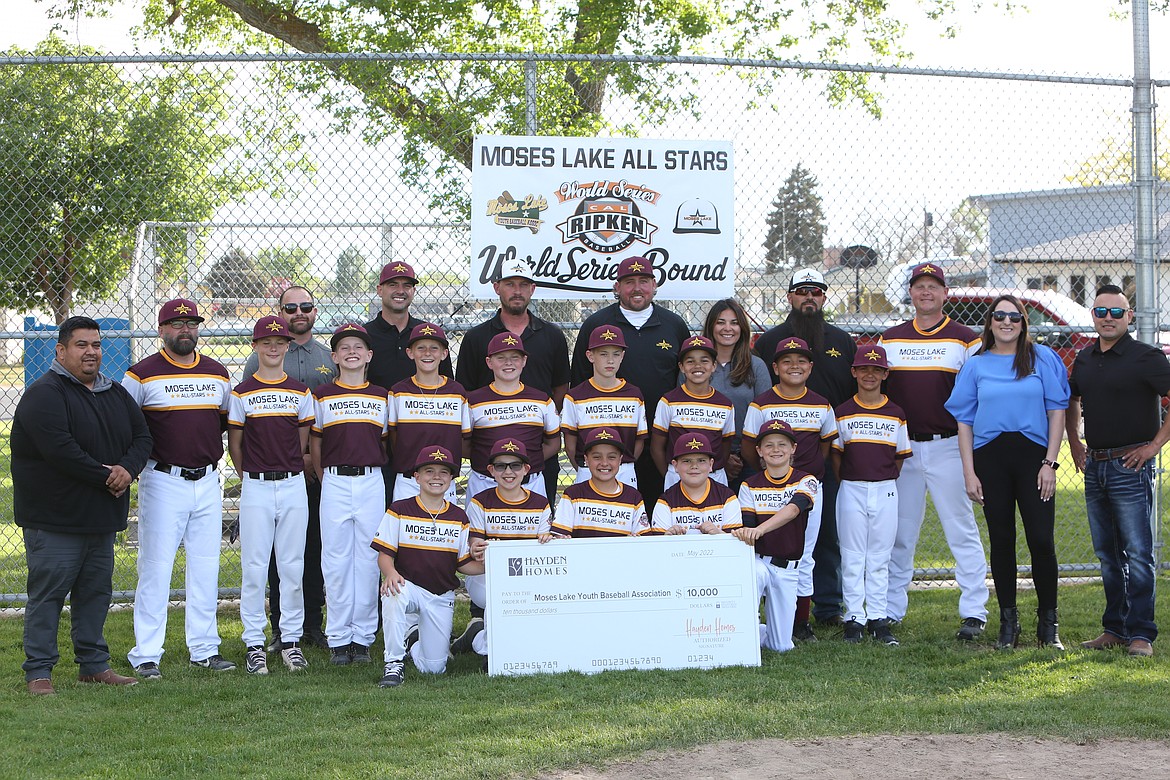 The Moses Lake youth baseball team poses with donors from Hayden Homes after receiving a $10,000 donation to the organization at Lakeview Park on May 25.
IAN BIVONA/COLUMBIA BASIN HERALD
by
IAN BIVONA
Sports Reporter
|
May 26, 2022 5:36 PM
MOSES LAKE – The Moses Lake Youth Baseball Association received a $10,000 donation from Hayden Homes, an Oregon-based company, to help assist the team financially in their upcoming trip to the Babe Ruth 10U World Series this summer.
"When this came about and they made it as far as they did and all the effort that they put in, we're just really proud of them," Hayden Homes project manager Roger Silva said.
Silva, who was born and raised in Moses Lake, said he was drawn to the team after watching them in their tournaments on Facebook last summer.
"I grew up playing ball here," Silva said. "A lot of these kids, you know, I grew up with their parents and we all played ball together."
Hayden Homes, established in Redmond, Oregon in 1989, has built more than 19,000 homes across Oregon, Washington and Idaho. According to the company's LinkedIn page, they offer homes to "price-conscious, value-driven homebuyers in underserved, secondary markets" across the Pacific Northwest. They have also donated more than $32 million to various charities in their 33-year history, the page said.
"Giving's at the core of who we are," said Gina Donangelo, Washington marketing manager for Hayden Homes. "Especially our youth, they are shaping our world. We are super excited to be supporting them to make it to the World Series this year."
Silva shared similar sentiments on the topic of Hayden Homes giving back to the community, saying how the company enjoys helping out the communities that they build in.
"We do a lot of stuff in the communities that we build in," Silva said. "We were like, 'Let's take care of these kids. They need help.' They were trying to do fundraisers and stuff, and we want to give to the community."
The Moses Lake All Stars team ended its summer last year with a win in the 9U Cal Ripken Pacific Northwest Regional, thereby clinching a spot in the World Series. With various travel fees stacking up, President of the Moses Lake Youth Baseball Association Jason Avila said that the donation money will be put to good use.
"This donation is huge for our organization," Avila said. "It's allowed us to recoup flight costs that we've already purchased for this World Series team."
While the costs of the World Series trip are surely at the forefront of Avila and the entire Moses Lake Youth Baseball Association's mind, they are careful not to forget about the other young players in their league.
"The money's allowed us to go back to our league and support the other 400 kids that we have in our league as well," Avila said.
Avila said that one thing he wants to do as president of the Moses Lake Youth Baseball Association is help grow the league, and the donation from Hayden Homes will assist the league in doing that.
"One thing we want to continue to do is grow our association and make Moses Lake a baseball town," Avila said, "which, you know, it is, but we want to make it a stronger baseball town and be able to have a place for these kids to play for a long time."
Ian Bivona may be reached at ibivona@columbiabasinherald.com.
Recent Headlines
---