Basin tennis players head to state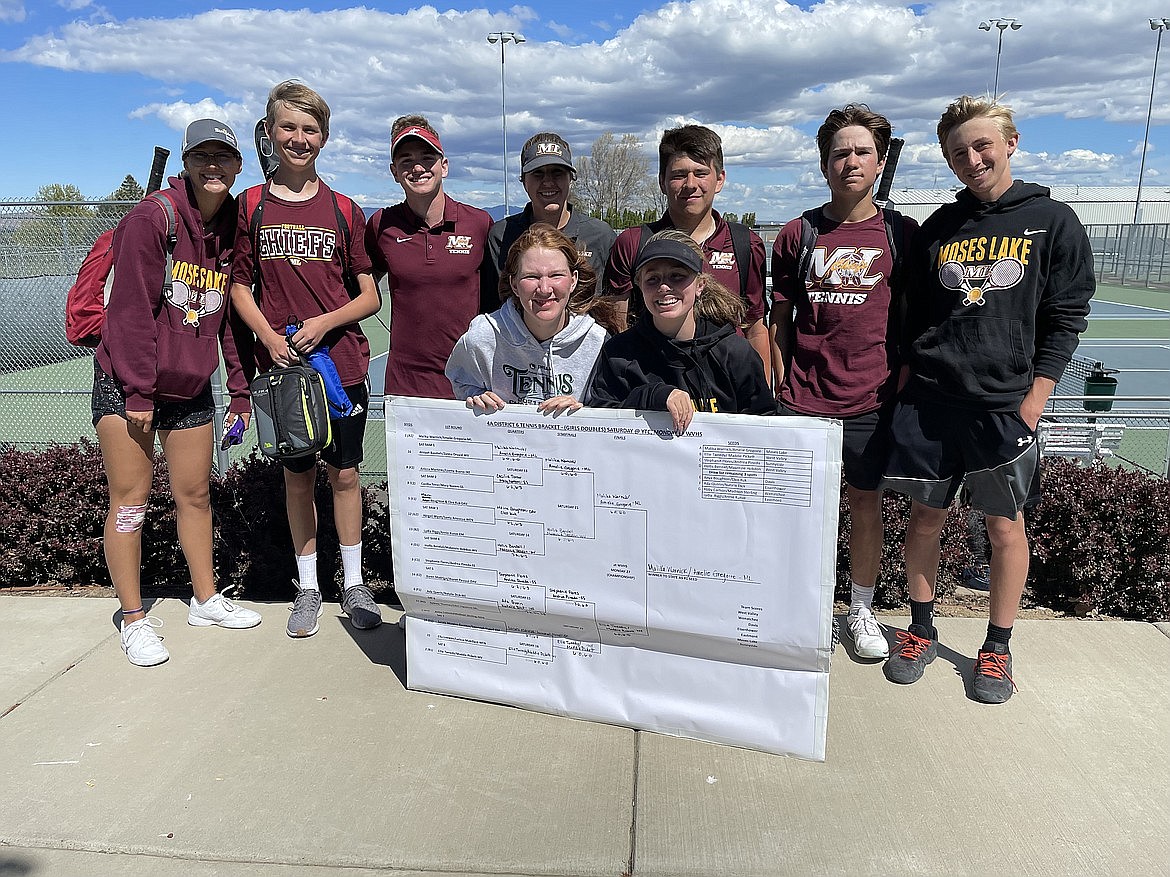 The Moses Lake tennis team poses after Malika Warnick and Amelie Gregoire punched their tickets to state.
File photo
by
IAN BIVONA
Sports Reporter
|
May 26, 2022 1:15 AM
COLUMBIA BASIN — The Washington high school tennis state tournaments begin on Friday, and 16 players from the Columbia Basin are going to represent their schools in competition.
In the 1B/2B/1A boys singles bracket, two schools have sent three players to compete in the tournament. Royal's Dayne Ziegler will face off against Annie Wright Schools' Jacob Oie in the first round. Wahluke has sent two players to the singles state tournament; Andrew Fierros will match up against Soren Ghorai of Eastside Prep and Max Urrutia will play against Seattle Academy's Josh Davydov.
In the 1B/2B/1A doubles bracket, Quincy's Marty Gonzalez and Harrison Hyer will take on Lakeside (Nine Mile Falls)'s Ty Shamion and Sam Hanson.
For the girls 1B/2B doubles bracket, Lind-Ritzville/Sprague's Amy Anderson and Alexis Melcher will face Isabella and Sofia Spencer from Stevenson.
Quincy's Stephanie Aguirre will face off against University Prep's Galia Harmelin in the first round of the 1A girls single tournament. Royal's Madi Christensen and Cambelle Anderson will play Erin Mitchell and Cassidy Foster of Eatonville in the 1A doubles bracket.
Ephrata sent three players to states, one in the girls singles tournament and a boys doubles team. Chase Addink and Jobe VanHeusden link up to face Connor Lee and Ambrose Wang from Pullman, and Lexie Diem will play Pullman's Rhoda Wang. Othello's Aaron Villarreal will play Pullman's Vihay Lin.
In the girls 4A doubles bracket, Moses Lake's Malika Warnick and Amelie Gregoire will face Chiawana's team of Gracie Bolson and Sydney Smith.
All brackets will have the opening rounds played on Friday, with the championship matches played Saturday at various times.
Ian Bivona can be reached via email at ibivona@columbiabasinherald.com.
Recent Headlines
---