Candidate filing period produces challengers for some state, county offices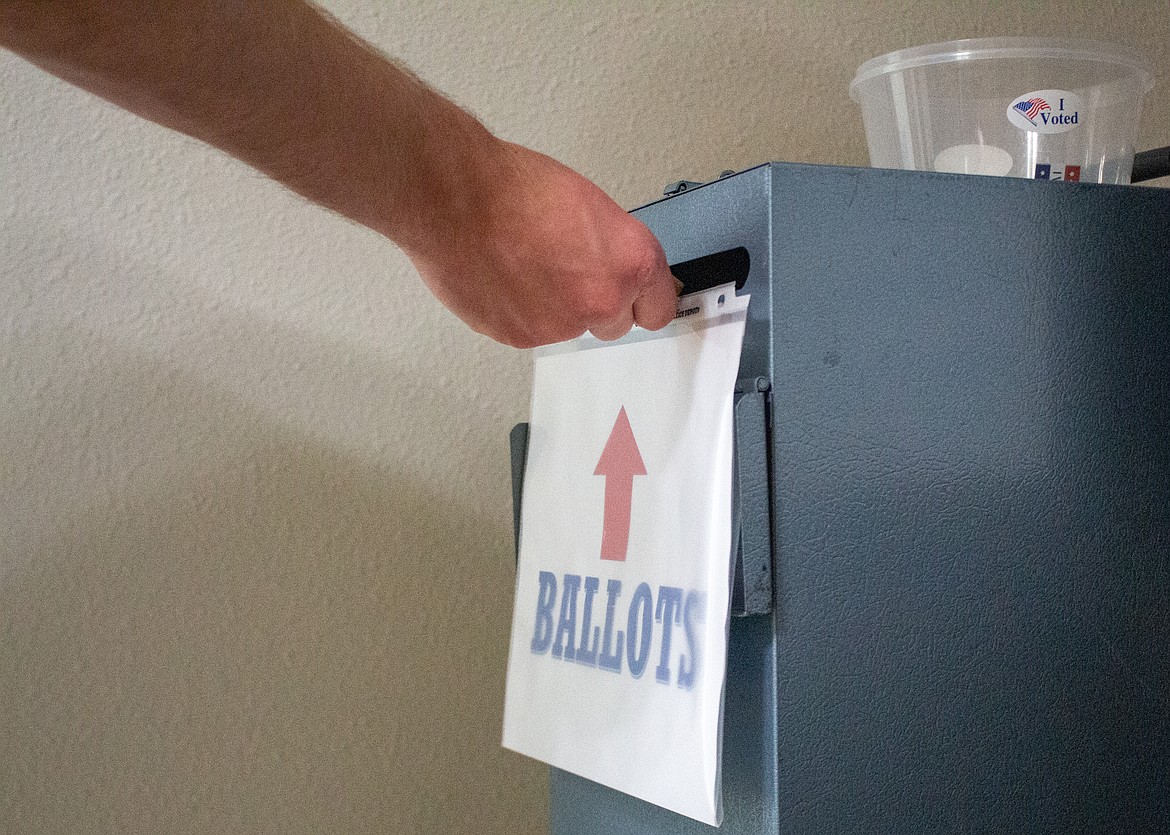 A voter places a ballot in the box during the August 2021 primary. Candidate filing for the 2022 election closed Friday.
File photo
by
CHERYL SCHWEIZER
Staff Writer
|
May 23, 2022 1:20 AM
GRANT/ADAMS COUNTIES — The filing deadline to run for office in Washington at the county and state level was Friday. Several officials that represent Grant and Adams counties at the local and state level are running for reelection.
The 2020 census and the resulting revision of legislative district boundaries meant some changes for Grant and Adams counties. Portions of southern Grant County and western Adams County were added to the 15th Legislative District, which previously stopped at the Yakima-Grant county line. Portions of northern Grant County were added to the Seventh District, mostly from the 12th District, which no longer includes any of Grant County.
Incumbent Grant County Commissioner Cindy Carter (R) will face two challengers for her seat, and incumbent Adams County Commissioner Terry Thompson (R) will have one opponent. Three people are running to replace retiring Grant County Sheriff Tom Jones. Adams County Sheriff Dale Wagner (R) will have a single opponent, and so will 13th District State Representative Tom Dent (R-Moses Lake).
The filing period for the 2022 primary election closed Friday. The primary election is scheduled for Aug. 2.
Ron Fode (R) Moses Lake, will oppose Dent in the primary, who was first elected in 2014.
Carter, who is running for her fifth term, will be challenged by Dan DeLano (R), Ephrata, and Jeff Foster (R) of Moses Lake.
Miguel "Mike" Garza (R), Othello, is running against Thompson for the seat on the Adams County Commission.
Jones announced in March that he would not run for reelection, and three candidates have filed for the office. Joe Kriete (R), currently chief deputy of investigations for GCSO, and former Mattawa Police Chief Joe Harris (R) both filed to compete for Grant County's top badge. Moses Lake farmer James Baker (R) also filed for the job.
Wagner will be challenged by Ritzville police officer Matthew Carlson (R). Wagner was appointed as sheriff in 2015 and was elected to his first full term in 2018.
Incumbent Grant County Auditor Michelle Jaderlund (R) also drew a challenger, Richard Stevens (I), Ephrata. Incumbent Grant County Clerk Kim Allen (R) has two challengers, Marla Roduner (R) and Ulises Infante (R), both of Ephrata. Grant County Assessor Melissa McKnight (R) will be opposed by James Liebrecht (I), of Moses Lake.
Melissa Chlarson will challenge incumbent Anna Gigliotti for the open position on the Grant County Superior Court. Gigliotti was appointed to the seat in 2021. Currently, Chlarson is the court commissioner for the Grant County District Court.
Incumbents Andrea Russell and Carolyn Benzel both will be running unopposed for their positions as Adams County District Court judges. Incumbent Grant County District Court judges Brian Barlow, Brian Gwinn and Nick Wallace all will run unopposed as well. Judgeships are non-partisan positions.
Incumbent Grant County Public Utility District commissioners Nelson Cox and Terry Pyle did not attract any challengers. Public utility district commissioners are non-partisan positions.
Grant County Prosecutor Kevin McCrae (R), Grant County Treasurer Darryl Pheasant (I) and Grant County Coroner Craig Morrison (R) all are running unopposed.
Adams County Assessor Veronica Rodriguez (R), Adams County Auditor Heidi Hunt (R) and Adams County Clerk Katie Sloan (R) didn't attract any challengers. Adams County Prosecutor Randy Flyckt (R) is running unopposed, and so is Adams County Treasurer Kayla Meise (R).
Republican Judy Warnick (R-Moses Nake), state Senator for the 13th District, will run unopposed for a new term in the Washington State Senate, and incumbent 13 District Representative Alex Ybarra (R-Quincy) will run unopposed as well.
Incumbent state representatives Mary Dye (R-Pomeroy) and Joe Schmick (R-Colfax), both representing the Ninth District, will run unopposed.
Seventh District incumbent representative Jacquelin Maycumber (R-Republic) will face a challenge from Lonny Ray Williams (R). Incumbent Seventh District Representative Joel Kretz (R-Addy) and incumbent Senator Shelly Short (R-Republic) will run unopposed.
Incumbent 15th District senator Jim Honeyford, (R-Sunnyside) faces a challenge from Nikki Torres (R), Pasco. Incumbent 15th District representative Bruce Chandler (R-Zillah) will run unopposed.
The changes in district boundaries meant incumbent representative Jeremie Dufault no longer lived in the district, so he's not on the ballot. Bryan Sandlin (R-Zillah) is running unopposed for the second 15th District House seat.
Recent Headlines
---