Airshow pilot makes local connection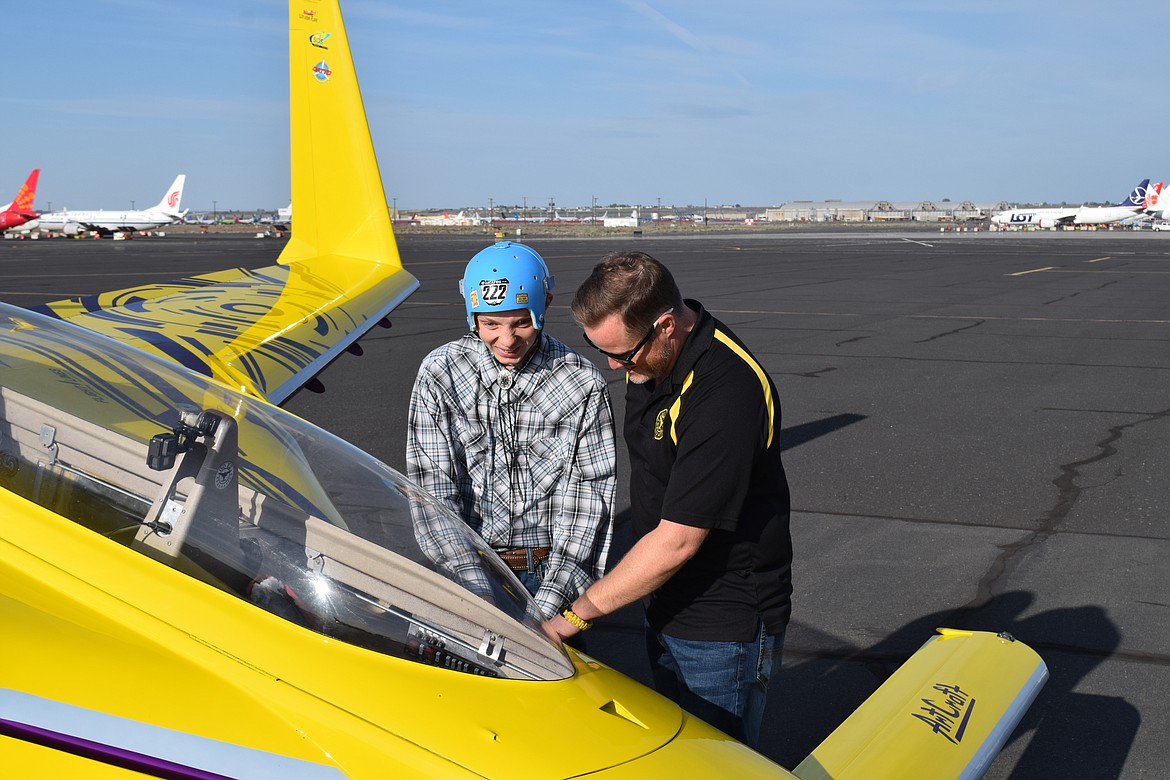 Aerobatic pilot Kyle Fowler (right) lets Moses Lake teen Jacob Reindl "see" his aircraft by touching it during a short visit by Fowler to the Grant County International Airport on Tuesday. Reindl is blind as a result of a brain tumor, and wears a blue helmet to protect his head following the removal of that tumor and a portion of his skull. Reindl and Fowler met at the 2021 Moses Lake Airshow, and Fowler intends to have Reindl work on his ground crew during this year's airshow.
CHARLES H. FEATHERSTONE/COLUMBIA BASIN HERALD
by
CHARLES H. FEATHERSTONE
Staff Writer
|
May 18, 2022 3:09 PM
MOSES LAKE — Jacob Reindl remembers Kyle Fowler's unique Long EZ airplane from last year's Moses Lake Air Show.
"Now, if I remember, on the wings there are a couple of patch kits on the tips," he said, standing confidently on the ramp of the Grant County International Airport, Fowler's bright yellow plane parked in front of him.
"Those are fixed now, actually," Fowler said, smiling, impressed that Reindl remembered. "There were a couple of repairs on the wings."
Because, as Reindl is the first to admit, he's never actually seen Fowler's airplane. The 16-year-old is blind as a result of a potato-sized brain tumor, a tumor that has required five surgeries and prompted the permanent removal of part of his skull. It's why Reindl wears a blue helmet all the time.
That, however, has not kept Reindl from being fascinated by machines and vehicles — he has a jeep at home that he tinkers with — but it was at last year's Moses Lake Air Show that Reindl and Fowler first met.
"Never looked at an airplane 'til (last) Father's Day weekend. But I mean, I didn't really see it.," Reindl said.
"He was standing by the fence with his little brother. After the show, I go out to the fence line, sign autographs and talk to people. I talked to Jacob and found out his story," Fowler said. "I realized he couldn't see, and Jacob asked me, 'Tell me about your airplane.'"
Fowler said it struck him there was a better way than words to let Reindl learn about his unique aircraft, a "pusher" which has delta wings and its sole propeller engine in the back.
"I told him, we're going to hop across the fence and I'm going to show you my airplane," Fowler said.
Fowler said he had Reindl touch his airplane in the hope that would let him "see" the aircraft better than Fowler could ever describe it.
Tuesday evening, Fowler showed Reindl around the aircraft again, with Reindl touching the plane and noticing the changes that have been made since last year.
"Did you get it wrapped?" Reindl asked.
"It's got a non-symmetrical paint job," Fowler said. "So it looks very kind of sci-fi and techy."
If he's not in the hospital again — Reindl's mother Coralee Ramm said Jacob has yet another surgery coming up — Fowler said he wants to have Reindl on his ground crew at this year's Moses Lake Air Show, which is scheduled for the weekend of June 18-19. Fowler, who first flew in the 2021 airshow, is scheduled to come back this year.
In fact, Fowler, who is based in British Columbia, just flew in the Fairchild Air Force Base Air Show and is spending the week in Spokane at Parkwater Aviation better learning to fly the Kodiak light transport aircraft, which is used across the world — and especially in Canada — to deliver cargo and people to remote locations.
"I love coming down here," Fowler said of Moses Lake. "It's a great place and it's not too far from home."
"We're going to try and get out here," Reindl said. "I'm hyped up and ready."
Charles H. Featherstone may be reached at cfeatherstone@columbiabasinherald.com.
Recent Headlines
---