Creature comfort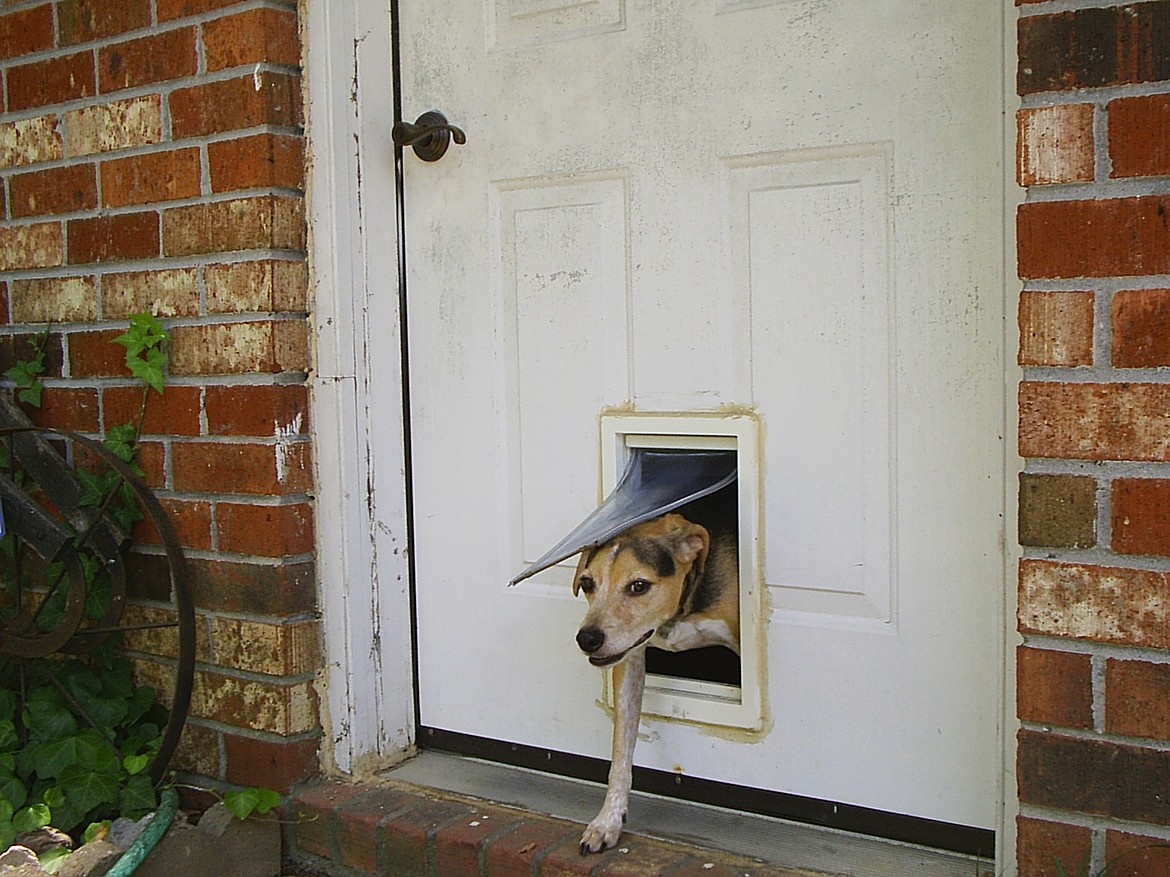 Some dogs may be hesitant to use a pet door and need special training. However, they also provide pets with more freedom to go outside without waiting on their owners to open the door.
STOCK PHOTO COURTESY WIKIMEDIA COMMONS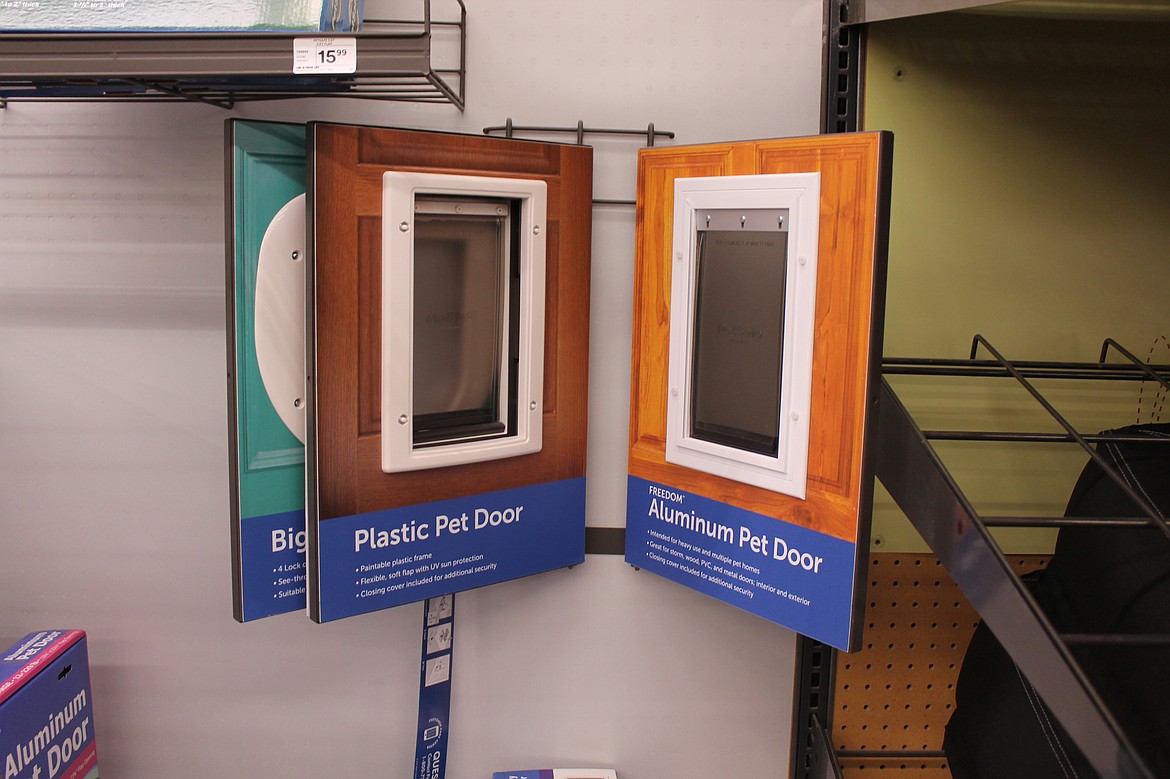 Pet doors range from the very basic, shown here, to sophisticated electronic versions that can identify your dog or cat individually.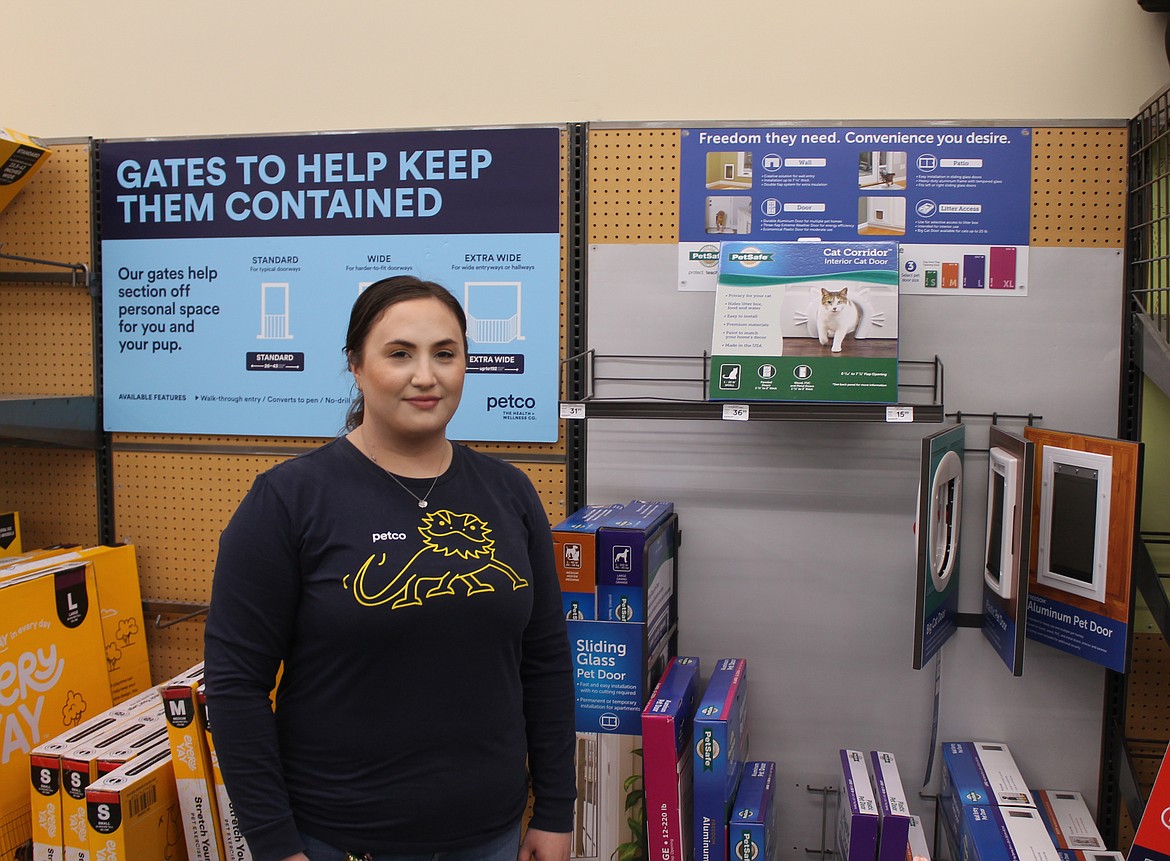 Stephanie Waters, manager of Petco in Moses Lake, stands with the store's display of pet doors. There are plenty of options out there for giving pets access to the great outdoors with a wide range of price options and finishes, she said.
Previous
Next
MOSES LAKE — We all know how it is with pets. When they're inside, they want to be out, and when they're out, they want to come in. But that pesky door keeps getting in the way, and sometimes there isn't a human handy to open it. What's a critter to do?
Pet doors have probably been around as long as humans have domesticated animals. They gained popularity in the United States with the increase in suburban homeownership following World War II when fenced yards began to be commonplace. In its simplest form, a cloth or flexible plastic or metal flap over a hole cut into a regular people door serves the function. But the need to keep out other animals and the elements calls for something a little more sophisticated.
There are a number of options, said Stephanie Waters, manager of Petco in Moses Lake.
"We have indoor house doors, little cat doors (that allow pets) into specific rooms. And those are an internal situation. We've got sliding glass ones, they fit right into an existing sliding glass door system. And then we have ones that go through either a wall to outside or a door to outside. "
The prices are pretty widely varied on those doors. Petco lists the most basic built-in flap door at anywhere from $22 to over $100, depending on size.
Thesprucepets.com, a website devoted to pets, gave good reviews to a door by Ideal Pet that runs closer to $200 that can be mounted either in a door or in a wall up to 7 inches thick.
Then there are some more sophisticated doors, appropriate to our high-tech age.
"So there's actually electronic ones," said Waters. "We can get those ordered for people as well. We have ones that are linked to a collar that the animal wears. And when they get in within a specific range, it opens up the flap for them."
If a pet is microchipped, as many pet store and rescue animals are, there are also doors that can be linked electronically to that chip. Both methods allow a pet free access but keep out other dogs and cats, or skunks, or even humans who might try to wriggle through.
There are also doors out there that don't require any modifications to the home, which is good for renters, as well as homeowners who aren't very handy. One option fits into an open sliding glass door, blocking the upper part of the space and allowing access through a small door at ground level. This allows the sliding glass door to be locked as well.
"So you have two locking mechanisms," said Waters, "one that locks into your existing one, and then you can also lock your sliding glass door when it's installed as well. I had a (Great) Dane-sized one when I lived in Arizona. It was was very, very hot outside, so I'd actually just remove it at night. It just comes right out on springs."
How about installation?
"I always recommend for the ones that are going through a wall, unless you have previous experience with them, get a contractor to install those," Waters said. "But the ones that the doors, internal doors and the sliding glass ones or do it yourself, they're definitely DIY."
The primary reason for recommending that users hire a contractor is because of return policies, Waters said. It's not uncommon for a purchaser to cut a hole in their wall and then find they couldn't install the door, she explained. Other customers have trouble with getting their dogs to use the door. Some dogs require special training to get them comfortable with it. Check that the store or dealer you buy from will let you return it if you can't use it for whatever reason.
And make sure the quality is such that your door will last and stand up to the elements, Waters added.
"If you're using a year-round one, metal and glass, high-quality finishes, are going to be super important for longevity," she said.
Joel Martin can be reached via email at jmartin@columbiabasinherald.com.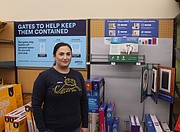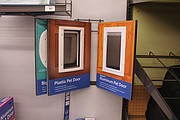 Recent Headlines
---