Tigers take split on the diamond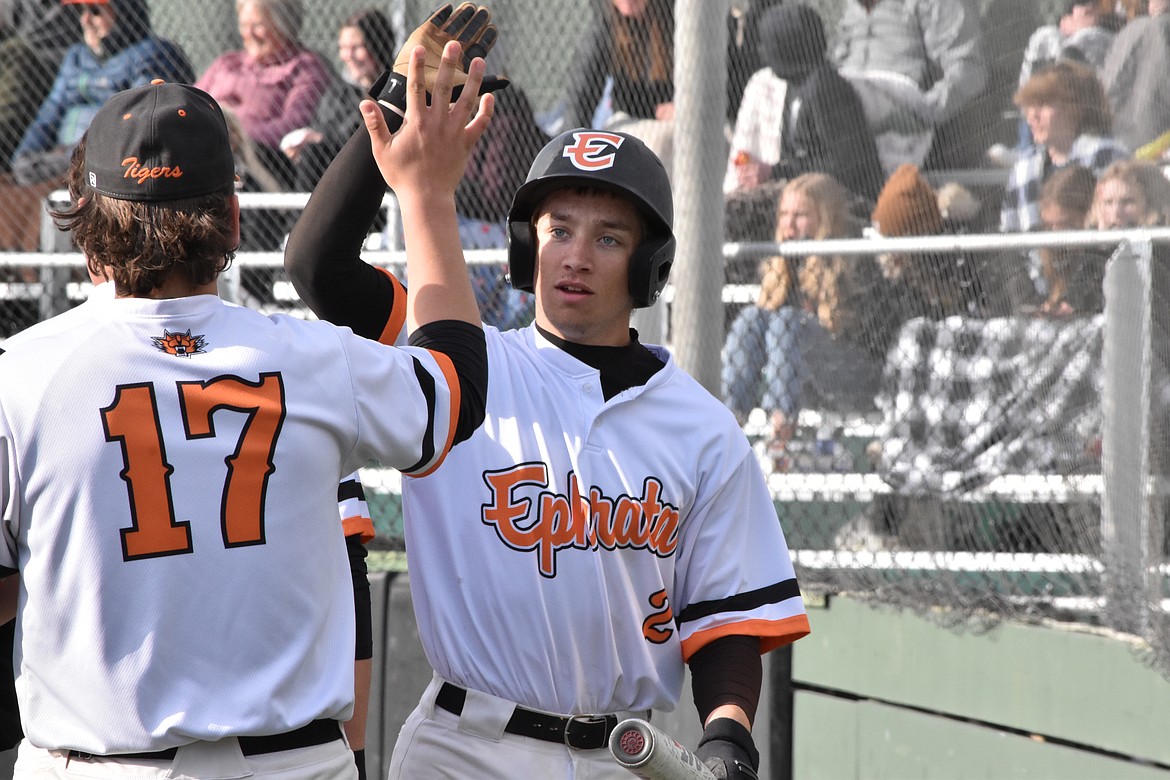 Ephrata High School senior Ethan Gustafson (17) gives a high five to senior Tyson Laugen (2) as he comes in from home base to the dugout on April 14. The Tigers are currently 17 and 5 as of Tuesday morning for this season.
FILE PHOTO
by
Rebecca Pettingill
Staff Writer
|
May 11, 2022 1:20 AM
EPHRATA - Ephrata High School baseball team took a split over the weekend in the second and third round of districts.
On Saturday, the Ephrata Tigers took on Ellensburg High School and fell 0-4.
Despite what looks like a shutout by Ellensburg, neither team had any runs for the first seven innings of the game. It wasn't until inning eight that Ellensburg was able to score four runs over the Tigers and keep them off home plate to take the game.
That same day, the Tigers also took on East Valley (Yakima) High School and won 11-0, turning the tough first game of the day into a distant memory.
The first inning was quiet, both teams keeping the other from any runs. The second inning however saw a burst from the Tigers, bringing seven runners home. Things got quiet again during the third inning but Ephrata brought in one more during the fourth.
Still holding East Valley from any runs, Ephrata went on to score three more runs during the fifth inning and invoking the 10-run mercy rule and ending the game.
Brock Hussey, Cody Black and Beau Dechenne led the Tigers with two runs each. Seth Chamberlain, Dechenne and Tyson Laugen each had one RBI. The team also managed five hits to East Valley's one and only one error compared to East Valley's three.
The Tigers hold a 17-5 record this season after the weekend split and are ranked No. 3 in the 2A baseball classification on the Washington Interscholastic Activities Association Rating Percentage index page.
The Tigers' next match is against Othello High School on May 13 in Yakima, loser is out of the competition and winner moves on to the final matchup later that night to head to regionals. The final game will be the winner of Othello vs Ephrata against the loser of the Selah vs Ellensburg game. Winner of the Selah vs Ellensburg game is the district champion and moves on to regionals.
Regionals are treated as the first rounds of state, where the top 16 teams in the state go head to head.
"Well, right now what we're doing is we're trying to work and right some of the things that haven't been going well for us so far in the last few games and the number one thing is swinging the bat. We haven't been making a whole lot of solid contact, we haven't been getting a lot of base hits, we've been popping up, flying out, rolling over ground balls quite a bit. So we're really trying to work on getting a little bit more consistent in the hitting side on the offensive. Defensively, we've been playing pretty well. Bunts have hurt us the last couple of games against Ellensburg. It's been working really, really hard on our bunt defenses to ensure that we're not making the mistakes that we've made," said Head coach Jason Laugen.
Laugen said that while they have beat Othello already twice this season, 5-2 and 7-0, he is not underestimating the Huskies and feels like it could be a really good game.
"I'm proud of the kids. You know, they've worked pretty hard. It's a team that really could go a long way if things started falling into place and they start really competing, and I'm just proud of all these kids," said Laugen. "I've known them all for a long time. It's just a great group to coach. They're gonna be great young men, both future businessmen, entrepreneurs, citizens, husbands, fathers. They're just a great group of kids."
Rebecca Pettingill may be reached at rpettingill@columbiabasinherald.com.
---