Ephrata SD buys land for future campus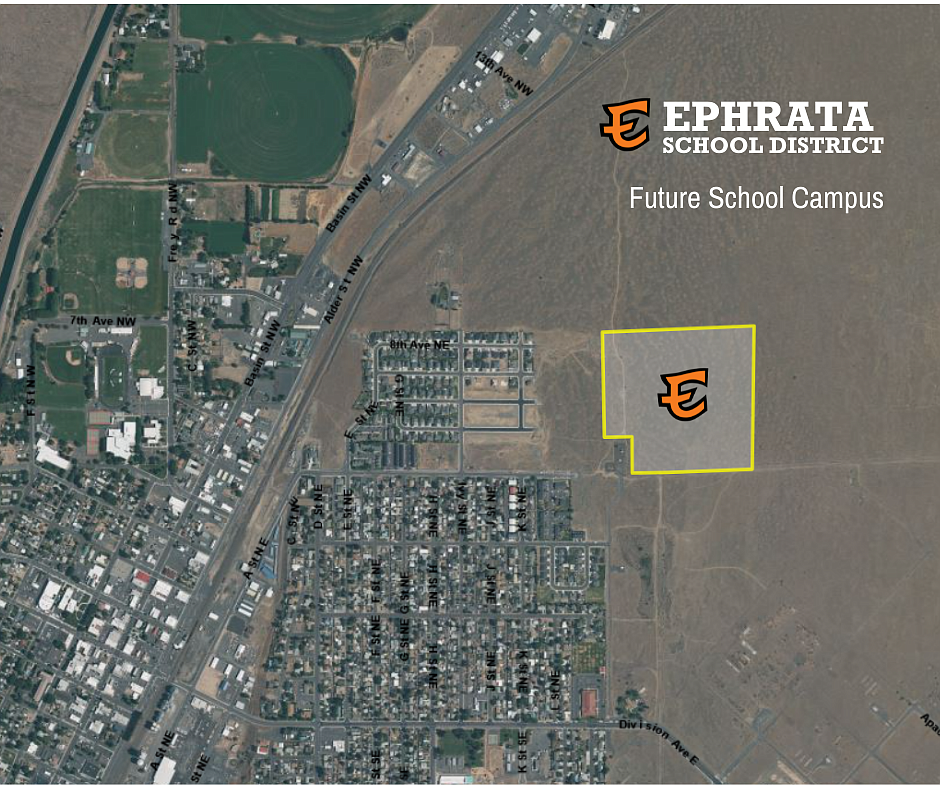 The parcel of land outlined above will be purchased by the Ephrata School District pending some final formalities, including an analysis of the property and a school board vote following that analysis. Given rapid growth in and around Ephrata, district and city officials say the purchase of the land is prudent.
SOURCE: EPHRATA SD
by
Staff Report
|
May 11, 2022 1:20 AM
EPHRATA - The Ephrata School District has purchased just more than 40 acres of land for about $423,000 near the Port of Ephrata for future school construction according to a May 10 press release from the district.
"We've been watching residential construction boom in the area," said Ephrata School District Superintendent Tim Payne.
According to information provided to Ephrata SD by the city of Ephrata, the city is growing rapidly with 127 buildable lots approved for construction within city limits during the past year, with an additional 329 in early planning stages. During the first 10 weeks of this year, permits for nearly 50 single-family homes were issued, exceeding the 34 permits issued in all of 2021.
"The City of Ephrata's building department is one of the busiest in the county. Residential growth is happening all over Ephrata. As the city's population increases, planning for additional schools to hold new families makes a tremendous amount of sense," said Ephrata City Administrator Mike Warren via the press release.
The district committed to the purchase of the 40.33-acre plot of land, also known as Parcel #130538083, on April 1 from SeaCal Properties, Inc. The district has 120 days from that date to complete a due diligence analysis of the property. Final Ephrata SD Board of Directors approval will be considered at a meeting after that process is completed, according to the release which also stated that no funds from current bond projects were used for the land purchase.
"By locking in this purchase now, we believe we are taking prudent financial steps to protect the district as the cost of land in the area continues to increase," Payne said.
The type of campus was not indicated in the press release. Ephrata SD spokesperson Sarah Morford said no specific school is planned for the site as yet, but the site is large enough for whatever campus needs arise in the district.
---