Merce Rocha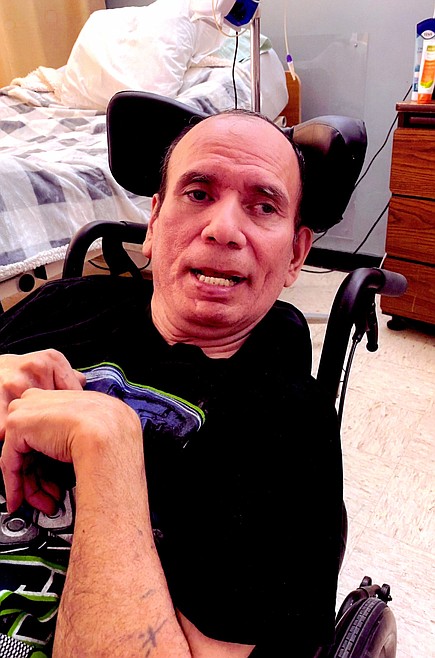 Merce was born in October 1960 in Pearsall, Texas.
October 1960 — May 3, 2022
Merce was born in October 1960 in Pearsall, Texas. Merce is the fourth of eight boys born to Manuela and Victor Rocha. He was a rambunctious child who loved to laugh, joke around, and create mischief. At 17. he married Beatrice and his first daughter Denise was born at 18. A year later his daughter, Cristie, was born.
Merce enjoyed the outdoors, especially hunting, fishing and three-wheeling. He had a green thumb and was able to grow a large garden in the spring and summer.
In July of 1991, Merce was in a life-changing car accident. In 1994, he was transferred to McKay Memorial (now Healthcare and Rehab) where he lived the remainder of his life. He enjoyed the many activities offered at McKay including fishing club, garden club, going on bus rides, bingo and hanging out on the patio.
The family would like to thank the staff and residents at McKay for the excellent care and the second family Merce gained while at McKay. This includes Daniel and his parents, Nikki, Amber, Carrie, Carole and many others. Words are not enough to thank you.
Merce is survived by his father Victor; his brothers, Tony, Victor, Abel, Nino (Carrie) and Lupe; his daughters, Denise (Buck), Cristie (Ryan) and Brandi; his grandsons Cameron, Gavin and Noah; and other numerous aunts, uncles, cousins, nieces, and nephews. He is preceded in death by his mother, Manuela, and his brothers Benny and Alex.
The funeral service will be held on, Tuesday, May 10, 2022, at Our Lady of Fatima Catholic Church, 200 Dale Road, Moses Lake, Washington. Viewing will begin at 9:30 a.m., Rosary at 10 a.m. and funeral Mass at 10:30 a.m. Arrangements are in the care of Kayser's Chapel with burial to follow at Guarding Angels Cemetery.
In lieu of flowers, consider donating to the McKay Healthcare and Rehab activities department.
---