Moses Lake goes two for two on senior night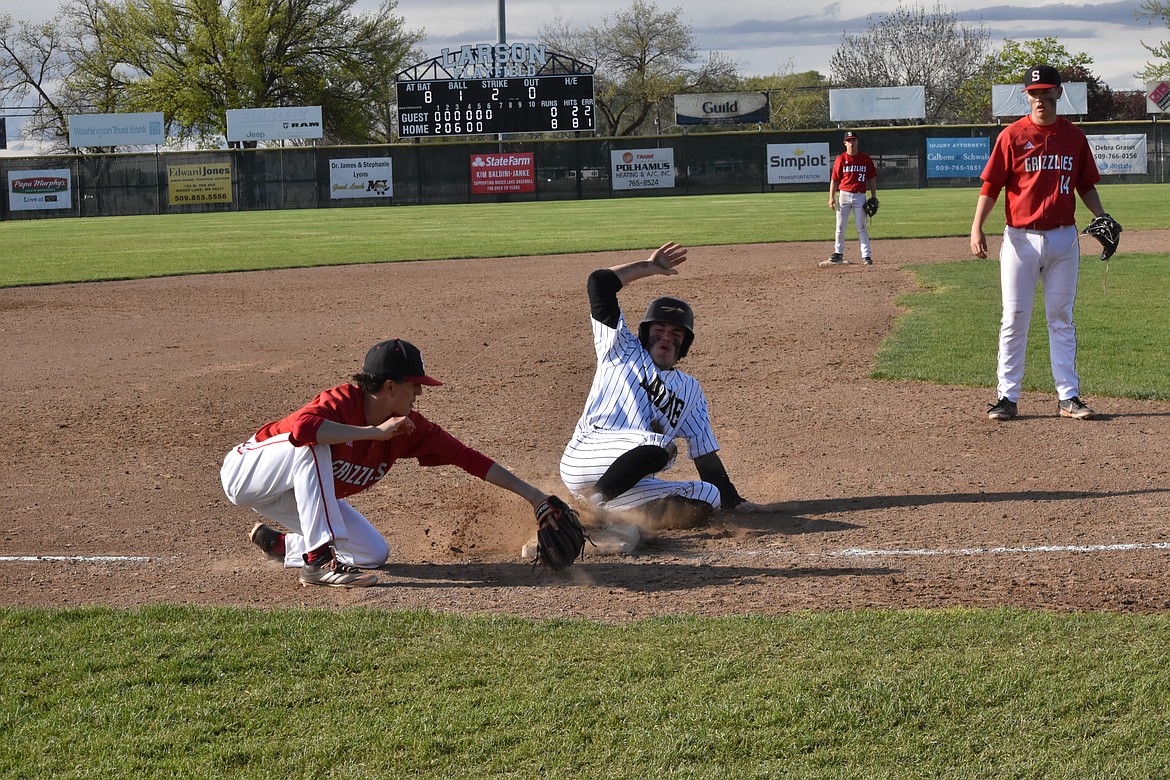 Moses Lake High School senior Jackson Purcell slides into third base during the league matchup against Sunnyside High School on Friday.
REBECCA PETTINGILL/COLUMBIA BASIN HERALD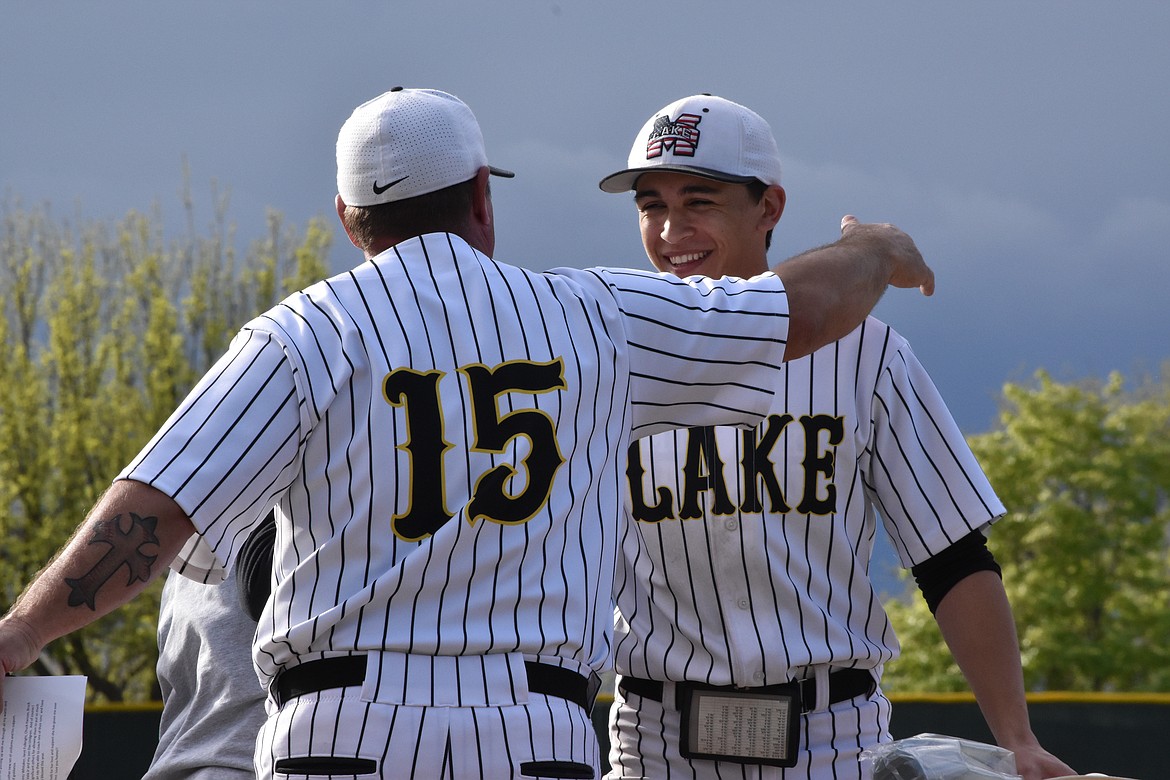 Chiefs Senior Jacob Martinez hugs head coach Donnie Lindgren during the senior recognition ceremony on Friday.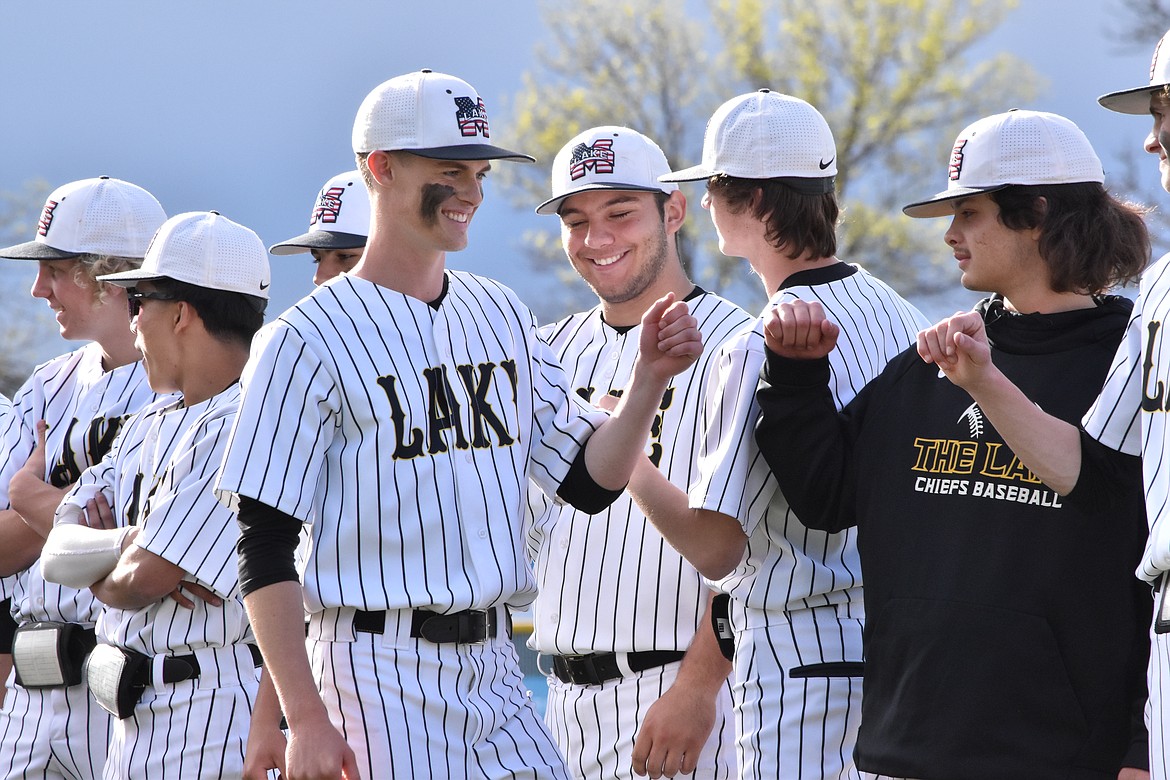 MLHS Senior Avery Passey goes down the line giving hugs and knuckles to his teammates during the senior recognition ceremony on Friday.
Previous
Next
by
Rebecca Pettingill
Staff Writer
|
May 9, 2022 1:20 AM
MOSES LAKE — The Moses Lake High School baseball team took two big victories over Sunnyside High School while celebrating senior night at Larson Playfield on Friday.
In game one of the doubleheader, Moses Lake took the game 10-0.
In the first inning, the Moses Lake Chiefs held Sunnyside back 2-0.
The second inning saw no runs for either team but the Chiefs weren't done putting up a fight. Moses Lake took a whopping six run inning in the third while still holding Sunnyside back. Things quieted down in the fourth and fifth innings with neither team getting a single run in. In the sixth and final inning, Moses Lake nabbed two more runs to finish 10-0 over league contender Sunnyside.
The Chiefs managed only one error that game compared to Sunnyside's three. Chiefs also led the board with eight hits to Sunnyside's two.
In between game one and two, the Chiefs held a small program to honor the seven seniors on the team.
Head coach Donnie Lindgren got choked up a bit as he spoke about the bond the seniors have. He noted that they had all played different sports together growing up and spent a lot of time at each other's homes. One of those seniors was also Lindgren's own son but said all the seniors and their families were family to him.
"One thing I want to say is that you are the last Chiefs team. Once a Chief, always a Chief. Go Chiefs," said Lindgren to the seniors.
The seven seniors are Asher Lindgren, Gavin Bingham, Avery Passey, Seth Olson, Carson Janke, Jacob Martinez and Jackson Purcell. Three of those seniors recently signed to play college baseball.
"These seniors have something different about them, let me tell you, you guys will see it at the end," said Lindgren. "They're a group of truck driving, hunting, fishing, having fun, redneck, crazy playing baseball kids and it shows. Their parents are the same way."
Gifts from the coaches included a cowboy hat and baseball bat both featuring the "ML" logo.
The second game went just as good as the first, with the Chiefs taking the game 11-1.
The Chiefs are ranked No. 10 according to the WIAA RPI with a 16-4 record, dropping from their No. 8 rank last week.
Their next scheduled game is at West Valley High School (Yakima) on May 13 at 5 p.m. for the last game of the regular season. West Valley is ranked No. 2 with a 19-1 record this season.
Rebecca Pettingill can be reached via email at rpettingill@columbiabasinherald.com.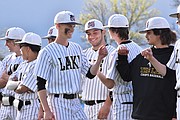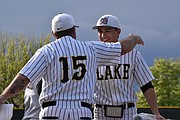 ---