Moses Lake clergy, community leaders gather for Mayor's Prayer Breakfast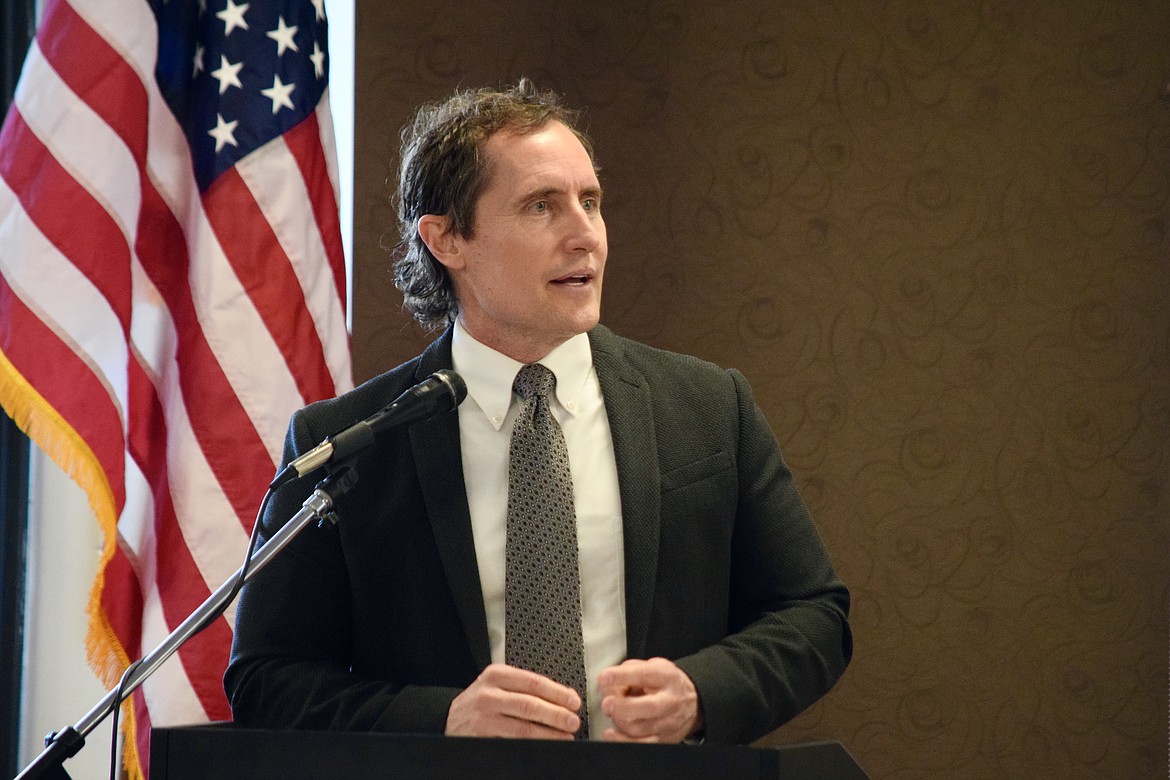 Mark Roeber, an associate pastor at the Moses Lake Alliance Church, giving the keynote address at Tuesday's 27th annual Mayor's Prayer Breakfast, organized and sponsored by the Kiwanis Club of Moses Lake.
CHARLES H. FEATHERSTONE/COLUMBIA BASIN HERALD
by
CHARLES H. FEATHERSTONE
Staff Writer
|
May 4, 2022 1:00 AM
MOSES LAKE — It's been three years since the city's clergy and its public officials have been able to gather for the Mayor's Prayer Breakfast.
This year though, they gathered at the Best Western Hotel at 3000 W. Marina Dr. on Tuesday, to share breakfast, sing, pray and hear some inspiring words.
"Thank God we're able to do this again," said P.J. DeBenedetti, a former senior administrator with the Moses Lake School District who was the M.C. for the Tuesday morning breakfast.
Sponsored and organized by the Kiwanis Club of Moses Lake, the breakfast was attended by 13th legislative district representatives Tom Dent, R-Moses Lake, and Alex Ybarra, R-Quincy, and Sen. Judy Warnick, R-Moses Lake, as well as Moses Lake Mayor Dean Hankins, Police Chief and Moses Lake School District Board President Kevin Fuhr, Moses Lake City Council Members David Eck, Deanna Martinez and Dustin Swatrz and City Manager Allison Williams, as well a number of local pastors and church leaders.
The annual prayer breakfast did not take place in 2020 and 2021 because of restrictions imposed in response to the COVID-19 pandemic.
Hankins told attendees the things that draw people to Moses Lake are things we can control, and thus don't have to lose as the city grows. If people want to see kindness in their community, they need to be kind to those around them.
In fact, Hankins said the people he sees who are the best examples of this are those on "the front lines" such as cashiers at Walmart, Safeway and WinCo Foods, clerks in convenience stores.
"We should be appreciative of that," Hankins said. "If we keep that in mind, then Moses Lake will continue to be that beacon and the place that we can continue to call home."
Keynote speaker Mark Roeber, an associate pastor at the Moses Lake Alliance Church, said it's important to remember that people can make a difference in the lives of others simply by being there, with people, and by knowing that whatever people earn or accomplish in this life, nobody takes anything with them when they die.
Oftentimes the most difficult experiences encountered are the ones most needed in order to learn to trust God the most, he said.
"Our experiences here are meant to teach us to see God is sufficient in all circumstances, especially the hard ones," Roeber said. "His grace is all we need."
Charles H. Featherstone can be reached at cfeatherstone@columbiabasinherald.com
Recent Headlines
---