Shooting fish: Moses Lake Carp Classic has eyes on growth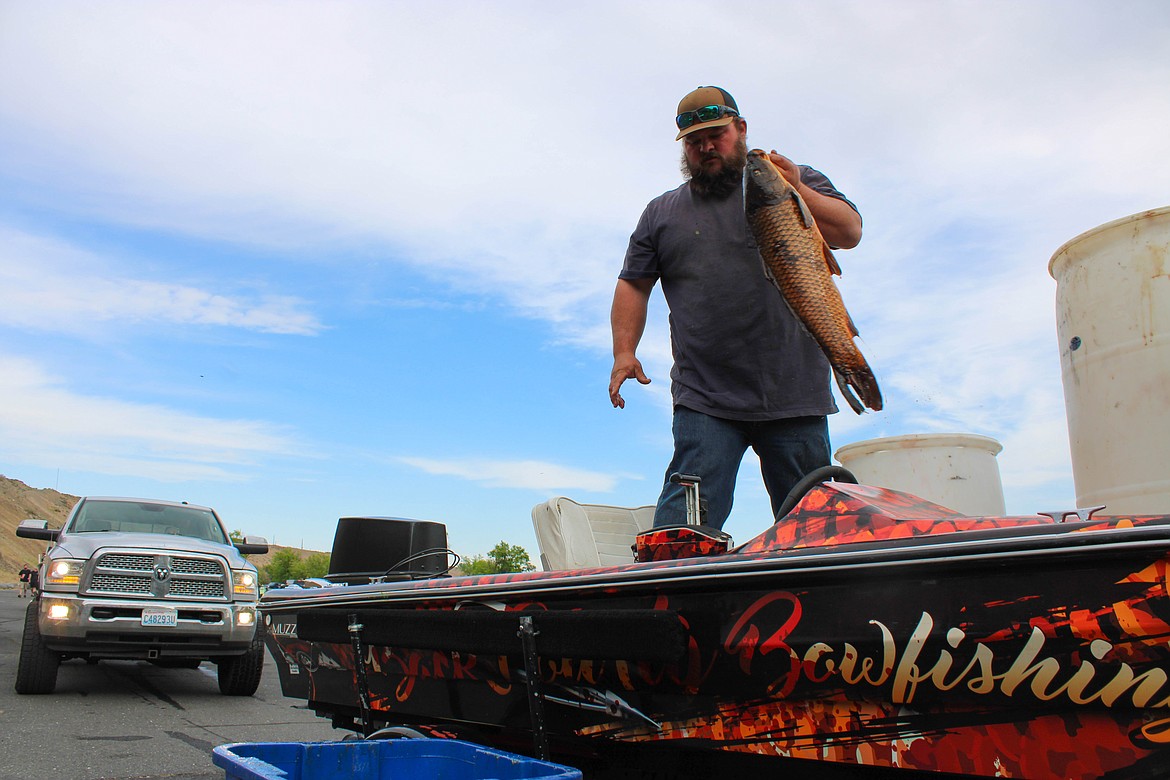 Trent Treagle unloads his carp for the weigh-in at the Moses Lake Carp Class Tournament in 2021.
Sam Fletcher/Columbia Basin Herald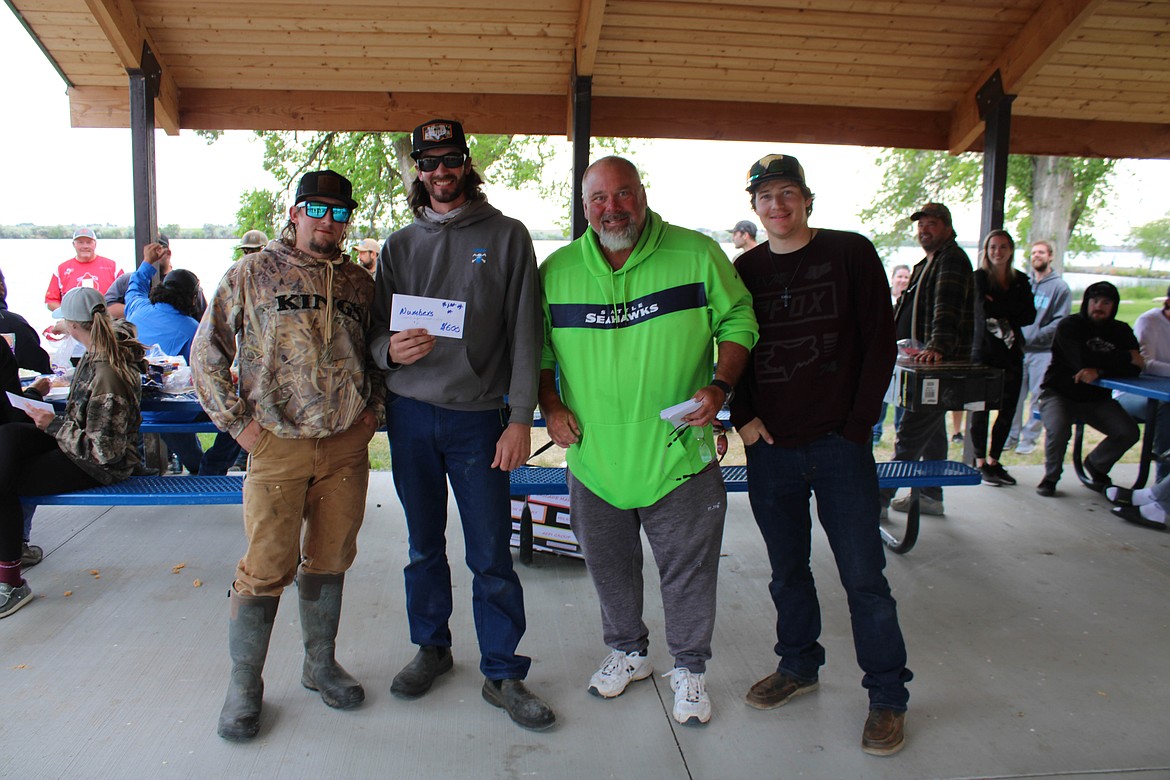 Left to right: Trevor Gibson, Gavin Wing, Ty Swartout and Colby Myers claim their wins of most carp and heaviest 10 at the 2021 Moses Lake Carp Classic Tournament.
Previous
Next
by
CHARLES H. FEATHERSTONE
Staff Writer
|
March 25, 2022 1:00 AM
MOSES LAKE — "Disneyland."
That's how Ty Swartout described Moses Lake.
"I grew up coming here. I'm not from Moses Lake, but the West Side, and I like to tell people that this was like Disneyland for me," Swartout said.
He sat at the large table in the dining room of his Panorama Heights home overlooking a still-frozen Moses Lake cracking behind him.
But his thoughts, as always, are when the weather gets warmer, when he can go fishing and hunting in his favorite place — the place his father brought him to hunt and fish when he was a child.
"I mean, from the time I could barely walk, we would come to Moses Lake, fishing and bird hunting," Swartout, 57 and a retired Boeing procurement manager, said. "It was a very special place for my dad."
Swartout said his father never lived to see the home his son built overlooking the lake he loved, but from that home Swartout could see, beginning in the last few summers, a thick green mat of blue-green algae form atop parts of the lake. And he wanted to do something about it.
He read about phosphorus loads, sediments, the effects of wind in churning a very shallow lake. And he also learned about the carp, bottom feeders which also stir up the mud on the bottom of the lake, releasing phosphorus and breeding, living and dying in the thousands, providing yet even more nutrients for the blue-green algae.
"I knew about carp tournaments, so I reached out to the Washington Bowfishing Association," Swartout said. "What if I put together a tournament? On Moses Lake? We'll call it the Moses Lake Carp Classic? And would you support that?"
That was in 2019. This year, 2022 marks the third annual Moses Lake Carp Classic — the event was canceled in 2020 because of the COVID-19 pandemic — which is set to be held on Saturday, May 21, at Connelly Park from 7 a.m. to 5 p.m.
Registration for the tournament begins at 6 a.m. the day of the tournament, and prizes will be awarded for the biggest carp caught, the team that caught the 10 biggest fish (when weighed together), the most carp caught, with a special prize given to the biggest Koi or goldfish caught.
"Believe it or not, some people release goldfish or Koi into our lake," Swartout said.
Bowfishing is just what it sounds — using a bow and arrows to shoot and catch fish. Kenny Vansteenkist, president of the Washington Bowfishing Association, said he enjoys bow fishing because it's one of the last unregulated sporting activities in the state.
"It's year-round, and no license is required," he said. "This is an invasive species people don't want in our lakes, and bow fishing is one of the best ways to do that."
Vansteenkist, a resident of the Tri-Cities area, said he travels several times a year to Moses Lake to take aim at the lake's carp, including last year's carp classic, but said the weather was so bad that he caught more bow fishing the previous weekend than he did during the tournament.
He also said Moses Lake itself is very shallow in places and that can make it a challenging place to hunt.
"I enjoy going up there, and there is plenty of fish," he said. "But there are lots of shallow, rocky areas in the lake and that can damage boats."
Vansteenkist said in the last few years, he's also seen a lot of bass in areas populated by carp, which is unusual, since carp tend to destroy bass spawning areas when the water's warm enough for them to spawn.
"Carp are huge, violent fish when they spawn," he said. "And they can spawn multiple times in a year. Not many fish prey on carp, and one female can lay 1 million eggs."
While Moses Lake was originally stocked with carp to provide a food source, not many people eat them, Vansteenkist said, because they're too bony and, as bottom feeders, aren't very tasty.
"Parts can be super good," Vansteenkist said. "I will eat catfish out of the river, but if I catch them in the mud, I will throw them back."
Swartout said they are looking for uses for the carp caught in the classic — one company in Utah is trying to develop and market an organic fertilizer from carp. The carp caught at this year's Moses Lake tournament will be used as bait for crawfish trappers, according to the Vansteenkist and Swartout.
"We're not killing to kill, and they aren't being wasted," Vansteenkist said.
Swartout, who has become a bow fisher as a result of his organizing the carp classic, said he has plans for the event. He'd like to see it get bigger, maybe even become a two-day hunt, and possibly even the premier carp hunt in the state of Washington.
"We're really excited for the tournament this year, a lot. We got some new sponsors, we got new people again," he said. "I'm praying for good weather, we even have a chance of a possible TV show to come and do a show on it."
Vansteenkist, who did not compare Moses Lake to Disneyland, did say he is pleased with how the Moses Lake Carp Classic is shaping up as a premier bow fishing event.
"I have no problem changing this to our biggest shoot each year," he said.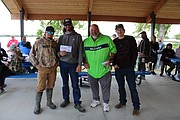 Recent Headlines
---