Honored: MLHS alum Omori discusses career successes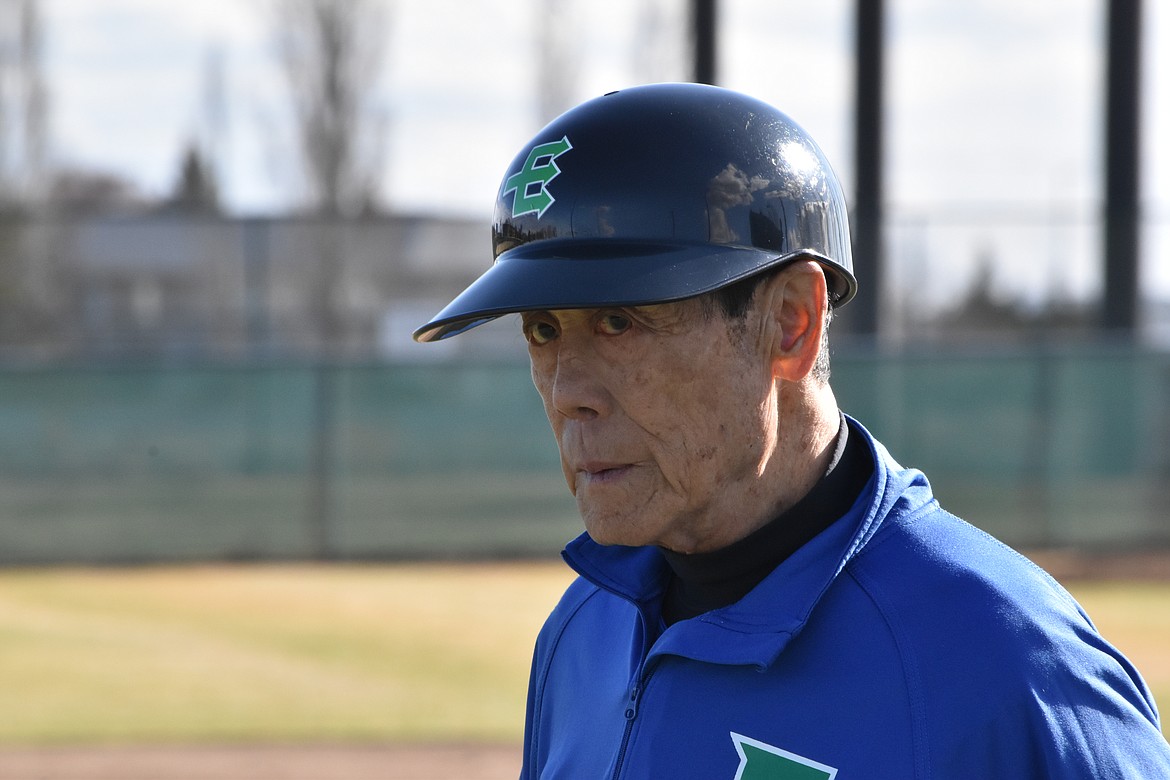 1960 Moses Lake High School graduate Ron Omori has gone on to become a pro baseball and softball player, international officiator and coach in his time since leaving MLHS.
REBECCA PETTINGILL/COLUMBIA BASIN HERALD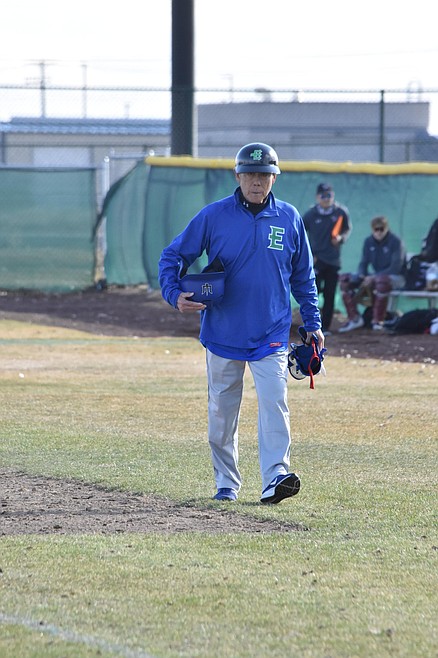 Ron Omori, fromer MLHS student, currently coaches for Edmonds College. Here he is pictured coaching his team when they went up against Big Bend on March 18. His team beat Big Bend Community College twice in a double-header during the tournament.
Previous
Next
by
REBECCA PETTINGILL
|
March 23, 2022 1:20 AM
MOSES LAKE - Ron Omori, a Moses Lake High School graduate, recently paid a visit to his hometown after leaving Moses Lake to go on to become a pro baseball player, international officiator and coach.
"I've been lucky," Omori said.
Omori is an assistant coach with the Edmonds College baseball team who took on Big Bend Community College in a tournament this past weekend. The tournament, held in Moses Lake, brought the 1960 graduate back to his roots.
Omori's family moved to Moses Lake when he was about 5 years old. His family was originally from Yakima but was moved to a Japanese-American internment camp, Omori referred to as a relocation camp, in Wyoming during the early 40's at the same time Omori was born due to Executive Order 9066 by President Franklin D. Roosevelt due to distrust of Japanese-Americans in the wake of the attacks on Pearl Harbor.
His family was there for about four months before they were cleared by the FBI to leave and moved to Spokane. After only a couple of years in Spokane his family moved to Moses Lake, where he spent the rest of his adolescent years.
While a student at Moses Lake High School, Omori was a three-sport athlete. He played football, basketball and baseball. It turned out Omori was pretty good and received several scholarship offers. He went on to play both basketball and baseball in college at Seattle University.
He had several offers but was drafted by the Japanese professional baseball team in 1964 the Daiei Orions, who are now known as the Chiba Lotte Marines, before being traded to the Hiroshima Carp, which was changed in 1968 to the Hiroshima Toyo Carp.
Omori talked about the culture shock he had moving to Japan, where he couldn't read or understand the language and wasn't used to the dietary differences.
"I ended up liking it. It just took some time," said Omori.
After playing for the Carp, Omori went on to play for the Mexico City Red Devils (Diablos Rojos del Mexico) for two seasons.
Omori quit baseball and came back to Moses Lake for a year before getting an offer to play fastpitch softball in 1969.
"I've been lucky. You know the old saying, 'You don't have to be good, just be lucky.' People took notice - of whatever (they saw in me) - at the right time," said Omori referencing many of the situations that led him to the major opportunities he's had throughout his life.
While playing for various fastpitch softball teams across the country, Omori decided to try his hand at officiating high school and college basketball. During his time officiating National Collegiate Athletic Association basketball, he saw the change in the Pacific Conference from the Pac-8 to the Pac-10 and finally the Pac-12. He's also officiated internationally for FIBA, the International Basketball Federation.
Omori left officiating in 2005.
"I've been to thirty-something different countries (to officiate)," said Omori.
Omori has been at Edmonds since 1998. According to the school's website, he has been the longest-tenured coach in Edmonds College baseball history and was inducted into the Triton Baseball Hall of Fame in 2014 as a member of the inaugural class. In 2017 the Ron Omori Assistant Coach of the Year Award was established in his honor, according to the website. His coaching career at Edmonds spans more than 20 years.
Dick Deane, former mayor and city council member in Moses Lake, teacher and coach, said Omori is being considered for the Moses Lake High School Athletic Hall of Fame for his accomplishments after graduating from MLHS, though a formal nomination has not yet been submitted.
"It's an honor," said Omori of being considered.
Rebecca Pettingill may be reached at rpettingill@columbiabasinherald.com.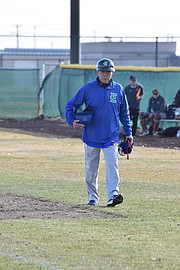 Recent Headlines
---