WA Dept. of Health announces pandemic recovery plan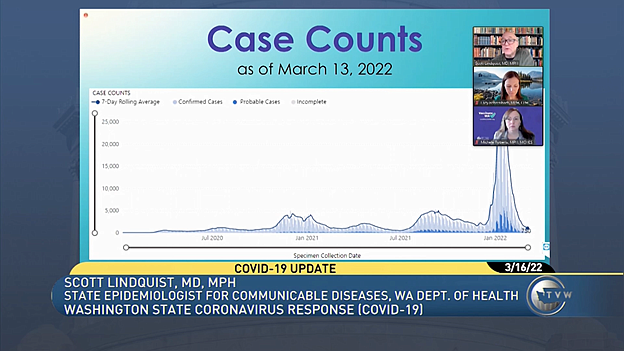 Scott Lindquist, Wash. Department of Health state epidemiologist said the recent omicron spike was more infectious than those in the past, driving up hospitalzations and deaths. Inset, below Lindquist are Lacy Fehrenbach, DOH deputy secretary for prevention and health and Michele Roberts, DOH assistant secretary for prevention & health.
Courtesy Image/State of Washington
by
By Timothy Fairbanks-Clouser/Herald Legislative Writer
|
March 18, 2022 1:15 AM
OLYMPIA - The pandemic is easing up and with it, the state is transitioning its focus onto other areas while entering a new phase of recovery, according to Department of Health officials on Wednesday.
Dr. Umair A. Shah, DOH Secretary of Health, said that, as the pace of the pandemic slows, the state is beginning to focus on other areas of public health. The WA Forward plan, which is adjustable as needed, comes from global experiences while also considering what works for Washington.
The plan focuses on empowerment, prevention and readiness; Shah said it could prepare Washington for the future, no matter what it may hold.
"These elements focus on what we've experienced, what we have learned and what has worked," he said.
Lacy Fehrenbach, DOH deputy secretary for prevention and health, said the plan is for all of Washington with the state as a whole coming together to heal and protect its communities and neighbors.
The "3 E's" of the plan intend to engage, educate and empower communities to stay safe and protect themselves from the pandemic. The state will continue providing regular information on COVID-19 and mitigation efforts.
"Our goal will remain to be making vaccines widely available," she said, "and accessible to all Washingtonians no matter where they live or who they are."
Michele Roberts, DOH assistant secretary for prevention & health, said the state has administered more than 13.1 million doses of the COVID-19 vaccine to more than 5.8 million people.
"It is incredibly important for everyone to stay up to date on their COVID-19 vaccinations," she said. "This is our ongoing best protection against serious side effects of covid."
A fourth dose could be on the horizon after the FDA received emergency use authorization requests for an additional booster shot from Pfizer and BioNTech. Roberts said the proposal is for individuals age 65 and older.
Fehrenbach said the state can currently give out 30,000 doses of the vaccine daily, which could double. More than 8 million at-home tests have also been distributed with more becoming available soon.
The state will also continue its disease detection and wastewater surveillance techniques while monitoring cases and hospitalizations to maintain response efforts. Monitoring levels of viruses in wastewater helps identify increasing infection rates.
DOH will continue to support healthcare capacity through workforce resiliency efforts and state-provided medical supplies while also keeping personal protective equipment on hand.
"It's really difficult to know when COVID-19 will become endemic or when the pandemic will truly end" Fehrenbach said. "However, we do have the knowledge about how to protect ourselves."
DOH state epidemiologist Scott Lindquist said the first wave of the pandemic in the winter of 2020 was nothing compared to the spike experienced over the past few months. The omicron variant was more infectious than others, further driving up hospitalization rates.
He said no new variants have emerged, but health authorities are still mitigating the impact of an omicron sub-variant.
Shah reminded Washingtonians that while the mask mandate is no longer in effect, people should still respect local communities and businesses' guidelines. The state is experiencing a recovery from the recent Omicron variant, but certain areas are behind because of a delayed response.
"Some hospitals continue to be stretched," Shah said. "We know health care capacity is coming back, but it's going to take some time."
Recent Headlines
---