State legislature passes high-capacity magazine ban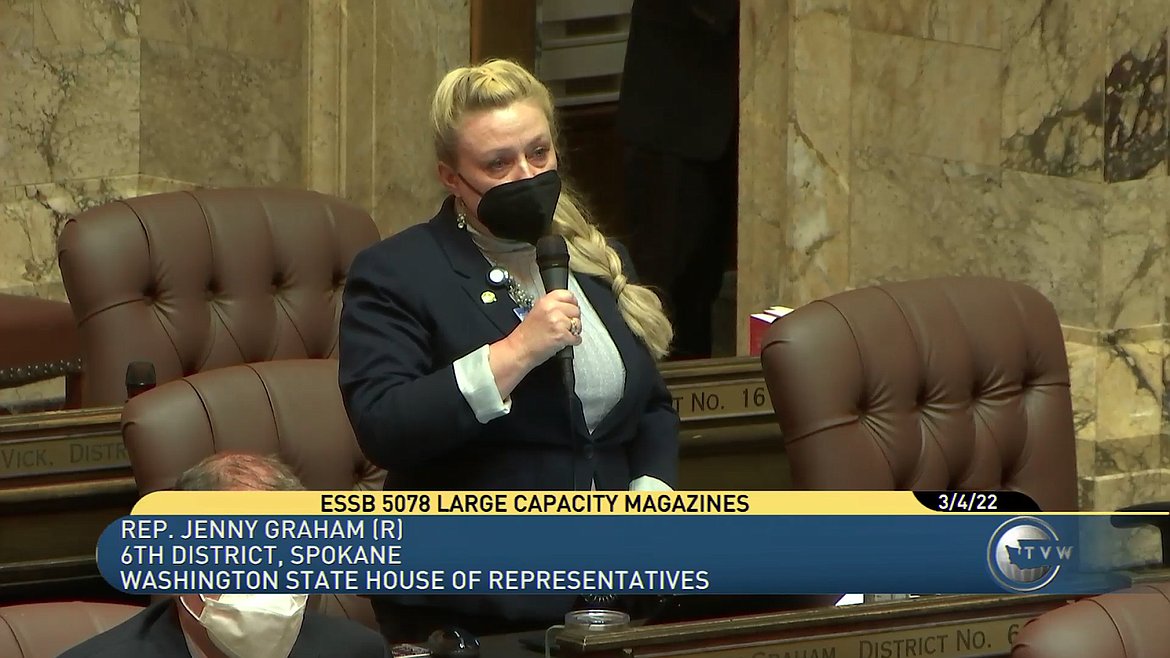 Rep. Jenny Graham pushed against Senate Bill 5078 during the Friday floor session highlighting many republican concerns. In contrast, Washington Democrats touted the safety the bill might provide to residents.
State of Washington/Courtesy Image
by
TIMOTHY FAIRBANKS-CLOUSER, Herald Legislative Writer
|
March 9, 2022 1:15 AM
OLYMPIA - Gun owners will no longer be able to purchase magazines with capacities greater than ten rounds under legislation passed by the House on Friday if it is signed into law by Washington Gov. Jay Inslee.
Senate Bill 5078 establishes new firearm restrictions that authors say support public safety. Once enacted, gun owners will no longer be able to purchase large-capacity magazines, defined as ​​an ammunition feeding device with the ability to hold more than ten rounds.
Rep. Strom Peterson, D-Edmonds, reflected on a 2016 incident in his district during the Friday floor session. He said a young man had purchased a high-capacity magazine before killing several people at a party in a short time.
"Within one minute, 27 shots were fired," Peterson said.
Three people died in that incident and at least one more was seriously injured, Peterson said.
He said that if the young man could not purchase a magazine of that capacity, maybe some of those lives could have been saved.
The Federal Assault Rifles Ban of 1994, which ended in 2004, had a similar provision banning high-capacity magazines. Now Washington will join nine other states in prohibiting the manufacture, import, distribution, sale or offer for sale of any large-capacity magazine.
Rep. Jim Walsh, R-Aberdeen, noted that many semiautomatic firearms come standard with magazines greater than ten rounds. Many rifles come with magazines with capacities of 20 to 30 rounds.
"Whether the underlying bill will save lives or not is a matter of faith and speculation," Walsh said.
SB 5078 prohibits the standard magazines for numerous firearms. He suggested that the legislature lacks the wisdom to limit the 2nd Amendment the way it intends to.
"Firearms used responsibly are an equalizer," Walsh said. "They're only dangerous in dangerous hands."
The prohibition does not include ammunition feeding devices altered not to hold more than ten rounds, a .22-caliber tube ammunition feeding device, or a tubular magazine within a lever-action firearm.
Exemptions are included to sell and distribute high-capacity magazines to the military and licensed dealers intending to transfer them out of state. People who already possess the magazines are protected at home, licensed gun ranges and during lawful recreational activities.
Violating the prohibition may result in a gross misdemeanor, punishable by imprisonment for up to 364 days and a maximum fine of $5,000.
Rep. Jenny Graham, R-Spokane, said criminals are no longer afraid of law enforcement or the justice system. Criminals need to start fearing their victims and SB 5078 does nothing to address that.
Her child has suffered a gunshot wound, but she said she did not blame the firearm, but rather places the blame on the shooter. The criminal was not supposed to have a firearm in the first place. Graham and the majority of republicans argued that Democrats are looking for solutions in the wrong areas.
"Criminals are being put above safe neighborhoods, safe families, safe businesses," she said. "All we have to do is watch our news."
Correction: A prior version of this story incorrectly paraphrased Rep. Jenny Graham. After review of Graham's address to the state legislature, a correction to her comments has been appended above.
Recent Headlines
---