Lind Artist reinvents the wheels…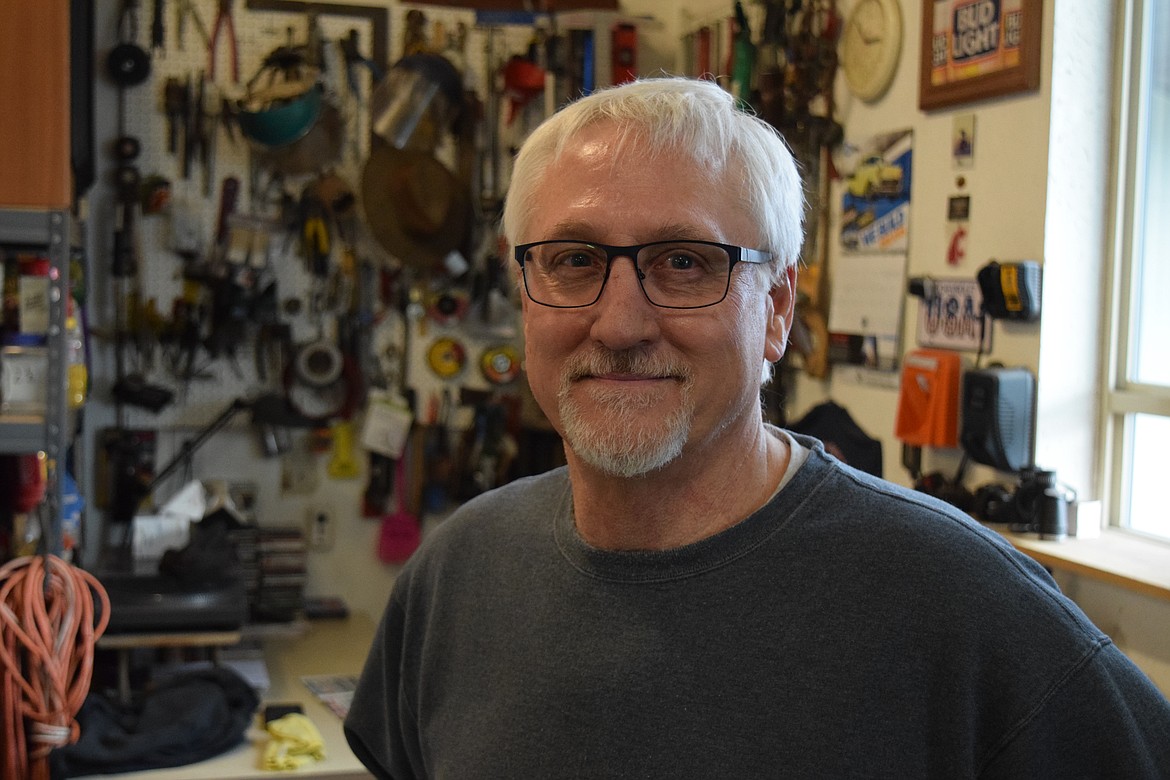 Lind artist Tom Strohmaier works with leftover buggy parts and farm implements to create abstract art that reflects life in the region.
Charles H. Featherstone/Columbia Basin Herald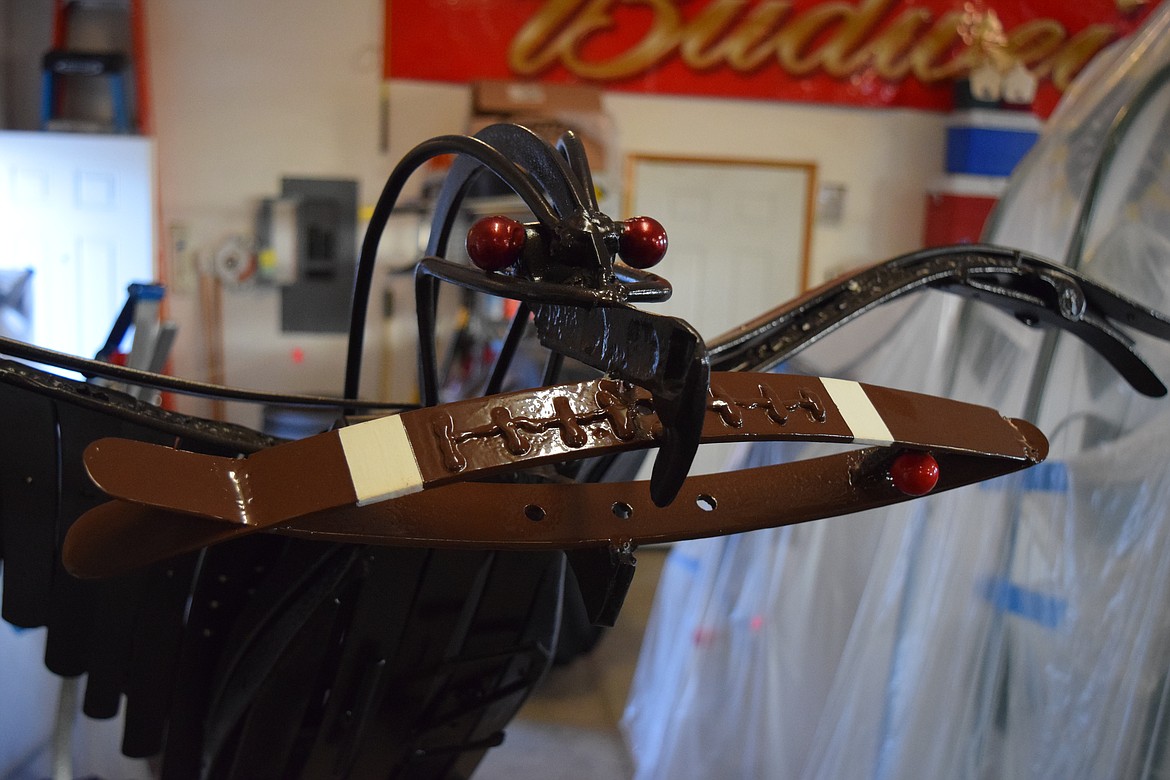 The 12th Seahawk feeds her young in a nest. Tom Strohmaier created the sculpture to honor the Seattle Seahawks and their fans.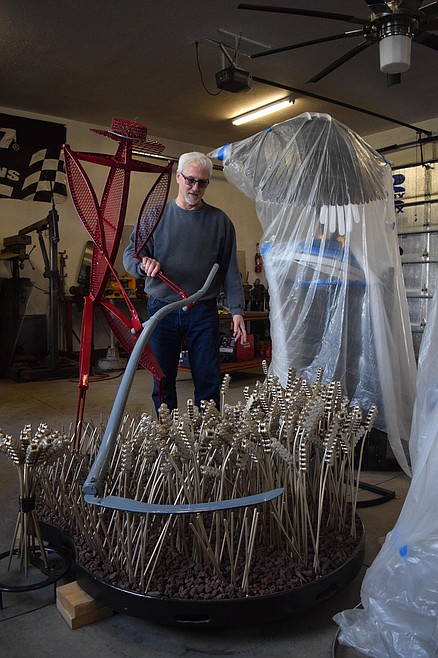 Tom Strohmaier shows off the farmer scything wheat sculpture he created from old buggy and combine parts. The work, which is painted in Washington State University's official crimson, has more than 10,000 individual welds, Strohmaier said.The individual heads of wheat are made from segments of chain taken from old combines.
Previous
Next
by
CHARLES H. FEATHERSTONE
Staff Writer
|
March 4, 2022 1:00 AM
LIND — Tom Strohmaier never set out to be an artist.
"My father-in-law used to restore buggies, horse-drawn buggies, sleighs and wagons," Strohmaier said. "And when he died in 2014, he left me this huge pile of (stuff)"
The retired farmer pauses as he stands over a pile of rusting cast-iron and steel parts — springs, spindles, axles — sitting behind his home in Lind.
"This sort of thing," he said.
He didn't want to build wagons. So, looking at the giant pile of parts, Strohmaier said he got an idea. He started tinkering with the old spare parts, seeing something he could make with them.
Sculptures. As varied as a trio of salmon trying to swim upstream to the 12th Seahawk feeding her young a football fish to a farmer scything a field of wheat.
"Now I'm on my 35th piece, and I find this stuff all around this area," Strohmaier said.
Strohmaier said he grew up south of Lind, on the family farm he managed for three decades while he farmed the rolling hills of Eastern Washington when he retired at age 53 about 10 years ago. He didn't start making art until late in life, when after the terrorist attacks of September 11, 2001, he decided to paint a giant American flag with the 50 stars arranged symmetrically in the shape of the twin towers in the field.
"I painted that on my shop door. It's 22 feet by 18 feet," he said. "The stars are seven inches across, and it's still out there on the farm."
Since moving into town, Strohmaier said he joined the fire department, got elected to the city council and the local school board, and started making art.
His first piece was a giant praying mantis, eight feet tall, one he tinkered with for years before he decided it was finished.
But standing in the large garage that doubles as his workshop built out back of his home, Strohmaier slowly unwraps a series of pieces he keeps covered so they protected from the dust and shavings of the piece he's currently working on.
Most striking is the farmer, painted in Washington State University colors, made of giant buggy springs, scything wheat stalks painted gold and made with clumps of chain taken from old combines. A WSU grad himself, Strohmaier said he originally wanted to make the wheat purple — WSU putting the University of Washington in its place — but when he tested it, things just didn't look right.
"This one took me eight months to make, and there are over 10,000 welds in this piece," he said. "I built it about buy height, and this is a really old scythe that I bought when I moved into town. So I just made a guy to with it."
That's kind of how the creative process works, Strohmaier said. He looks at the parts and begins to envision what kinds of things they make, and from that he said he makes a series of drawings to plan out what he is trying to make.
"It just pops into my head," he said. "I've got notebooks on my desk, and I go from there."
So far, Strohmaier has made 35 sculptures — including several metal benches — and sold around 14 of them, including items on display in towns from Othello to Coeur d'Alene. He's currently working on a sculpture of a sandhill crane family, which he spends his time shaping, sanding on welding in the winter afternoons.
Strohmaier said he's open to selling his work, but he's also okay if he doesn't.
"I haven't really tried to sell anything. I don't know what this stuff is worth," he said. "I think it's worth some money, but I don't care if I don't sell it. I'm fairly comfortable. I don't need to sell it, and I like looking at it."
Charles H. Featherstone can be reached at cfeatherstone@columbiabasinherald.com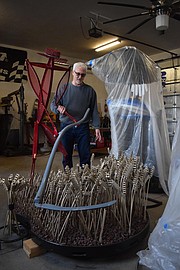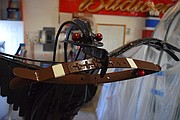 Recent Headlines
---