Golf tourney set to raise money for Warden wrestling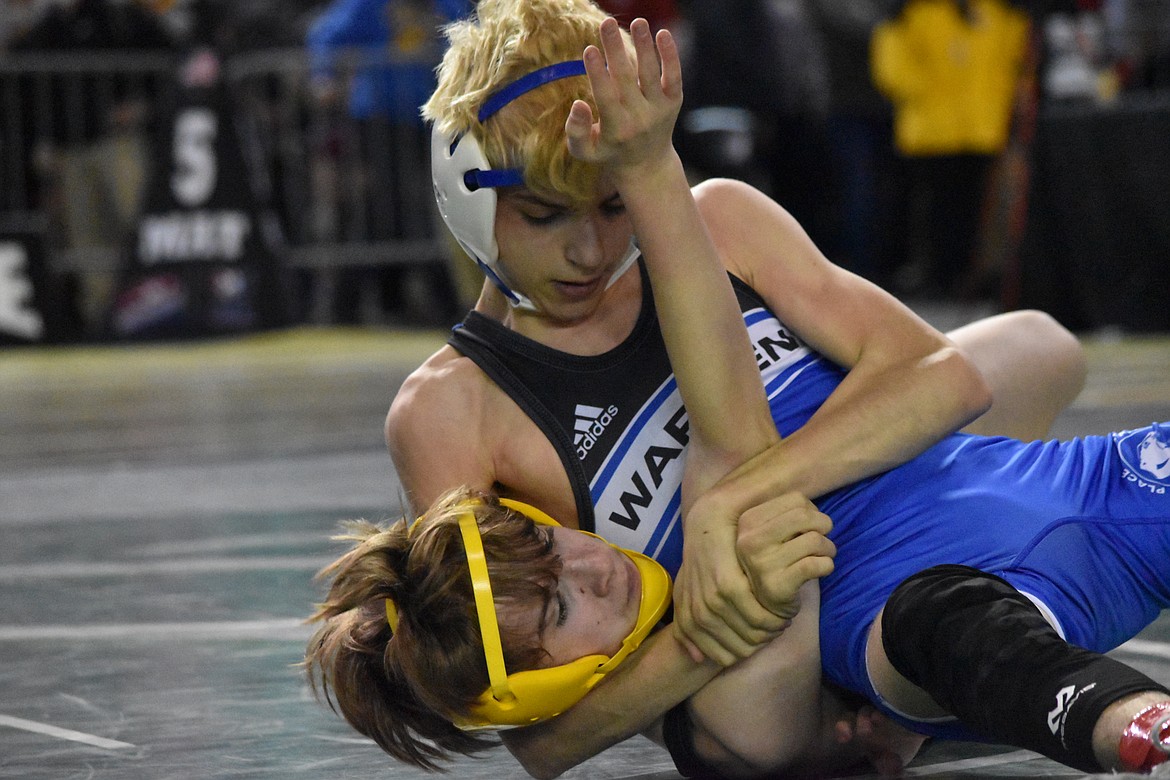 Warden's Michael Gonzalez, a freshman, wrestles A Cumming of Darrington during the first day of the Washington Interscholastic Activities Association State Wrestling Tournament in Tacoma on February 18, 2022. Wrestlers like Gonzalez will have the support of additional training this summer thanks to efforts to raise money for such events through a golf tournament this weekend.
REBECCA PETTINGILL/COLUMBIA BASIN HERALD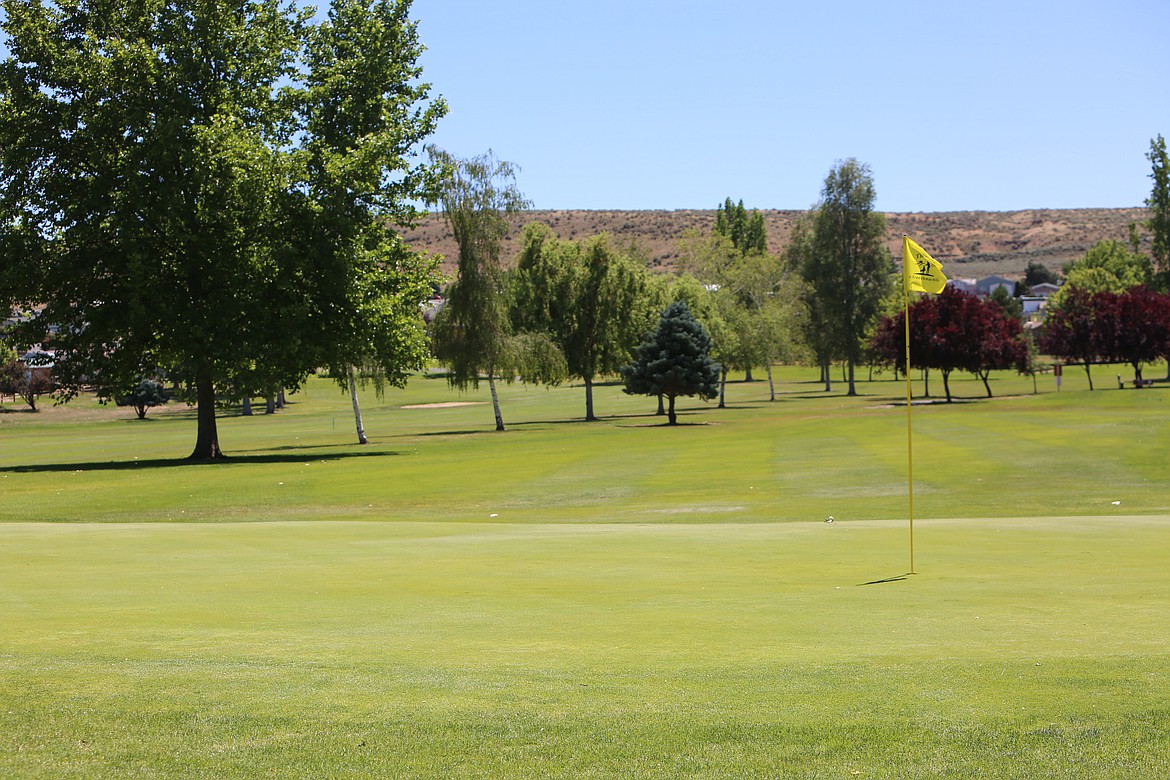 The Legacy Resort will play host to the inaugural Just Hit Straight golf tournament, raising money for the Warden wrestling program.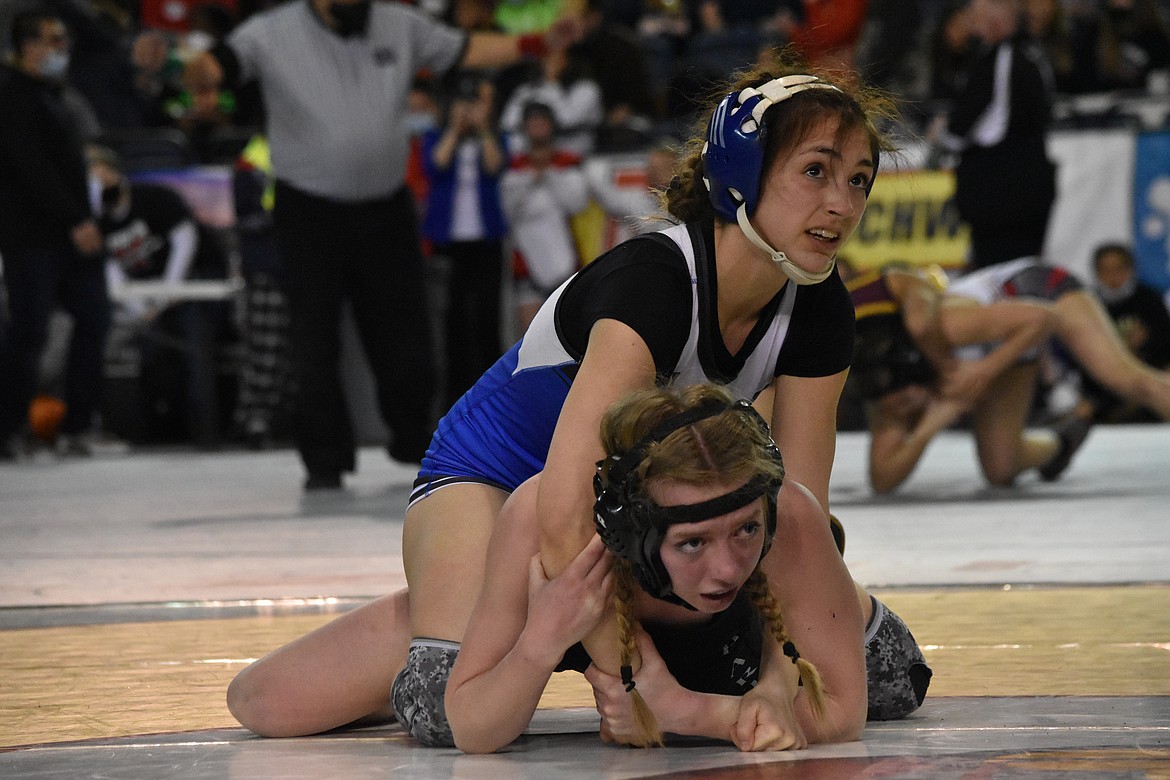 Warden sophomore Jada Hernandez wrestles at the Washington Interscholastic Activities Association State Wrestling Tournament at the Tacoma Dome in February 2022. Coaches for Warden are working to provide Hernandez and the rest of the school's wrestlers with more training opportunities.
Previous
Next
by
IAN BIVONA
Sports Reporter
|
June 23, 2022 2:46 PM
WARDEN - Warden wrestling assistant coach Alan Martinez talked with his fellow coaches and thought back to when they were in high school, and how the teams had challenges with bringing in top-tier clinicians to the school for camps.
"We could never bring top-tier clinicians to our area to give our kids camps, and even when camps were available in the area that we're in they're usually too expensive, and a lot of our kids couldn't go to them. So we got together as coaches and just kind of decided how do we make something like this happen for our kids," Martinez said.
Now, the team is doing just that - making it happen; Warden will be hosting a camp for its students later this summer, and bringing in that very top-tier instruction they so wanted - and it will be free for Warden students.
The solution to the challenge was to host a camp at the school for kids in grades 5-11. The camp will take place on the Warden football field, and feature instruction by Chris Castillo, who won four state titles while at Zillah High School. To raise money to put the camp on, Martinez and his fellow coaches began to think of ideas for a fundraiser.
"There used to be a high school football golf tournament that we know did really, really well," Martinez said. "So, we thought, 'Well, if they're not doing it anymore, maybe it's a good opportunity for us to step in and try and do something on a yearly basis.'"
The inaugural golf tournament - dubbed Please Hit Straight - will take place at The Legacy Resort in Othello this Saturday. Martinez said the name of the tournament came from a play on words of one of the team's mottos, "Place at State." All of the money raised from the tournament will be put towards the upcoming wrestling camp the school is hosting.
"We're using the money that we're making from this tournament to directly fund that camp," Martinez said. "For our kids. So it's 100% free to our kids. Giving them the experiences that maybe we missed out on as coaches. And just hopefully, we can make this an annual thing where we host this tournament every year and that helps fund bringing these kinds of opportunities."
The tournament has 72 participants registered, and the shotgun start will begin on the course at 8 a.m. Along with the tournament winner, the team will also be giving out prizes for the second-place team, closest to the pin, long drive and more. Some of the prizes include rounds of golf and speakers, among others.
"We're still learning and we're hoping that here in the next coming years, we make this thing bigger and we get more people involved and we can put our prizes on the same level as some of these other bigger tournaments," Martinez said.
Martinez said that even though the competition is full for teams, they are still looking for single golfers and sponsors.
"Next year we're hoping to host it at a venue that can host more teams and get more people involved and more people in the community," Martinez said.
Ian Bivona may be reached at ibivona@columbiabasinherald.com.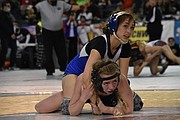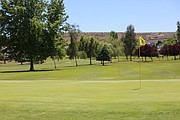 Recent Headlines
---