CWU to host high school basketball camp starting this weekend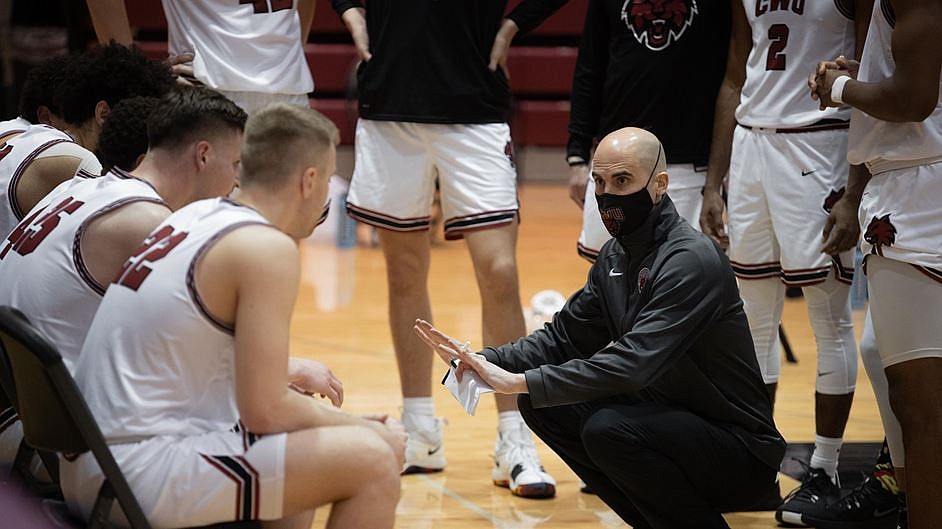 Central Washington head coach Brandon Rinta talks with his team during a Wildcat game. The team is hosting a basketball camp for high school teams this weekend.
COURTESY PHOTO/CWU
by
IAN BIVONA
Sports Reporter
|
June 23, 2022 3:03 PM
ELLENSBURG - Central Washington University will be hosting a basketball camp on its courts this weekend, hosting varsity, junior varsity and freshman teams from around the state.
Wildcat head coach Brandon Rinta said the camp - which runs Saturday through Tuesday - is a great way to build relationships with the area athletes and coaches.
"What I love is the relationships that are built between our staff and all the high school coaches across the state," Rinta said. "That's what we put a lot of effort into throughout the camp, is just building those relationships, getting to know them."
The networking that comes along with hosting a basketball camp is natural and is a means for coaches to talk with each other without a game on the line. Rinta, who was hired as head coach of the Wildcats in 2018, said this goes a long way in making relationships with the coaches in the state.
"There is definitely some basketball that goes along with that, where we're talking about their teams and how they can be successful and bouncing ideas off of each other," Rinta said.
Rinta said the tournament began at least 25 years ago and is making its return after a two-year pandemic-caused pause. Now in its return to Ellensburg, the camp shoots to retake its place as an anchor in the summer basketball circuit.
"It's been a mainstay here on the summer circuit, and it's just been a great opportunity for a lot of the high school programs across the state to participate in a team camp," Rinta said.
The camp features pool play followed by a single-elimination style tournament for teams to compete in. The participating teams are guaranteed at least eight games played, with the focus of the camp being more on playing games than working on fundamentals.
The location of CWU being in the middle of the state helps attract teams, Rinta noted, and the school's facilities make it a great place to host a camp of this structure.
"I think we're blessed with a great camp environment from the standpoint that we're in the middle of the state," Rinta said. "And our facilities here, specifically the student union and recreation center, we've got a building that - under one roof - we've got four full courts and a dining facility that feeds all the teams here."
The centralized location of facilities on campus makes the camp run smoother.
"It just creates a very convenient and quality experience for the teams that come through here," Rinta said.
With the amount of summer basketball camps and tournaments that take place across the country, Rinta said that finding one to play summer ball in isn't difficult for coaches. However, the style of camp that the Wildcats offer stands out, he noted.
"Finding games for these teams is not all that challenging throughout the summer with as many tournaments that are offered, but there's a difference between tournaments and team camp. What coaches find and why they like team camps is because of the bonding experience it creates for their teams when they're eating, hanging out, playing games for four days and three nights. It's just a tremendous experience for a team." Rinta said.
Ian Bivona may be reached at ibivona@columbiabasinherald.com.
Recent Headlines
---