Kraken affiliate hires first head coach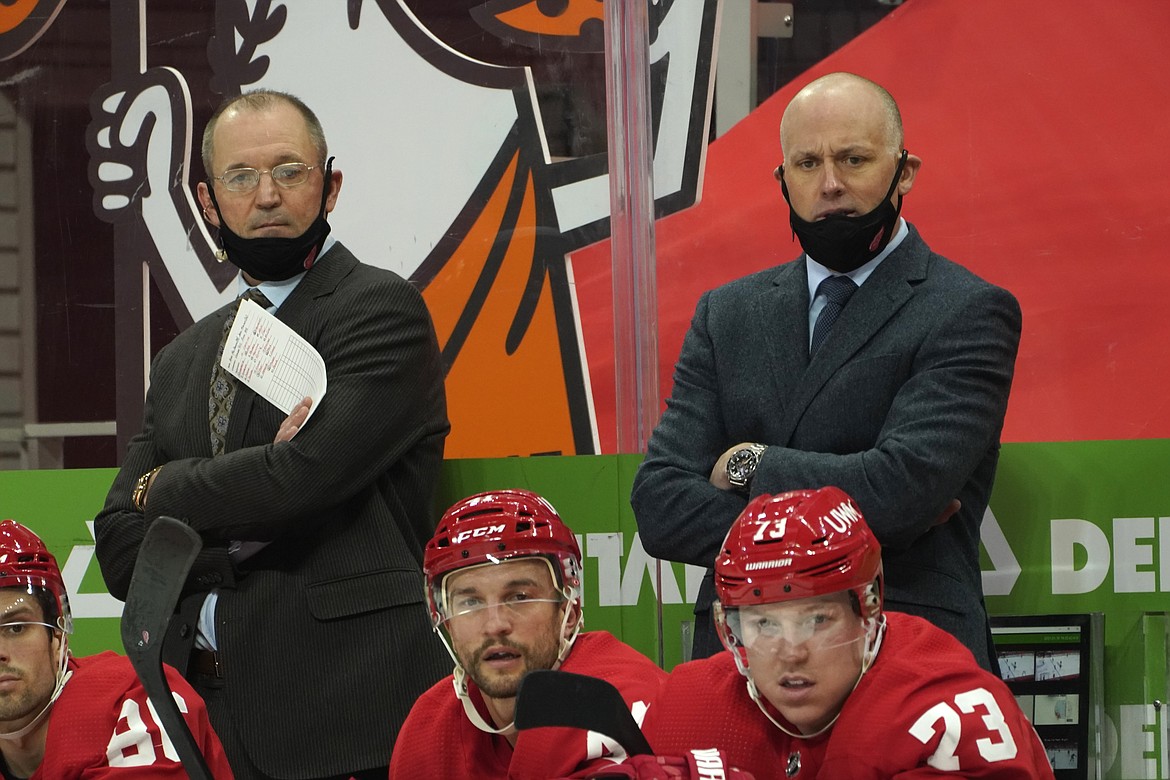 The Coachella Valley Firebirds, AHL affiliate of the Seattle Kraken, announced Tuesday the hiring of Dan Bylsma as head coach. Pictured above on the left is Bylsma during a Jan. 16, 2021 matchup of the Carolina Hurricanes and the Detroit Red Wings, whom Bylsma was assistant coach for at the time. To his right is then head coach Jeff Blashill.
AP PHOTO/PAUL SANCYA
PALM DESERT, CA - The Coachella Valley Firebirds, an American Hockey League and Seattle Kraken affiliate team, announced the hiring of Stanley Cup-winning Dan Bylsma as the first head coach of the team on Tuesday.
"We're excited to name Dan Bylsma the first head coach in Coachella Valley Firebirds history," Seattle Kraken General Manager Ron Francis said. "The head coach of our AHL affiliate plays a critical role in developing future Kraken players.
Bylsma comes to the Firebirds after a season on the Charlotte Checkers staff, where they won the AHL's 2021-22 Atlantic Division regular-season title.
"Dan worked with our prospects this past season in Charlotte and brings in a wealth of NHL and AHL experience to our new AHL club. We look forward to Dan guiding our team."
Bylsma won the 2009 Stanley Cup Finals with the Pittsburgh Penguins after taking over the team mid-season and leading them to an 18-3-4 record in the remainder of the regular season. He went on to spend six seasons in Pittsburgh before serving as head coach of the Buffalo Sabres for two seasons. He was recently an assistant coach with the Detroit Red Wings for three seasons before he was hired to the Kraken's development group.
The goal of the AHL is to develop young players for their moment on the ice and get a chance to make an NHL roster. As a former NHL forward, Bylsma said this is something he has a past feeling for.
"Going back to my past experience as a player, we all think there is ample opportunity for everyone to play [during an NHL game]," said Bylsma. "It's just not always the case. The younger player might not get the opportunity to fully develop. In the AHL, you get the opportunity to play and improve."
Bylsma said that Kraken fans can "count a good number of players wearing a Coachella Valley jersey," and be able to cheer for them in the NHL
"We all look at NHL rosters and see the players listed [up to 23 on active rosters]," said Bylsma. "But during the course of a season, the typical NHL rosters runs 30, 32, 34 players deep." Seattle fans are going to count a good number of players wearing a Coachella Valley jersey to start the season that they will be cheering for in NHL games later in the year."
The AHL season will begin in October.
Recent Headlines
---