Del Red Hydro Races held in Soap Lake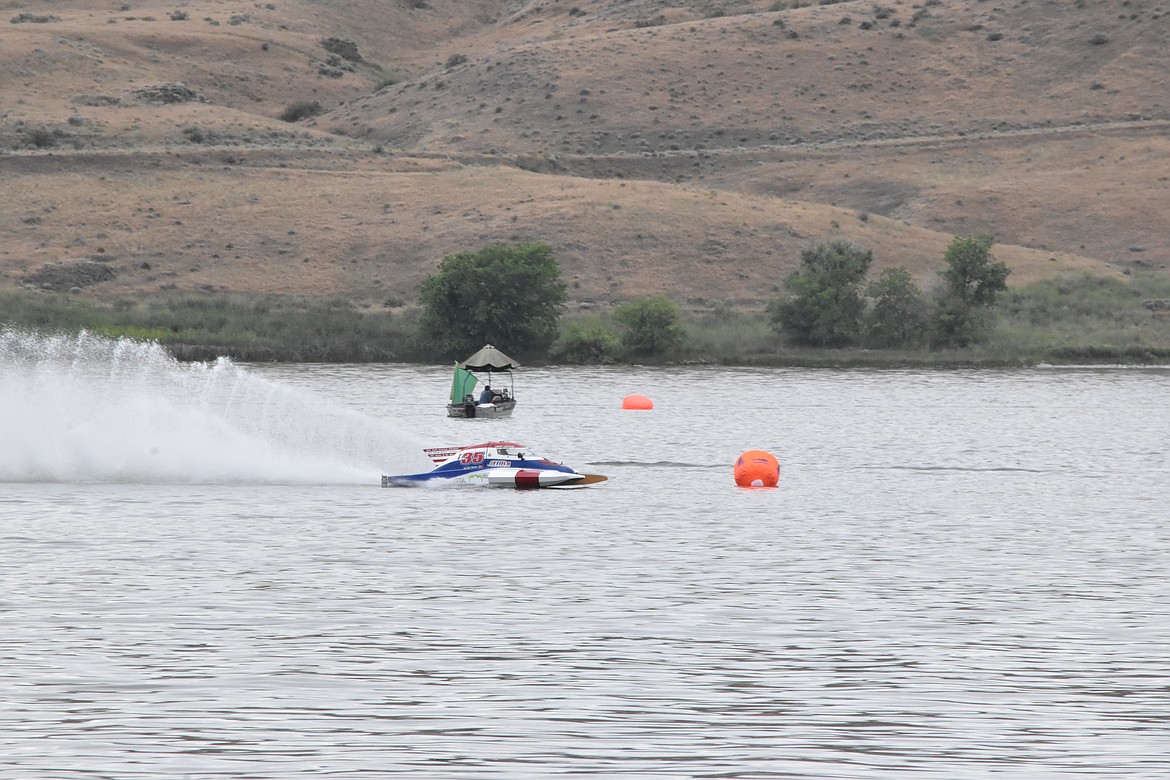 A hydrofoil racing on Soap Lake on Saturday during the annual Del Red Hydro races, with boats divided into separate heats among six different classes, varying on different lengths, engines and weights.
Rebecca Pettingill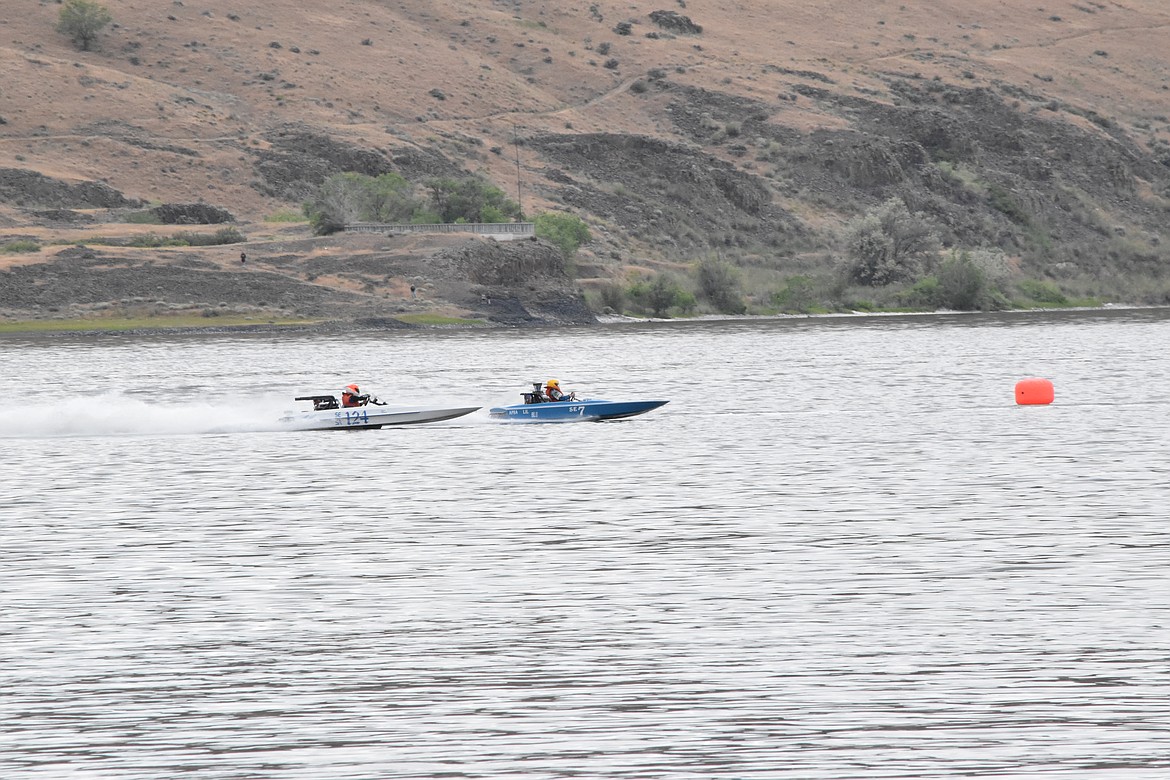 The Del Red Hydro Races encountered harsh weather conditions on Saturday, causing a delay in the competition.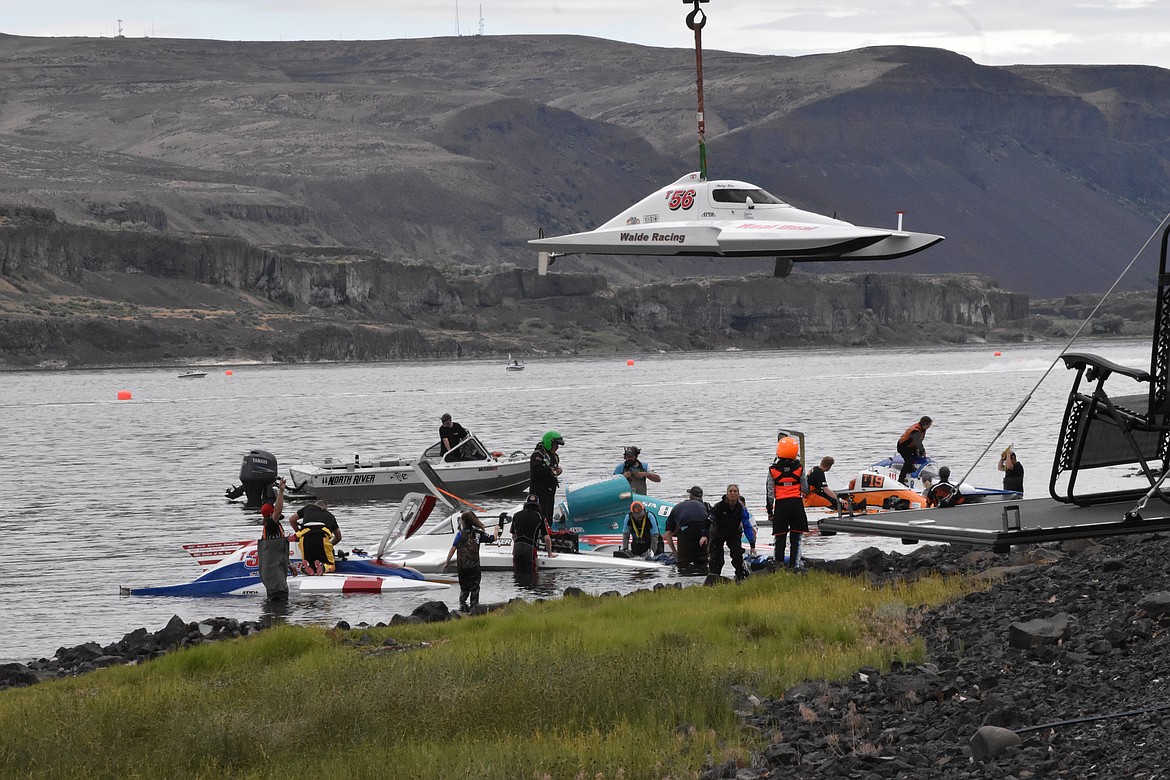 Boats were lifted into the water prior to racing, Race Director Lenny Baker said.
Previous
Next
by
IAN BIVONA
Sports Reporter
|
June 21, 2022 1:05 AM
SOAP LAKE — The Del Red Hydro Races took to the waters of Soap Lake this weekend, with boats from across the country making their way to Central Washington for the competition.
Race Director Lenny Baker said that they had boats from Washington, California, Michigan, Maryland and more.
"We had some boats from across the country, and up from California and Oregon," he said.
The races were held in different heats on Saturday and Sunday. Inclement weather on Saturday made for trouble, causing most of the competition to be finished on Sunday.
"Mother Nature blew into town, and Mother Nature always wins," Baker said. "The winds were gusting fast enough and the constant speed of the wind was enough to create whitecaps on the water."
Baker said that for safety reasons, boats cannot race when the wind produces whitecaps. The event was delayed after 2 p.m. on Saturday due to the weather.
"For absolute safety reasons we do not put the boats out there when the water conditions are like that and the wind is blowing like that," Baker said. "It's called a blow-off, and we were blown off Saturday afternoon, I believe it was probably two o'clock on."
With most of Saturday's competition moved to Sunday, only two competition heats were run on Saturday. The rest were moved to Sunday, and Sunday saw 21 heats from the combined schedules.
"On Sunday, since Saturday was blown off, we always will finish our Saturday remaining heats," Baker said. "And then once those are completed, then we will start on our Sunday schedule."
There were 24 boats in six classes: 1-litre hydroplane, 1.5-litre stock hydroplane, 2.5-litre stock hydroplane, 2.5-litre modified hydro, E 350 and flat bottom.
"It comes down to boat length and power plant as to what class you'll run in," Baker said of what separates the different classes of boats. "There are weight requirements as well."
The top three finishers of the 1-litre hydroplane were Y1 Shenanigans, owned by Tim Collins of Westland, Michigan and driven by Scott Liddycoat; Y18 Fast Eddie, owned by Jim Sechler of South Lyon, Michigan, and driven by Jeff Bernard; Y28 Go Fast, Turn Left, owned by Gunnar O'Farrell of Maple Valley, and driven by Haley Scarborough.
In the 1.5 stock hydroplane, T35 TM Special owned by Ed Thompson of Bel Air, Maryland, and driven by Scott Liddycoat took first place. T19 Miss APBA owned by the American Power Boat Association and driven by Katie Brown took second, and T56 Real Deal owned by Steve Walde of Discovery Bay, California and driven by Scarborough took third place.
The top three of the 2.5 stock hydroplane were S36 Subvert Racing owned and driven by Austin Eacret of Seattle; S45 Lunatic Fringe owned and driven by Kyle Davenport of Cashmere; S8 Crazy 8's owned by Conrad Malmo of Bellingham and driven by Pat Clark and Les Deatherage.
The top three finishers in the 2.5 modified hydro were A5 Miss Joshua Tree, owned by Nick Bononcini of Maple Valley, and driven by Mike Jarvis; A8 Crazy 8's; and A9 Miss Eatonville owned and driven by Travis Ulsh of Eatonville.
The E 350 class was won by E331 Shrock Therapy, owned and driven by Jason Shrock of Mount Vernon. E6 Raining Thunder came in second, owned by John Bosserman of Oregon City, Oregon, and driven by Jarvis.
In the flat bottom class, SE22 Catch 22 came in first, owned by Gary Hansen of Federal Way and driven by Kip Brown. SE 124 Stripper Glitter came in second, owned by Brannon Casler of Gig Harbor and driven by Dale Baker. In third place came E7 Lil Blu, owned by Joe Cushing of Kennewick and driven by Baker.
Ian Bivona may be reached at ibivona@columbiabasinherald.com.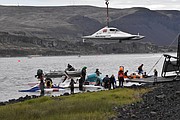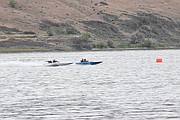 Recent Headlines
---