AFA clinic travels to Ritzville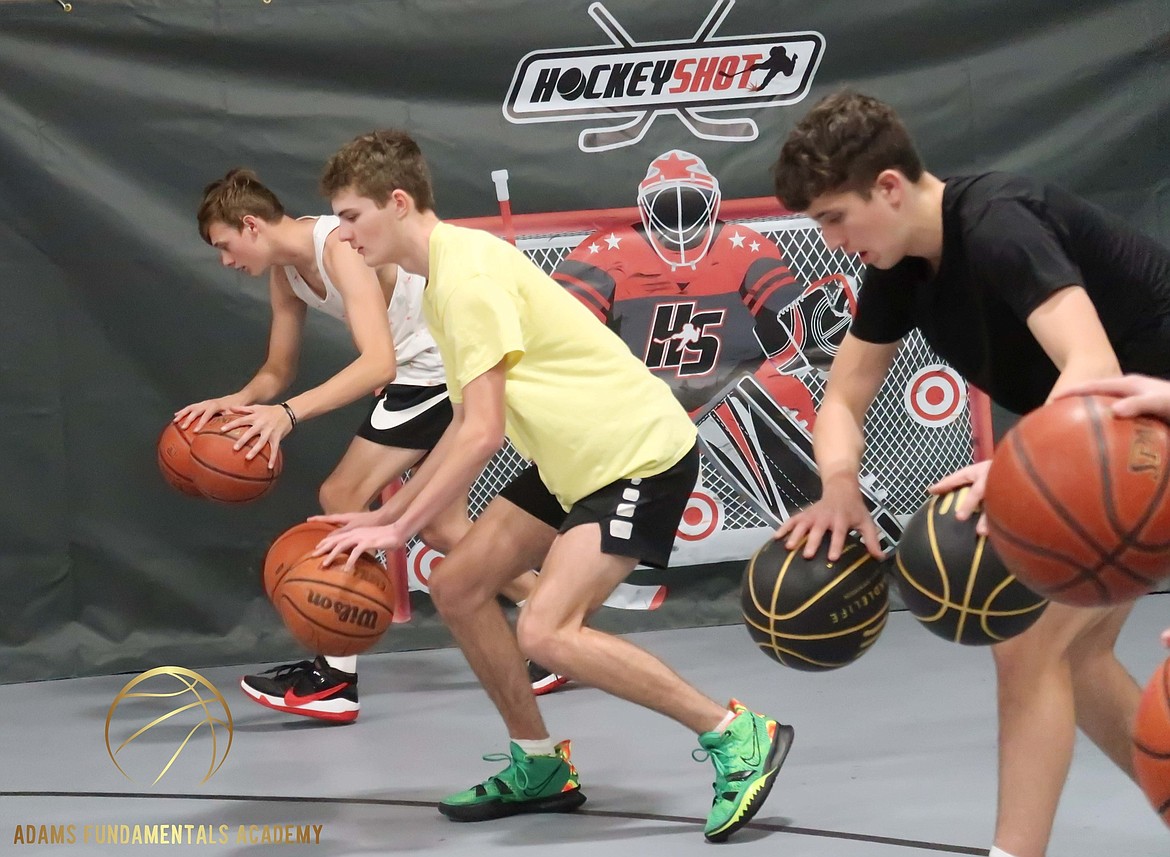 Participants in Adams Fundamentals Academy learn the little things when it comes to basketball, to be put together to grow their game.
CONTRIBUTED PHOTO/ADAMS FUNDAMENTALS ACADEMY
by
IAN BIVONA
Sports Reporter
|
June 21, 2022 4:46 PM
RITZVILLE - Mario Adams has been helping young athletes grow their game since 2006, when he was a player at De La Salle High School in Concord, California.
Now, he has founded Adams Fundamentals Academy, an organization that helps young athletes focus on the intricacies of basketball to help them make their high school teams, and even go on to play college ball. One of these camps will be making its way to Ritzville in July.
"My varsity coach was a very big, influential person in my life, and he's one of my mentors to this day, and I remember back in 2006, he asked me if I would be willing to help him run a basketball camp. Being in high school at that time, you know, I kinda want to have my own vacation. 'You know, we play basketball year-round coach …,' (I said). But he says, 'You know, you have an opportunity to make an impact,'" Adams said
Adams began AFA in September 2021, after spending 20 years with youth coaching with Nothing Beats Commitment, Excel In Basketball and Amateur Athletic Union camps. He noted how important it is to AFA that they teach youth about becoming a more well-rounded player. The organization is based out of Moscow, Idaho and caters to basketball players around the Pacific Northwest.
"We truly believe in teaching kids how to play basketball the right way from the bottom all the way up," Adams said. "Some of these drills include offensive fundamentals, defensive fundamentals, just making sure that their game is definitely well rounded."
The AFA's camp in Ritzville is for boys and girls from grades 6-8, and will prepare the athletes for the high school game. The "competition clinic," as Adams calls it, focuses on teaching the players what they will need for high school ball while they are young, and learning the necessary fundamentals of the game in a competitive environment.
"Whenever they are ready to move on and play high school basketball, their coaches won't have to spend a lot of time going back and trying to teach those basic skills," Adams said. "The competition clinic is more about getting kids to compete in a lot of the drills that we're going to be having for the kids, while also teaching great fundamental principles as well too."
The clinic came to Ritzville after interest spread through word of mouth, Adams said. A handful of attendees came to a clinic in Moscow that inspired the idea to expand into the Basin.
"We had a couple of kids who were from the Ritzville area, they decided to travel up to Moscow and attend one of my one of my basketball clinics," Adams said. Their kids had such a great time that one of the parents reached out and said, 'Hey, would you mind doing a summer camp here and Ritzville during the summer?'"
Word of mouth is something Adams said helps grow the camps and get new participants, in addition to AFA putting out notices on Facebook.
"We do have a lot of kids from Washington come over to Idaho for these basketball camps," Adams said, "Because there's obviously a great need for kids to get out there and keep working on their game, especially outside of season. Word of mouth spreads."
AFA's camp in Ritzville will be held from 9 a.m.-2 p.m. on Saturday, July 23 at Lind-Ritzville High School. The typical activities included in a camp include training in free throws, defensive communication, offensive movement and one-on-one, three-on-three and five-on-five drills. There are also lectures given to the attendees by the coaches.
The AFA will also begin to give out awards to those who go above and beyond during the camps. The Pete Isakson award will be given to a camper who demonstrates "great effort" during clinics.
"I have an award that I'm going to be presenting to one of the kids who exhibits great effort throughout the week," Adams said. "And that is something that's going to be really special for the family."
Those interested in signing up for camps can visit the AFA's website at https://afacademy.mykajabi.com/ for more information.
"We are here to serve the kids and the community," Adams said. "And we're also here to help kids have an outlet to work on our game year round and to get better."
Ian Bivona may be reached at ibivona@columbiabasinherald.com.
Recent Headlines
---