Just part of the family
Eli Legault waiting to perform. Legault, who will be a sophomore at Moses Lake High School, took first in his division in guitar competition at the State Solo and Ensemble Competition.
COURTESY PHOTO/JILL LEGAULT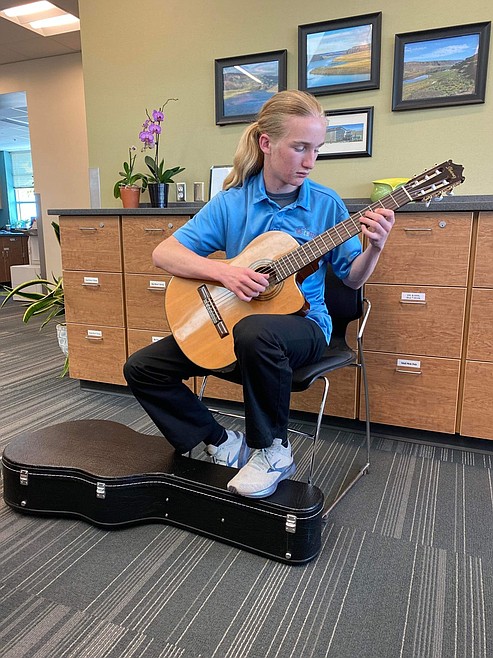 Eli Legault at guitar practice. Legault doesn't limit his playing to a particular genre, he said; his tastes are all over the map, though he did start out favoring grunge a bit.
Previous
Next
by
CHERYL SCHWEIZER
Staff Writer
|
June 20, 2022 1:20 AM
MOSES LAKE — Eli Legault said music is just part of the family.
Legault, a freshman in the Moses Lake High School music program, took first in his division in the guitar category at the State Solo and Ensemble Competition in Ellensburg earlier this spring. Legault said his interest in music and in guitar started at home.
"I was about 7 or 8 when I started," he said. "My parents got me into it, really. They were always playing music, and they just kind of put the guitar in my hands. I just started messing around with it, and it eventually took off, I guess."
He had lessons for a while, he said, but then he started experimenting on his own.
"Then I started finding songs that I liked, and learning how to play them," he said.
Guitar provides infinite possibilities, he said, and that's one reason he likes to play.
"I like a lot about guitar. I don't know – it's just such a versatile instrument. You can do anything with it, really. It's the diversity that I like," he said.
Guitar is the star of rock music, of course, and it's prominent in jazz. Country music features guitar, and there's an entire classical repertoire. Legault said he's interested in all those genres.
"I'm all over the place, really. It just depends on the day," he said. "When I started out I was really into the '90s grunge kind of stuff. And it kind of evolved from there. Nothing too specific. Whatever sounds good is what I'll go with, I guess."
Each genre is unique, and each makes its own demands on the player, he said. Playing rock guitar, for example, is not the same as playing classical guitar.
"They're just kind of two completely different things. Playing classical is really specific. It's a whole different set of techniques. In competitions, you'll get docked points if you're not using the correct fingering the music says to use," he said.
Jazz is different from both. Legault plays trombone in the MLHS jazz band, and jazz makes unique demands too.
"You get some context about the song, and then you can do whatever with it, pretty much," he said.
The 2022 solo and ensemble competition was his introduction to the classical repertoire, he said.
"I had never done classical guitar before this competition," he said. "So I started with a relatively simple piece, and once I got the hang of it, I went for a more challenging one."
Competitors did have a chance to prepare a little beforehand.
"I actually was given a book with a bunch of different songs, and my teacher said I could choose whatever I wanted in it."
Winning the state competition didn't really come as a surprise, he said, because it was his first competition and he didn't know what to expect.
Playing music is not his only interest – he composed the music for a project that took seventh in video game design in state FBLA competition. It was his first real attempt at composing, he said.
"I had messed around a little (with composing) before, just to see what it was like. But this is my first project," he said.
The game invited players into what looked like a really interesting old house, but turned out to be a haunted – and homicidal – house. Legault said the music had to reflect what was going on in the game as well as give clues about what was coming.
"We had already started the general idea for our game after brainstorming a little bit, and coming up with the concept of the first level," he said.
"When you start the game, you start at the title screen, and our game takes place in a haunted mansion. So I took the idea of a haunted mansion and made eerie music for the title screen," Legault said. "It doesn't really sound good to the ear, but that was the point, because it's a haunted mansion.
"Then when you start the game, the player starts outside in the neighborhood. So nothing weird is going on yet, so I had the idea to make the music more soft. I made the music more soft with a couple notes and chords that didn't fit in the context, that made it a little unsettling. Just to give the feeling it's not a completely normal neighborhood," he said.
Legault said he plans to explore the potential of other musical instruments, but he's not giving up guitar.
"I'll definitely be sticking with guitar," he said.
Cheryl Schweizer can be reached via email at cschweizer@columbiabasinherald.com.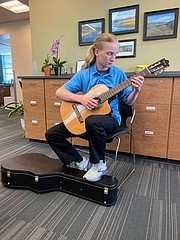 Recent Headlines
---