Pride Color Run set for Saturday in Moses Lake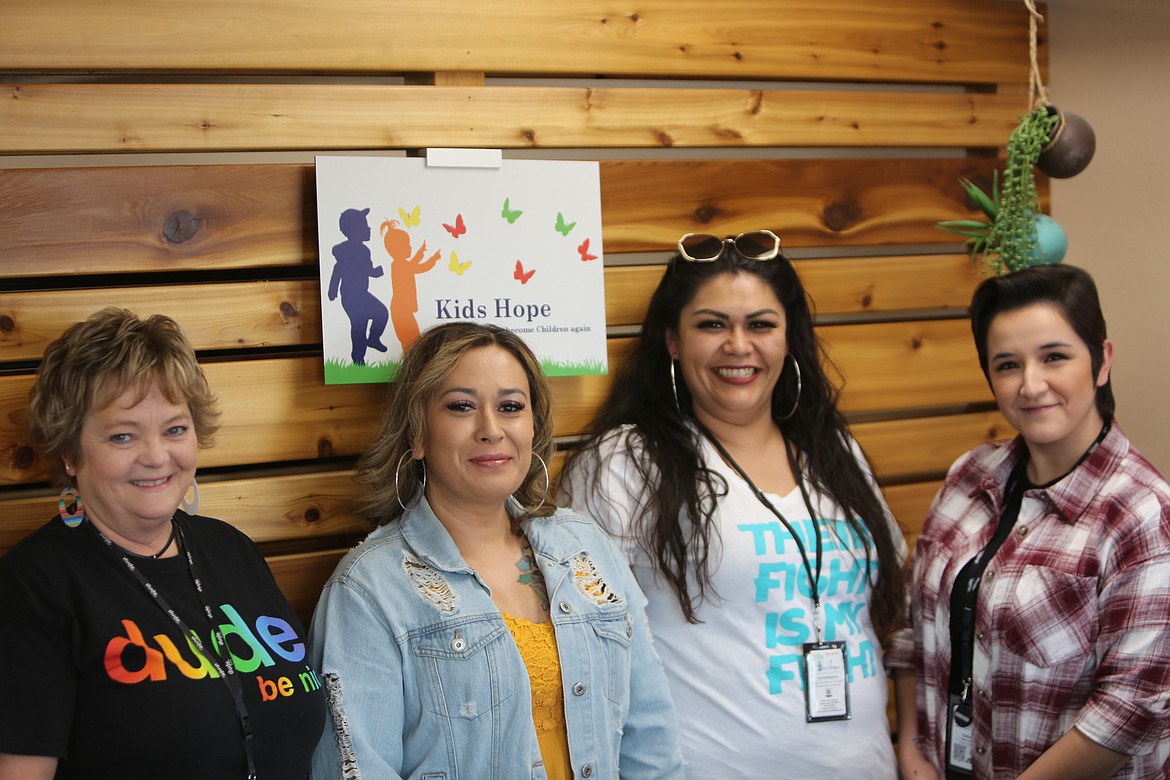 New Hope/Kids Hope will be hosting a color run in downtown Moses Lake on Saturday, June 25. Pictured are the organizers of the run.
IAN BIVONA/COLUMBIA BASIN HERALD
by
IAN BIVONA
Sports Reporter
|
June 19, 2022 3:30 PM
MOSES LAKE — New Hope/Kids Hope, an organization based in Moses Lake that assists survivors of domestic violence and sexual assault, will be hosting a Pride Color Run through downtown Moses Lake on Saturday, June 25 from 10 a.m. to 1 p.m.
"We were trying to just think of something that would be fun for the community," Kids Hope Administrative Specialist Celina Garcia said. "Something that would get kids involved, kids excited."
This is the first time the organization has hosted an event like this and is something that New Hope wants to give to the community. When drafting up the event, Garcia said that the organization wanted to do something that would stand out.
"A parade, I mean, everyone does a parade," Garcia said. "But we thought a color run would kind of attract more of like, the younger audience."
The race will begin at the parking lot on the corner of 5th Avenue and Beech Street in downtown Moses Lake. It will then continue down 5th Avenue to Division Street, where runners will run to Nelson Avenue. Upon hitting Nelson, runners will turn back towards the start point. All-in-all, the run will be about 2 miles in length.
Following the run, there will be a celebration held at the nearby Centennial Amphitheatre. As part of the celebration, there will be music, dancers and giveaways of various pride-themed memorabilia.
Valor, a Courthouse Facility Dog, will also be in attendance at the post-run celebration. Kids Hope uses Courthouse Facility Dogs for the calming effects they have on nervous people, notably in children.
Several companies have stepped in to help sponsor the event with New Hope/Kids Hope, donating various items to help the color run be a success. The organization received a $500 donation from Wenatchee Pride, fabric from JOANN Fabrics to make tutus, Gatorades from Pepsi and granola bars from Cares Moses Lake.
The color tables, where runners will have their shirts colored along the run, have also been sponsored by different local companies. Each table will be dedicated to a different color.
"It's really great to see everyone come together," Garcia said. "Pride is about acceptance, so it's great to see this support."
Those interested in attending the event can show up to the starting point before the 10 a.m. start time. There is no fee to enter the run, as it is free and open to the public. Runners should wear white for the best results in coloring. For those who may not want to run, the event is also open to those who would prefer to walk.
Entrants into the run will also automatically be entered in a raffle at sign up.
Ian Bivona may be reached at ibivona@columbiabasinherald.com.
Recent Headlines
---