"Why not Big Bend?"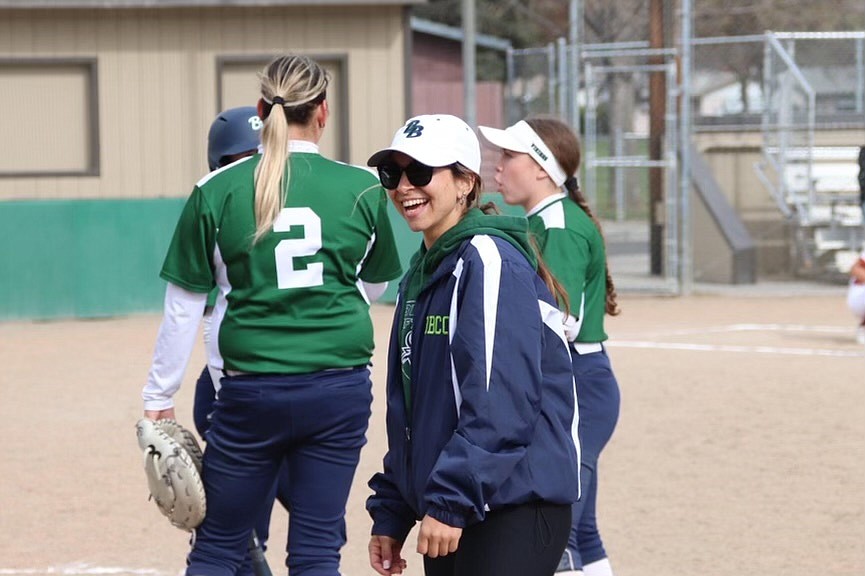 Big Bend's Kylee Brulotte (center) enters her first offseason as head coach of the Vikings, and looks forward to recruiting talent in the Basin.
COURTESY PHOTO/KYLEE BRULOTTE/SHAWN MATTHEWS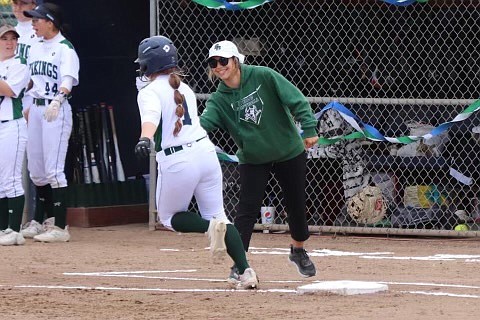 Big Bend softball head coach Kylee Brulotte, right, high-fives a player running the bases. Brulotte said recruiting isn't just about looking for the right skills, it's also about finding the right fit for the team.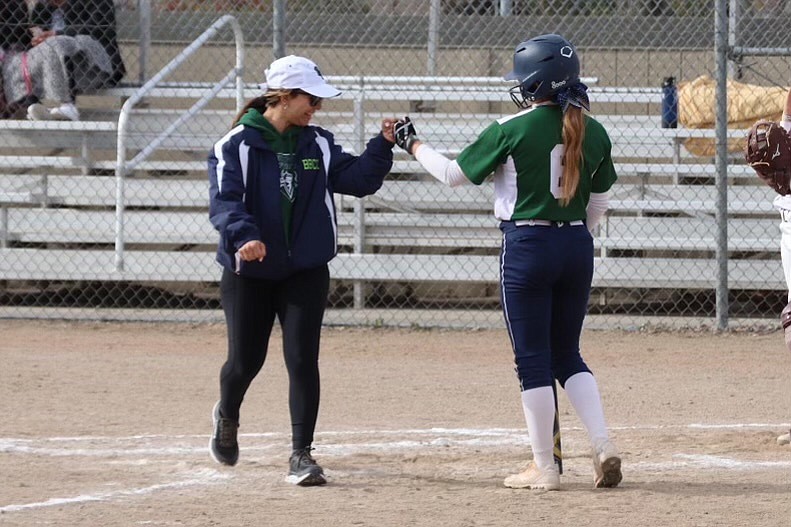 Kylee Brulotte took over the helm as head coach of the Vikings last offseason and led the team to the playoffs in her first year.
Previous
Next
by
IAN BIVONA
Sports Reporter
|
June 16, 2022 11:26 AM
MOSES LAKE - After a first season where she was thrust into the head coaching role, Big Bend Community College head softball coach Kylee Brulotte has spent her offseason scouting the area talent in the Basin.
"I want to help those ladies get recruited," Brulotte said. "Because it's our hometown, and right now it's my hometown. And I was always told to leave something better than you found it."
Brulotte signed on as an assistant with the Vikings, and within a week she was named the head coach of the program after the former coach left. She brought her experience as a former player at Wenatchee Valley College to Big Bend and led the team to an 18-14 record in the conference and a playoff berth.
"I know that when I came to Big Bend, they needed a change," Brulotte said. "And I'm happy to create that because I've been where these girls are and where these incoming players will be. And I know that my experience can only help them."
Now in her first full offseason at the helm of the program, Brulotte revels in the opportunity to recruit local athletes from the Columbia Basin. The first-year head coach said how she wants to build a rapport with recruits to build them up not just as student-athletes but to help them in their future life as well.
"I do want Big Bend to be on the map," Brulotte said. "I want to bring a championship, and I want to bring not even not only a team, but a team that's going to want to be great at athletics, but they're looking to further their education."
While it may be tempting for a coach to look out on a softball diamond while recruiting and pick only the players that stand out from a pure athleticism standpoint, Brulotte said she and her staff look for those with "heart" and dedication to the game and their teammates in addition to talent.
"What we look for is are you coachable?" Brulotte said. "If you make an error, how do you respond? And when we're getting prepped for it, we're not looking for you know, the best player out there. I always look for who has the most heart.
"Who's the person that if someone messes up, are you the one that just ignores them and you just think about your next play, or do you go to them?"
She also noted how those with those qualities can help build the program to be better altogether. The desire to claim a starting role is a given in any collegiate athlete, but those who take the time to help their teammates is a quality Brulotte looks for in recruits.
"I think especially when it comes to us coaches, our mentality is to get someone who wants to compete," Brulotte said, "Not only for their spot, but they want to help their other teammates get better."
Part of building a strong team is their bond with one another, according to Brulotte. With the recent passing of James Madison University's Lauren Bernett, whose death was ruled a suicide and rocked collegiate softball to its core, Brulotte spoke on the importance of mental health when it comes to sports, especially when it comes to building a team that is there to support each other.
"In softball this year, it was some tough times," Brulotte said. "Players that we look up to, players that my players look up to in college, and just a lot of things happening with suicide and mental health issues that came forward and girls not playing anymore because they had to take care of that. And I'm not talking about our girls, but it's being recognized. So who I'm looking at when we're recruiting is I want them to be athletes, but I also want them to leave here being better people."
While Brulotte is only 24, she believes her young age helps her relate to the players while recruiting and as a coach after players sign with the program.
"I will say I'm young, I am 24, and coming in and having some third-year sophomores and they are turning 20, it was looking to them not to be like 'I am your coach,' and all of this," Brulotte said of being close in age to her players. "I looked up to them because they don't know how great they are."
An important aspect that Brulotte tells recruits and players of Big Bend's is that her goal as a coach is not only to prepare them not only for games as a player, but to set them up for success in the future.
"We're getting them ready for life after softball," Brulotte said. "And we're not here just, you know, you're a player and we're done after this. We want to check up on you. We want to see how you're doing, we want to see the job you got, we want to see you graduate from a four year college."
Brulotte said that she looks forward to discovering talent in the Basin, and bringing in local athletes to be Vikings.
"I'm really just looking for an opportunity to show some talent," Brulotte said. "I mean, it's here, so why not Big Bend? And I think that's something for students to think about. Sometimes they don't want to come to their local college. But I think it's something that can be so beneficial to them."
Ian Bivona may be reached at ibivona@columbiabasinherald.com.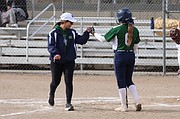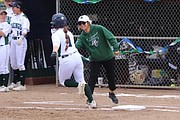 Recent Headlines
---