Joyce E. Boyer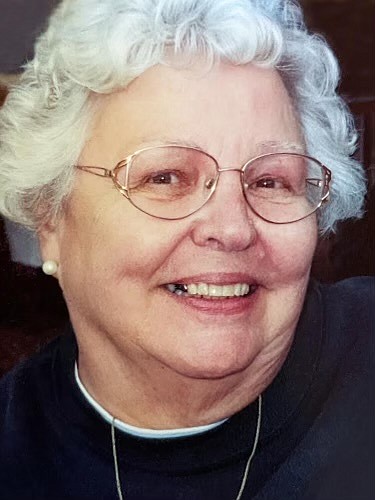 Joyce Elaine Boyer was the eldest of five children, born Oct. 9, 1933, to Fred and Beth Cook in Wilbur, Washington.
October 9, 1933 — June 11, 2022
Joyce Elaine Boyer was the eldest of five children, born Oct. 9, 1933, to Fred and Beth Cook in Wilbur, Washington. She found her peace and went home to her Lord and Savior on Saturday morning, June 11, 2022. She was surrounded by her family.
Joyce and husband Harold celebrated 61 years of marriage. Together they raised four children. After the loss of their son Jeff, Joyce went on to provide respite care for special needs children in Grant County. She also opened an in-home daycare creating bonds that have lasted a lifetime, as many of those children remained in her life as extended family. She continued her calling in caring for special needs children in working for the Moses Lake School District as a para-professional until her retirement in 1998. Joyce was an involved member of the Moses Lake community. She served with elections, blood drives, Kiwanis and People for People. She was always there to help anyone in need.
Joyce looked forward to spending time with her sisters, good times clam digging, exploring Alaska or long weekends at the Cole ranch. Whenever together as family there was always laughter, good food and someone looking to prove their "guts" at the family card games. She would also say one of her most noted achievements was the fact that she never ran out of toilet paper.
Joyce is survived by her husband Harold; daughter Alane (Ken) Woolsey of Lewiston, Idaho; daughter Alece Boyer who resided with her as her primary caregiver; daughter Jennifer (Paul) Laferriere of Lewiston, Idaho; and grandchildren Derek, Tyler and Kendal Woolsey and Nicole (Scott) O'Brien, as well as Taylor, Cameran, Kayden and Gabrielle Laferriere. She had the joy of having great-grandchildren, Brooklyn and Sean O'Brien and Porter Vanlandingham. She is also survived by her siblings Rae Gessford, Jean Northrop and Ike Cook and numerous nieces and nephews. She was reunited with and welcomed home by her son Jeff, her sister Karen (Everette) Cole and her parents Fred and Beth Cook, along with many family and friends.
There will be a service in her memory at Immanuel Lutheran Church, 1020 S. A St., Moses Lake, Washington on Tuesday, June 28 at 11 a.m. with fellowship to follow. Please join us in honoring her with your memories. She loved her flowers, but if you wish to donate in her memory, please donate to People for People of Moses Lake in her honor. She would love to know she was still helping people.
Please express your thoughts and memories at www.kayserschapel.com. Arrangements are under the care of Kayser's Chapel of Memories of Moses Lake, Washington.
Recent Headlines
---