"It's lovely"
Betty Schafer sings along with the band during the Senior Picnic Wednesday at the Grant County Fairgrounds.
CHERYL SCHWEIZER/COLUMBIA BASIN HERALD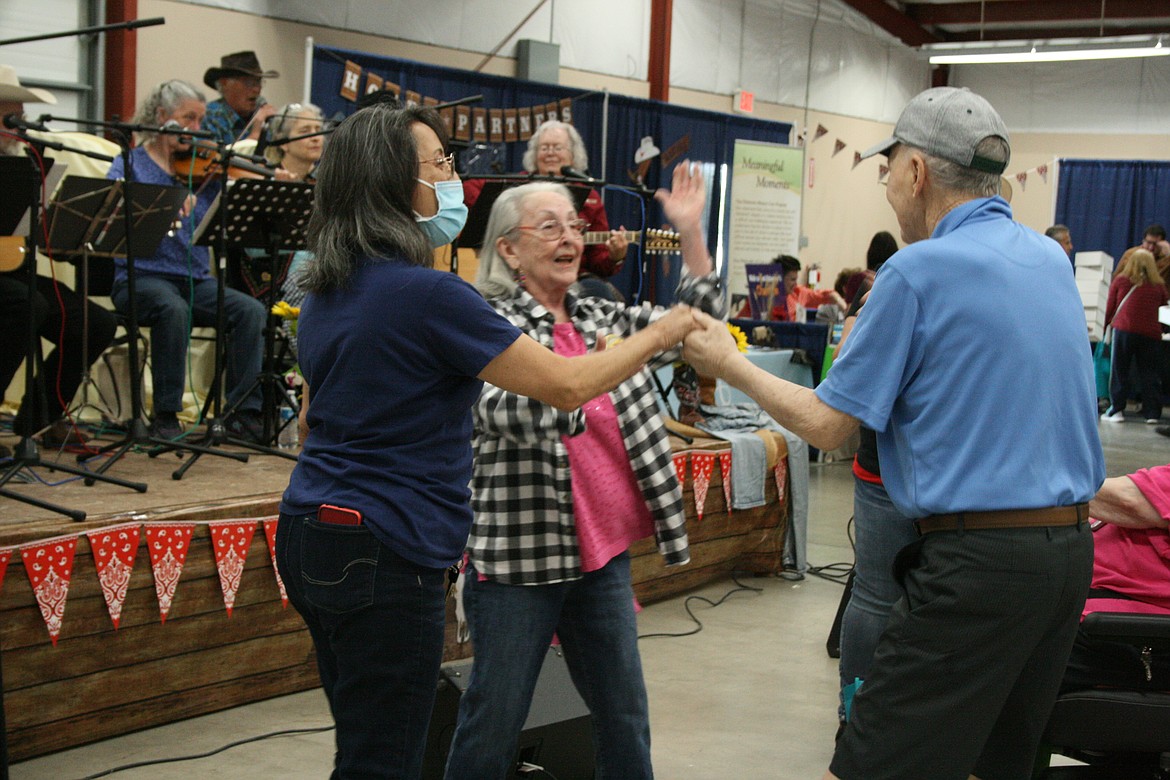 Dancers thoroughly enjoyed themselves during the first in-person Senior Picnic in three years Wednesday at the Grant County Fairgrounds.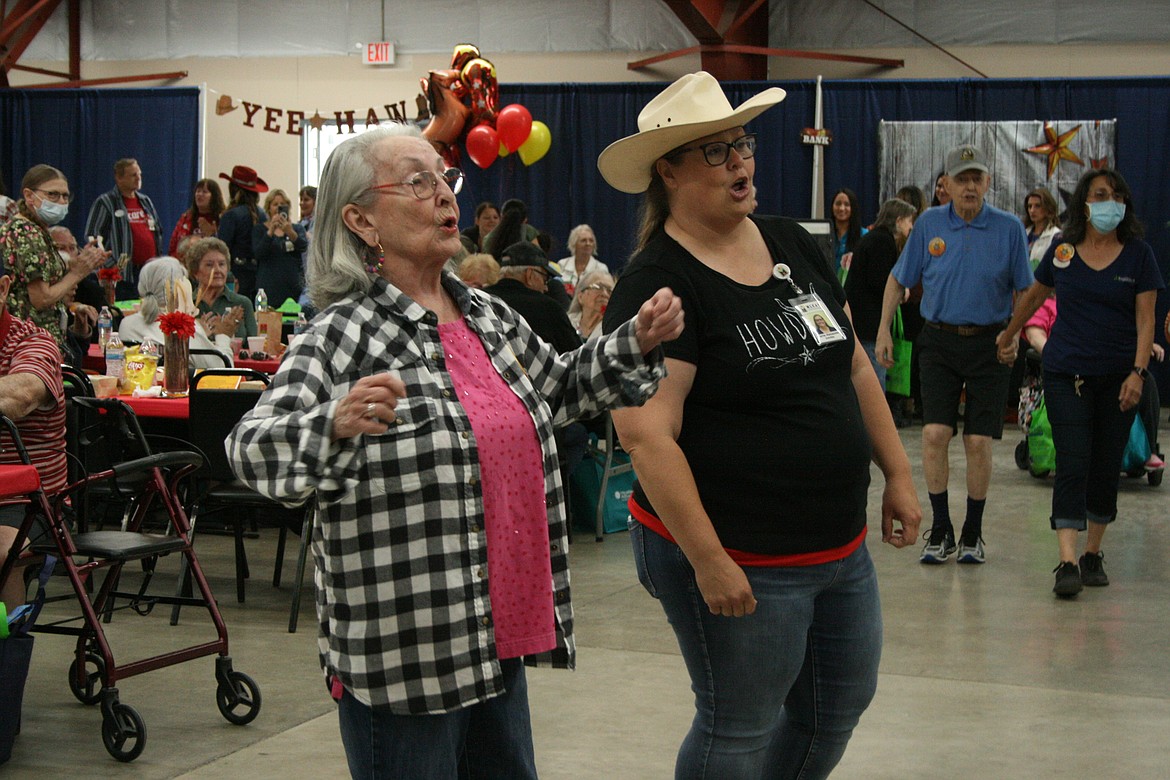 Betty Schafer (left) and Carrie Alexander (right) sing along with the band during the Senior Picnic.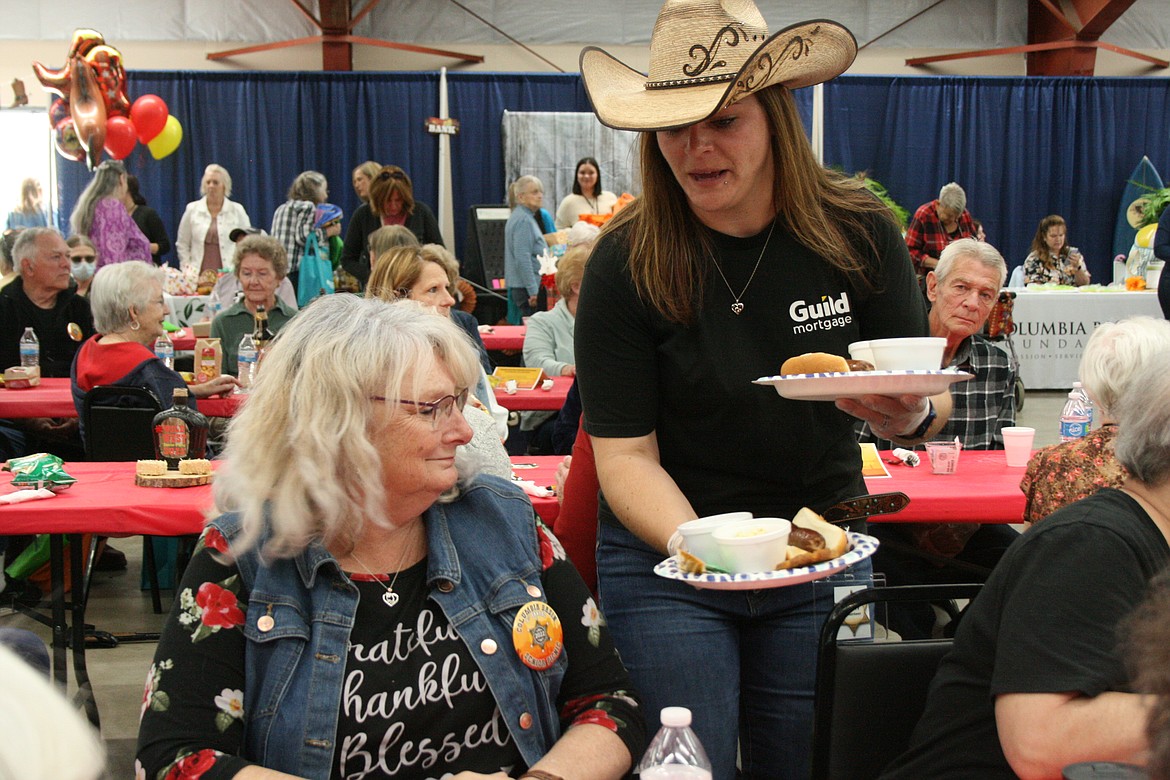 An appropriately attired volunteer serves lunch to an attendee at the Senior Picnic Wednesday at the Grant County Fairgrounds.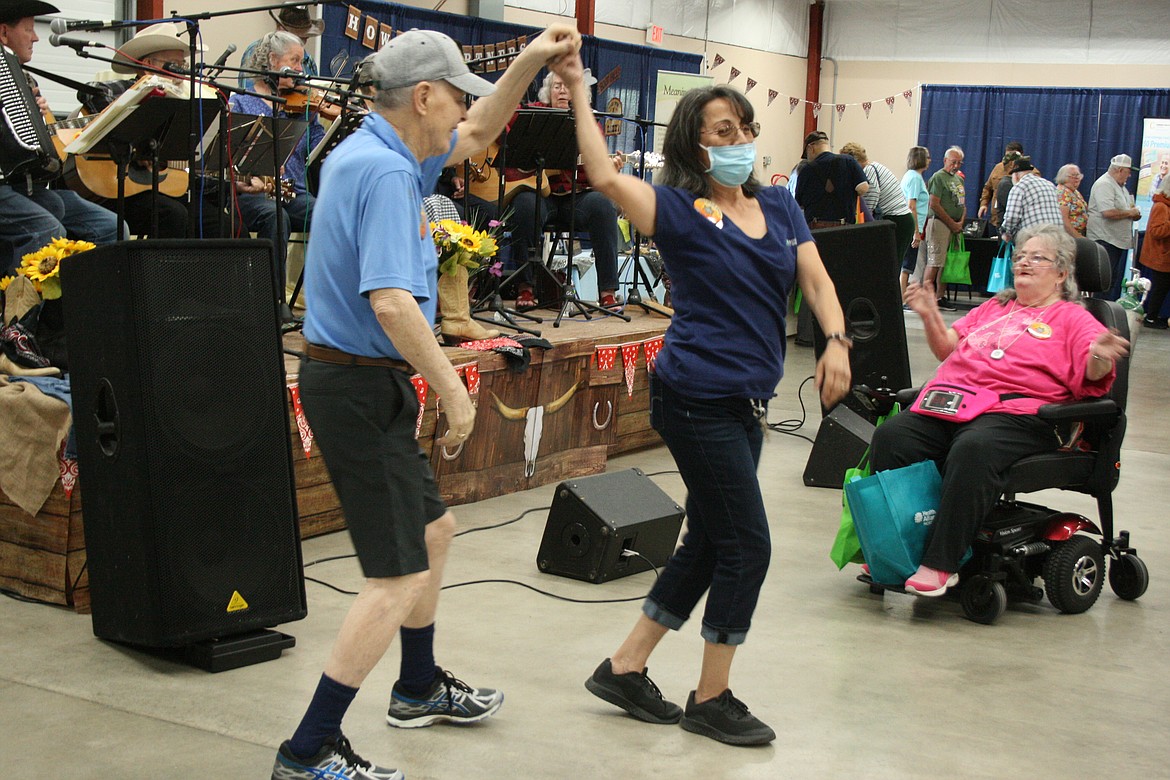 Dancers take to the floor while the band plays at the annual Senior Picnic Wednesday.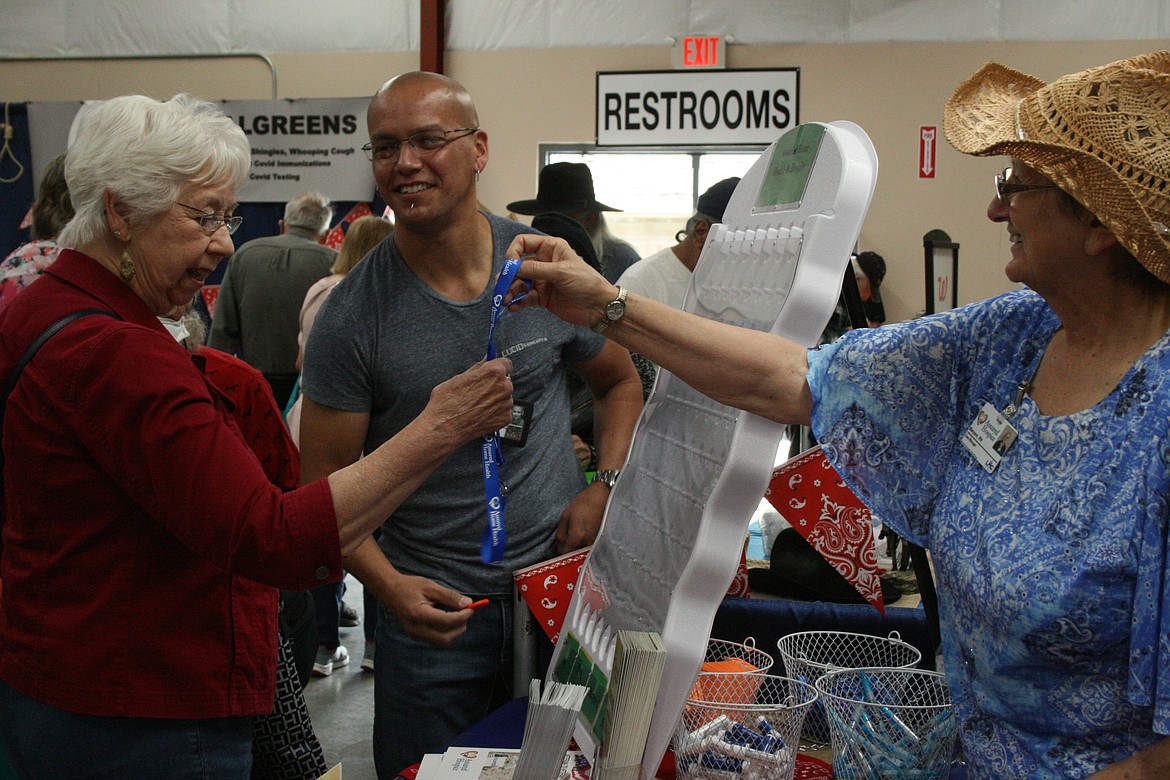 A Senior Picnic attendee gets a prize from one of the vendor booths.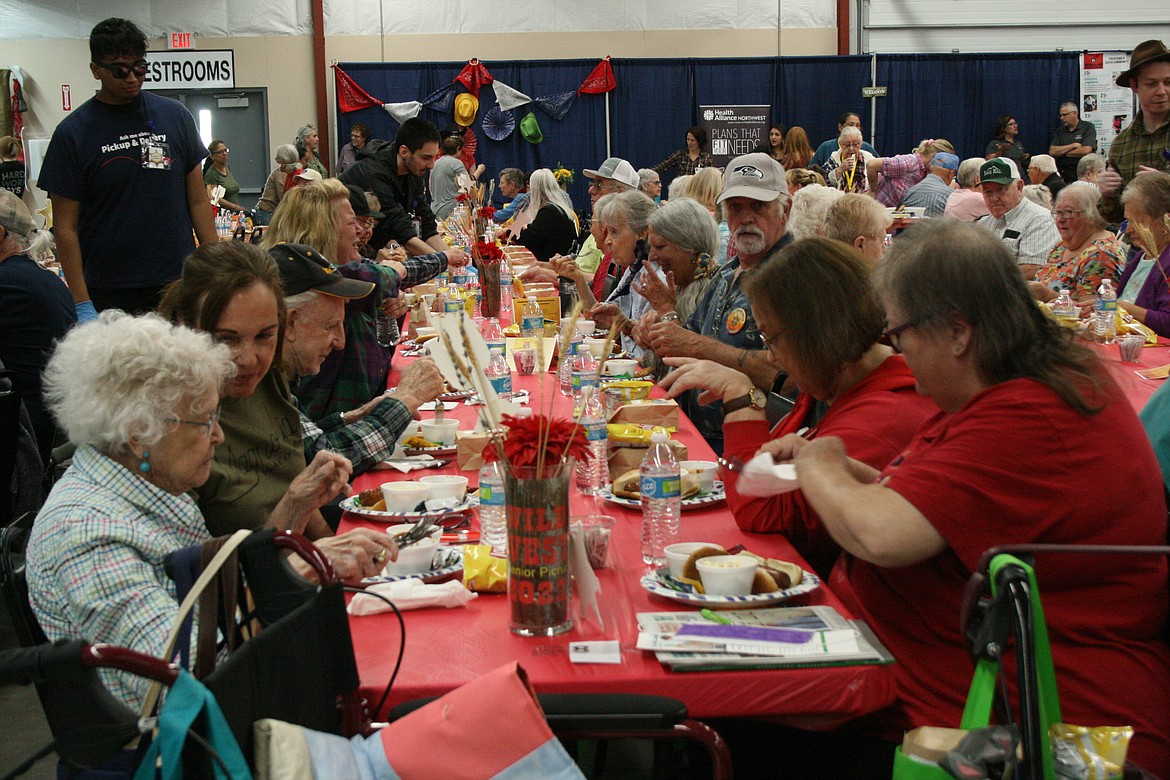 Attendees dig into their picnic lunch during the annual Senior Picnic. The picnic returned in person after two years of drive-thru events.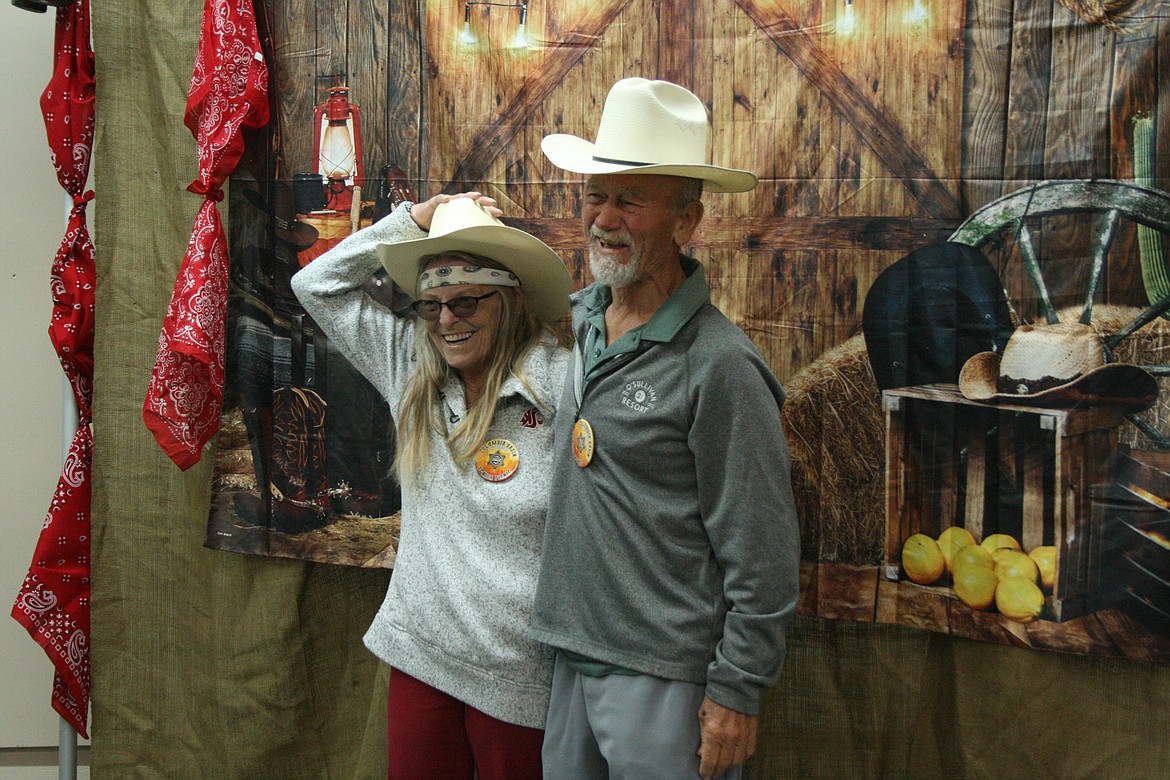 Vicki (right) and Don Anderson don the proper attire for their pictures during the Senior Picnic. "Wild West" was the 2022 theme.
Previous
Next
by
CHERYL SCHWEIZER
Staff Writer
|
June 16, 2022 2:48 PM
MOSES LAKE — After two years of drive-thru events, the annual Senior Picnic returned in person to the Grant County Fairgrounds Wednesday.
"I don't cut loose very often," said Betty Schafer, a resident of McKay Healthcare and Rehab Center in Soap Lake between dances.
Betty Schafer danced and sang along with the band. Schafer said she came to the picnic to have fun - maybe a lot of fun.
"Wild West" was the theme for 2022. Some of the volunteers who helped serve lunch were decked out in western gear, including a sparkly cowboy hat or two, prairie dresses and an elegantly dressed dance hall girl.
A picnic lunch wasn't the only attraction. There were vendors and live music that got some in the crowd out on the dance floor.
Vicki Anderson was impressed by the size of the crowd and the work that went into decorating the commercial building and serving lunch.
"I can't believe how much they've done for the seniors. It's lovely," Anderson said.
She was there with her husband Don, and they stopped for a picture to commemorate the occasion, complete with borrowed cowboy hats.
"Forty-seven years together," Vicki said. "Forty-seven happy years."
Vendors lined the walls with information of interest to seniors, with games and giveaways.
"The freebies are a treat. Especially when you have grandkids," said Kathy Ahmann. "The kids love them."
Ahmann said it was her first in-person picnic; she came through the drive-thru picnic in 2021. Diane Dufault, attending with her mom Jo Herber, said it's better in person.
"So much more fun," Dufault said.
Herber said she wanted to get out and see people.
"A chance to see old and new friends," she said.
As befit a picnic, lunch featured hot dogs, macaroni salad and baked beans. Volunteer Tracy Goff, part of the group from Walgreens, stood in an aisle between the tables and directed traffic among the volunteers serving meals.
"It's huge," Goff said. "I'm so excited. It's so wonderful seeing everybody here. I think it's probably our biggest event yet."
Moses Lake Chamber of Commerce director Debbie Doran-Martinez estimated the crowd between 500 and 600 people; all seniors entering got a button, and more than 500 buttons had been distributed. Doran-Martinez said the volunteers set up tables for 500 people, and they were almost full.
She said the help of the volunteers was greatly appreciated, especially since organizers were required to find a volunteer crew less than 48 hours before the event. The Columbia Basin Job Corps had agreed to bring students to help cook and serve, but an outbreak of COVID-19 meant they had to cancel Monday. Picnic organizers put out a call, and people responded.
"We were able to make it happen because we have such a wonderful community," Doran-Martinez said.
Cheryl Schweizer may be reached at cschweizer@columbiabasinherald.com.
Recent Headlines
---