Lillian Marjorie Lucke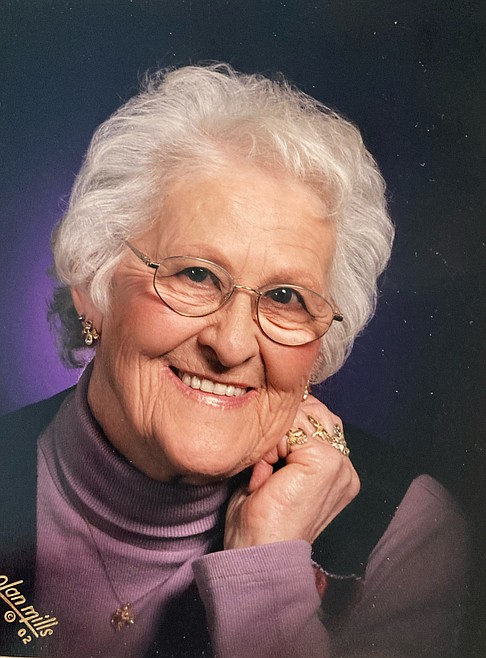 Lillian Marjorie Lucke, 92, passed away on Thursday evening, June 9, 2022, with family by her side.
April 25, 1930 — June 9, 2022
Lillian Marjorie Lucke, 92, passed away on Thursday evening, June 9, 2022, with family by her side.
Lillian was born on April 25, 1930, in Portal, North Dakota to Goodman and Anna Norwick. She lived in Saskatchewan Canada until 1941 when she moved to North Dakota. She graduated high school in Kenmare, North Dakota in 1948. In 1950 she traveled to Washington state where she lived in Ritzville before moving to Moses Lake in 1955.
She held many employment positions such as a meat wrapper at Safeway, a waitress at Elmer's and TJ's, a seamstress and clerk at Vic Tone Dry Cleaner, a receptionist at Hearthstone Retirement Center and a private caregiver — caregiving was her gift and passion and she always cared and loved so deeply for all her clients.
She was a member of the Columbia Basin Sons of Norway lodge since 1994. She was president several times and then consecutively from 2003 until 2017. She organized the Syttende Mai Appreciation dinners, the Christmas lutefisk dinners and countless barbecues, get-togethers and parties. Lillian had a deep and true passion for Norway and the Sons of Norway. For more than 12 years, she rode at the helm of the Sons of Norway Viking ship during parades across Washington state and neighboring states, and she made sure to give her toughest Viking look. Lillian truly was a mentor, teacher, friend, bonus grandma, leader and idol for so many.
In 2005 she married Neal Lucke. Together they enjoyed playing cards with friends, drinking coffee – there was always a cup ready for any visitor – attending church on Sundays and watching 'Jeopardy."
She had six children whom she loved so much. She enjoyed many activities: raising kids, gardening and baking – if you haven't tried her lefse, you've missed out and we can't even count how many nights she would stay up all night baking zucchini bread. She and her kids raised cows, horses, ponies, and yes, even rattlesnakes! Her love for hummingbirds was huge! I think she received some type of hummingbird gift for every occasion! She was an avid bowler and the bowling queen of her era for sure! She always kept herself busy tinkering and organizing anything she could find. She loved playing cards with all her friends and family. She was very competitive – if you know, you know – and also the queen of Hand and Foot! She enjoyed hosting and attending a variety of celebrations for family and friends.
She was also the queen of frugality; she says she learned this by living through the Depression. She would save everything and anything, a personal favorite being boxes of any size and shape that she would wrap in contact paper; she would have boxes and boxes holding all kinds of little trinkets and knickknacks.
She sure was quite a queen!
Lillian was preceded in death by her parents; brothers Lyle, Don and (infant) Merrill Norwick and sister Arlene Kalmbach; husband Neal Lucke; two children Kerry and Duane Johnson; and grandson Scott Johnson.
She is survived by her brother Milo "Clubby" (Barb) Norwick; sister Nona (Evald) Sielaff-Leaf; children Lane (Wendy) Johnson, Jay (Carolyn) Johnson, Robert Johnson, and Niki (Larry) Orando; bonus family Rachele (Barry) Bakes; many grandchildren, great-grandchildren, Sons of Norway family and close friends.
Our family would like to send a heartfelt thank you to all her private caregivers and Summerwood Special Care Center.
Lillian's memorial service will be held Saturday, June 25, 2022, at Moses Lake Presbyterian Church, 1142 W. Ivy Ave., Moses Lake, Washington. Viewing will be 12-1:30 p.m. and the service at 2 p.m. with desserts to follow. In lieu of flowers, memorial contributions can be made to a charity of your choice.
Please express your thoughts and memories at www.kayserschapel.com. Arrangements are under the care of Kayser's Chapel of Memories of Moses Lake, Washington.
Recent Headlines
---