College World Series set, eight teams sent to Omaha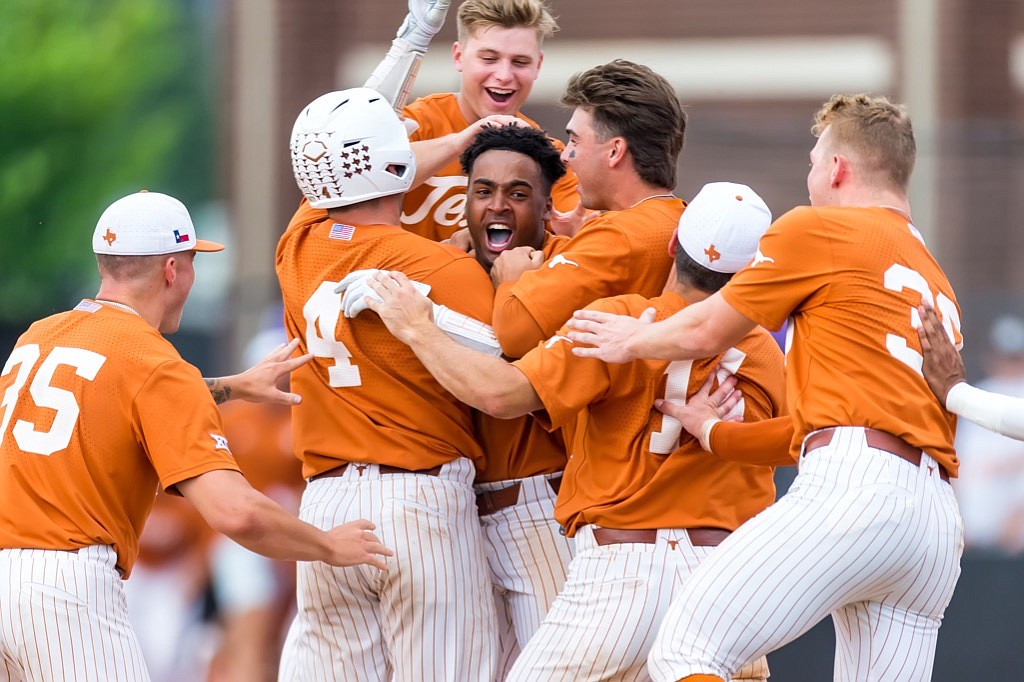 The final eight teams left in postseason play will head to Omaha, Nebraska for the College World Series from June 17-27. One of those teams is the University of Texas Longhorns.
COURTESY PHOTO/UNIVERSITY OF TEXAS/ROB GOLDBERG
by
IAN BIVONA
Sports Reporter
|
June 14, 2022 5:10 PM
OMAHA, NEB - Eight Division 1 teams punched their tickets to Omaha, Nebraska for the 2022 College World Series this weekend, including half the field being represented by the Southeastern Conference.
Stanford, Arkansas, Notre Dame, Texas, Oklahoma, Texas A&M, Auburn and Ole Miss all claimed victories in the Super Regional round, which lasted from last Friday to Monday night.
No. 5 Texas A&M will face off against Oklahoma to begin the tournament on Friday at 11 a.m. The Aggies enter with a 42-18 record, recently knocking off No. 12 Louisville in the College Station Super Regional. Oklahoma goes to Omaha with a 42-22 record, coming off a win in the Blacksburg Super Regional over No. 4 Virginia Tech.
Notre Dame pulled off the upset of the season, knocking off No. 1 seed Tennessee in the Knoxville Super Regional on Sunday. The Fighting Irish enter Omaha with a 40-15 record, playing the No. 9 Texas Longhorns. Texas defeated No. 8 East Carolina in the Greenville Super Regional, including a series-saving win in game two where the Longhorns mounted a five-run comeback in the final three innings.
In a double-elimination style format, the winners and losers from each game will face each other in the next round. Even with an opening-round loss, each team will have a second chance to advance further into the tournament.
In the first game on Saturday, No. 2 Stanford - donning the highest remaining record in terms of wins at 47-16 - takes on Arkansas. Stanford bounced back in the Stanford Super Regional after losing to UConn in the opening game of the series. The Cardinal won the next two, claiming a spot among the final eight teams. They will face the 43-19 Arkansas Razorbacks, coming off a sweep of No. 10 North Carolina in the Chapel Hill Super Regional. A walk-off base hit by Arkansas' Brady Slavens did in the Tar Heels, and sent the Razorbacks for the second time in three seasons.
In the final opening game of the College World Series, No. 14 Auburn takes on Ole Miss. The Tigers enter with a 42-20 record, and the Rebels with a 37-22 record. Auburn upset No. 3 Oregon State in the Corvallis Super Regional on Monday, and Ole Miss swept No. 11 Southern Mississippi in the Hattiesburg Super Regional. First pitch is set for 3 p.m. on Saturday.
The winner of the first bracket - which consists of Oklahoma, Texas A&M, Texas and Notre Dame - will face off against the winner of the second bracket, which contains Stanford, Arkansas, Auburn and Ole Miss. The winners will face off in a best-of-three game series for the national championship, with game one beginning on June 25.
Ian Bivona may be reached at ibivona@columbiabasinherald.com.
Recent Headlines
---