Moses Lake duo to run with Spokane Speed Academy over summer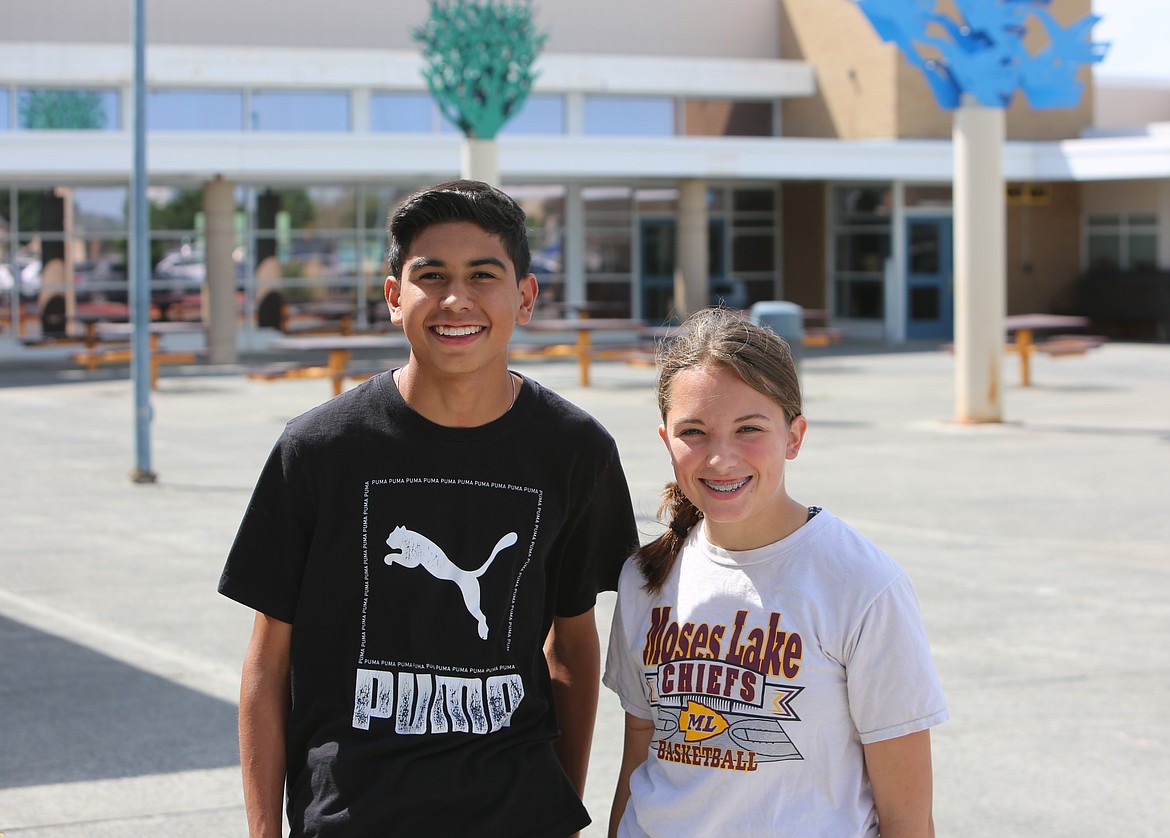 Moses Lake's Noah Bingham (left) and Paige Perkins (right) will be training together at the Spokane Speed Academy over the summer.
IAN BIVONA/COLUMBIA BASIN HERALD
by
IAN BIVONA
Sports Reporter
|
June 7, 2022 4:54 PM
MOSES LAKE — Moses Lake High School sophomores Paige Perkins and Noah Bingham will be running with the Spokane Speed Academy this summer, training with the goal in mind to raise their performance level in track and field.
"I had recently decided that I wanted to focus on track," said Perkins, who also runs cross country and plays basketball, "so my dad contacted the coach and they told us where things were and the procedure."
Paige said she began running with the Spokane Speed Academy earlier this year, and participated in an event at Montana State University with the team. After the event, she told Bingham about the program, and the two started to gain interest in participating over the summer.
"That's kind of how we got into it for summer," Perkins said of her competing at MSU. "Then I told [Bingham] and he practiced with us."
The duo both hope that by training with the academy, they'll be able to have a leg up when it comes to college recruitment.
"I'm looking to get a scholarship for track," Bingham said. "So I want to just increase my speed and hopefully be a state runner. That's something I hope to get from [SSA], to be able to compete at the state levels."
Perkins shared a similar sentiment to Bingham's, noting how she's on the cusp of getting to the state level.
"I've been looking as well to go to college for cross country and track," Perkins said. "I've wanted to get those faster speeds and get to the state level as well. I'm so close."
The Spokane Speed Academy was founded by 25-year military veteran Cecil Jackson from Fort Worth, Texas.
The goal of the academy is to provide opportunities for East Washington youth to participate in track and field at the highest levels possible during the summer months, according to the program's website.
The academy trains student-athletes from ages 6-18 to prepare them for high-level competition. Ty Perkins, Paige's father, noted how Spokane Speed Academy avoids advertising, citing how they want athletes to seek them out.
"They do not advertise at all," he said. "They want people to find them. They want kids that really want to run."
Participating in the USATF National Junior Olympic Track & Field Championships has been a goal of Paige's, who said she believes it would be a significant personal accomplishment.
"Getting to those levels is an achievement," Perkins said. "Especially looking back on it as I'd get older."
She also said the competition from other states would be a driving factor in wanting to compete in the Junior Olympics as well.
Bingham said, while he would like to participate in an event like the Junior Olympics one day, he is more focused on laying the groundwork for success.
"I'd definitely like to compete at that level, but I'm taking it one step at a time. I'm just focusing on one small step at a time, and hopefully it'll lead to that," he said.
Bingham said his main focus is training on his 1500m event, while Perkins said she runs the 3000m, 400m, 800m and the steeplechase in addition to the 1500m.
Ty said he isn't surprised by his daughter pushing herself to become a better athlete. He said she's always been competitive and enjoys any opportunities she faces.
"She just has the drive," he said. "The drive to want to get better, she's always had that. She always pushes herself. She always wants to be taught, always asks questions."
Ian Bivona may be reached at ibivona@columbiabasinherald.com.
Recent Headlines
---