Othello, MLHS fastpitch players named to all-conference lists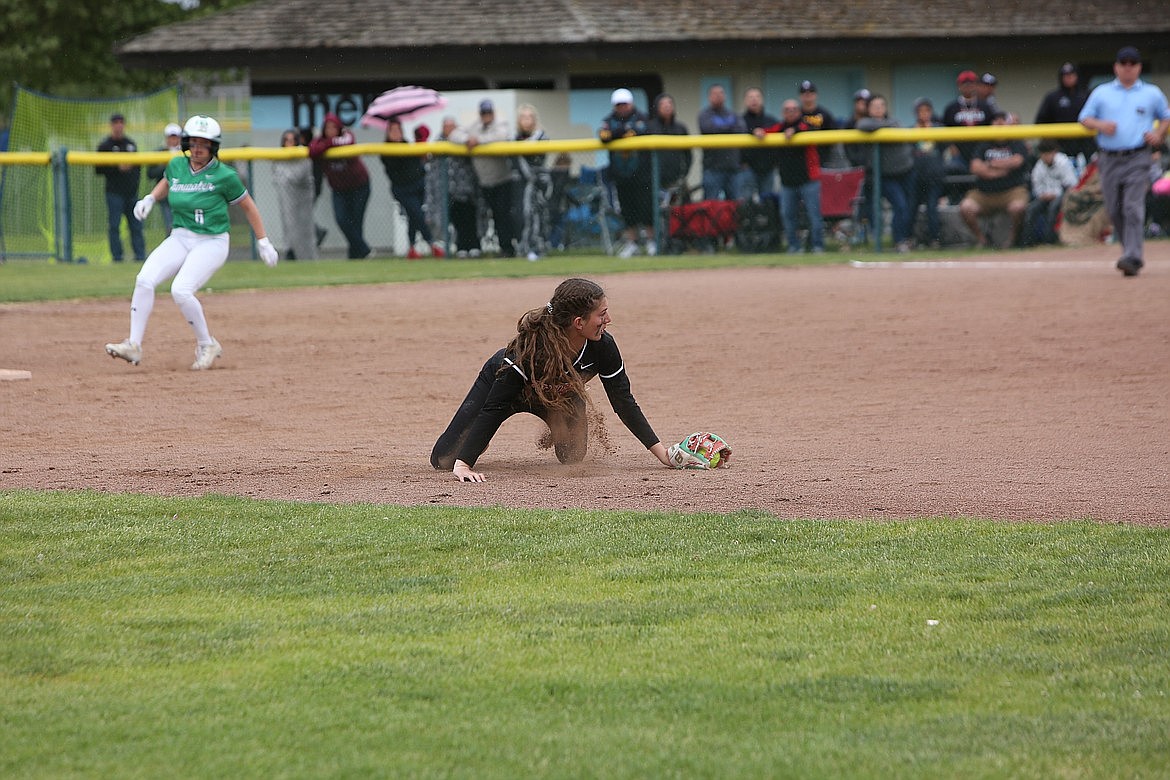 Othello shortstop Camryn McDonald dives after a ball in the infield during the 2A state championship game. McDonald was named the CWAC Most Valuable Player.
File Photo
by
IAN BIVONA
Sports Reporter
|
June 6, 2022 1:00 AM
COLUMBIA BASIN — Eight players on Othello's state runner-up team and seven Moses Lake players were awarded all-conference awards in May, according to press releases from the Central Washington Athletic Conference and the Columbia Basin Big 9 Athletic Conference.
Along with having four players make first team all-CWAC, the Lady Huskies also had the player and coach of the year.
Head coach Rudy Ochoa coached the Lady Huskies team, composed of mostly underclassmen, to a 25-2 record and an appearance in the 2A state championship. Ochoa, in his 26th season of coaching, also led Othello to a District 5/6 championship and the No. 1 seed in the state tournament.
Junior shortstop Camryn McDonald earned first team all-CWAC honors and was also named the NWAC Most Valuable Player. The award was voted on by the seven coaches of CWAC fastpitch softball teams.
Joining McDonald on the first team all-CWAC were sophomores Persayis Garcia and Amarie Guzman and senior Maya Valdez. This was Valdez's second time being named to the all-conference list, having been on the first team all-CWAC in 2019.
Freshman pitcher and outfielder Lovie Franco was the lone selection for the Lady Huskies on the all-CWAC second team.
Three Othello players were named to the honorable mention list, led by senior outfielder Hailee Guzman. She is joined by freshman first baseman Emi Pruneda and senior left fielder Janelly Verduzco.
For Moses Lake, leading the awards was junior outfielder Ali Stanley, who was named the Big 9 Defensive Player of the Year. Stanley was also named to the Big 9 first team all-conference. Junior third baseman Jazlynn Torres was named Co-Offensive Player of the Year for the Big 9 and also earned first team honors.
Moses Lake High School had four additional players join Stanley and Torres on the first team all-Big 9. Sophomore pitcher Morgan Ross, junior catcher Katelyn Kriete, sophomore shortstop Raegen Hofhenis and sophomore outfielder Kendall Reffett all were awarded first team honors.
Senior first baseman Rylie Sanchez was named as an honorable mention in the Big 9 all-conference list.
Ian Bivona may be reached at ibivona@columbiabasinherald.com.
Recent Headlines
---