Hard work and happy accidents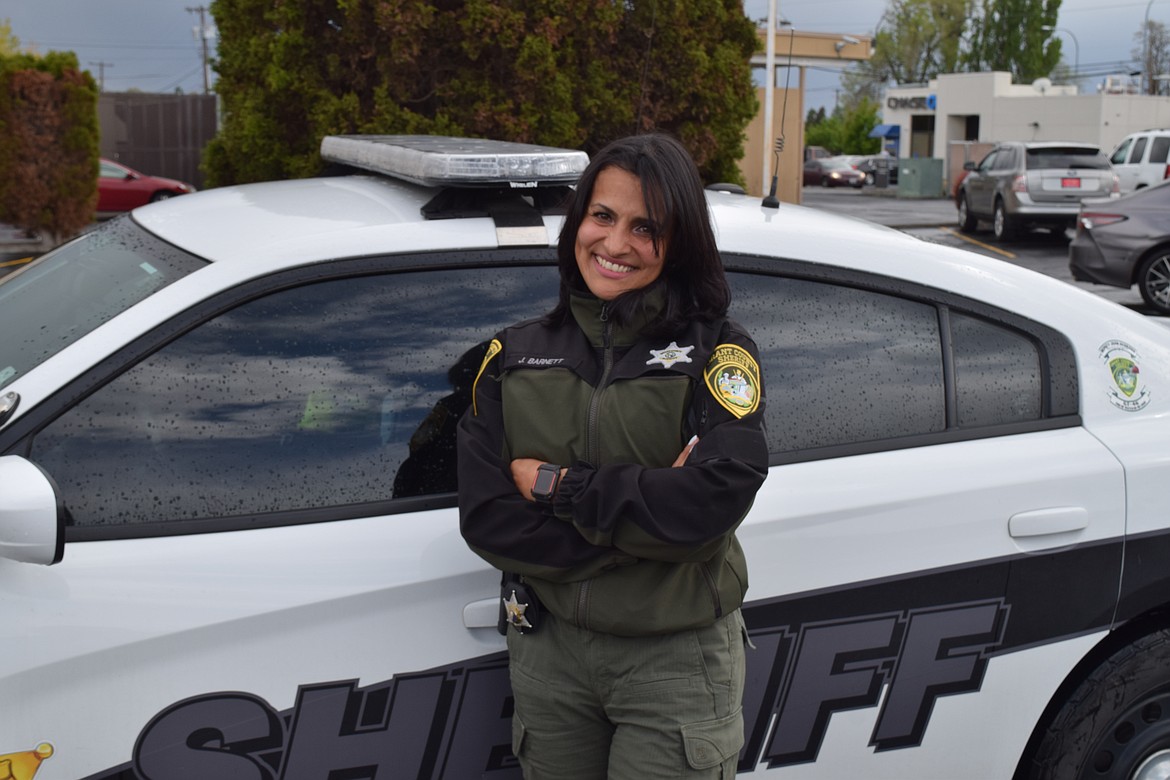 Grant County Sheriff's Office Deputy Jenny Barnett has done a little bit of everything — including singing in a mariachi band in her native Colombia.
Charles H. Featherstone
by
CHARLES H. FEATHERSTONE
Staff Writer
|
July 29, 2022 1:00 AM
MOSES LAKE — Moving to a new place often means you have to start over.
That was especially true of Grant County Sheriff's Deputy Jenny Barnett, who first came to the United States from Colombia with her 9-year-old son in 2008. She found that despite a lot of experience working, she simply didn't have the formal credentials most U.S. employers ask their employees to have.
"In Colombia, you don't really need a degree or a certificate. To get a job, you just show up and show that you can do it, and they decide if they want to keep you on," Barnett explained.
"The biggest frustration for me was I did so many things in Colombia. I worked for an attorney, I was assistant to an architect, I worked in sales," she said. "Coming here, I was unable to do anything. I guess it was easier to hire a 16-year-old with no desire for work and no experience than hiring me, and it was very frustrating."
So she did what many immigrants do — she began again at the bottom, first volunteering and then working in whatever jobs she could find. To gain both the experiences and the references she said she needed but didn't have, she hustled, working wherever she could, doing whatever she could find.
"I got my first job at Walmart, in the bakery. I was a baker," she said.
Hard work and happy accidents have been the two big elements of Barnett's life. She said she was singing part-time in a mariachi band, and while performing at the wedding of the band's leader she met an American from Washington state and married him. The plan was for the two of them to stay in Colombia. But he already had a child in the United States, she said, so it made more sense to come to the United States instead of staying in Colombia.
"And that's how I got here," she said.
It didn't last, Barnett explained, and neither did the relationship with the boyfriend that brought her to Moses Lake. But along the way, Barnett said she found purpose and meaning in everything she's done, every step she's taken that opened the way for new possibilities and allowed her to become the person she is now.
"Every single thing that's happened to us, we have the choice to make it work for the best," Barnett said.
In wanting her son to succeed in school, Barnett said, she decided to study as well, at first with the goal of becoming an ultrasound technician. But while she studied toward that, she also worked in the kitchen of the school her son attended, working her way up slowly to become a tutor and then a paraeducator, eventually earning an associate's degree. When she moved to Grant County, Barnett said, she applied for work everywhere — including as a records clerk with the Grant County Sheriff's Office — a job she tested for and was eventually offered.
As she watched the deputies come and go, Barnett never thought about applying herself to become a law enforcement officer until she watched a 19-year-old woman she described as "thinner and smaller and less experienced" submit an application.
"And I was like, well, if she can do it, I can do it," Barnett said. "But I applied and was number one on the test and everything."
After working in the Grant County Jail and a stint in the academy, Barnett has patrolled the highways and byways of Grant County since May 2021, finishing her field training in February. Even though law enforcement is not work she ever dreamed of doing, she brings everything she's ever learned and ever done to the job, including an ability to just listen and be with people, to help her fellow deputies and to demonstrate empathy for people they meet every day whether they've been hurt or injured, or even when they've done something wrong.
"From what I've seen, she brings just such a positive attitude to work every day," said GCSO Lt. Ric Char. "She's always looking for work, for things to do, for places where she can be successful."
Char said Barnett recently demonstrated her abilities as the GCSO responded to a bus accident on Adams Road, noting that Barnett jumped right in to help crash victims and helping the on-scene investigators for two hours.
"I love having contact with people," Barnett said. "I love working with the people I work with … I just want to be there to bring some happiness to my co-workers because we all have very difficult things. And sometimes just a smile changes a lot in somebody else's life."
Barnett said when she deals with someone who is being difficult, or even violent, she tries to remember she doesn't really know what they've been through.
"Nobody wants to be a jerk. Nobody wants to be bad. Nobody," she said. "It's not a choice. We all struggle with our own selves."
It can take a lot of effort and time to overcome obstacles and to change one's character, Barnett said, even among people who have resources and education.
"It was hard to become a better person," she said. "Now imagine somebody that has this strong character but all they know is being miserable in (how they're) being treated. Where are they going to seek within them for the good to be better?"
"I struggle with myself a lot, and I consider myself a strong woman," Barnett added. "So I cannot imagine how difficult it is for people to change themselves."
As committed as she is to making every encounter and situation better for everyone she meets, Barnett also admitted that sometimes making something better means taking someone to jail. Even then, she said it's essential to show empathy and compassion — something Barnett said she sees a lot in her fellow GCSO deputies — and help someone eventually find a good way out of their circumstances. Even the older deputies, who don't necessarily use the same words younger officers might, do their best to help the people they arrest, she said.
"All the people I work with are just so compassionate," she said. "I think most of us think the same way."
For Barnett, even though life has taken her places she never dreamed of going to do things she never imagined she would do, it's all part of a plan, a plan she is confident is putting her where she needs to be, to encounter the people she needs to encounter and do what needs to be done.
"My only hope is whatever my purpose, I can reach it. If there's anything good I can do for anybody, I hope I'll do it," she said. "Because that's the plan, at the end, for all of us to do something for at least one person that's going to change their life."
Barnett smiled her broad, beautiful and disarming smile.
"Even if it's only one person," she added.
Charles H. Featherstone can be reached at cfeatherstone@columbiabasinherald.com.
Recent Headlines
---